Social Butterfly II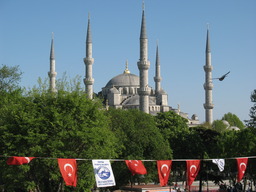 Blue Mosque

ISTANBUL, Turkey
May 18, 2011

Maybe it's because the weather is better on this trip. More likely, it's because there are several friends of mine who also happen to be passing through Istanbul over these same days I'm in town. Whichever the case, I am really enjoying my time visiting this city.

Yasin flew in a couple days ago. We hadn't met up in years. He and I last saw each other six years ago while both enrolled in a summer Uyghur language session at Xinjiang University. It turns out that he's been doing great since then. He's just finished up a Ph.D. in ethnomusicology at SOAS in London. He's been working occasional jobs that require somebody who can speak a Turkic or Iranian language to chaperone musicians from Central Asian countries around international festivals. The first night we planned to meet here in Istanbul, Yasin had to beg off, needing to assist a group of Azeri musicians to meet their connection at the airport. It's the kind of job few other people would have the skills for; it sounds like some of the events he works pay pretty good money.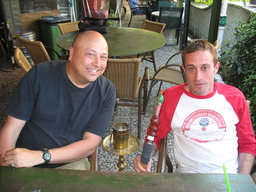 David and Yasin Catch
up over Hookah

Over the brief days he's been in Istanbul, Yasin has also been taking care of business for his other revenue stream: buying and re-selling old phonograph records. He spent yesterday at the Kadıköy bazaar buying up vinyl, some of which was pressed back in the days of the Ottoman Empire. He knows just what to look for and just what audiophile record collectors are willing to pay. Yasin meticulously digitizes the recordings and offers a sample along with exacting details about the original record on his website. He can re-sell a disc that initially cost him 30 Turkish lira, a little under $20 USD, for $200 to $300, on-line.

Yasin will continue on further east before heading back west to Europe. His next stop is northern Iraq: the area I just came from. He's first going to spend time in Iraq, then make a jaunt through Morocco and other points in north Africa to buy up antique records for his informal business.

Before parting ways, I gave Yasin what last few Iraqi dinars there were leftover in my wallet when I crossed into Turkey. Best of luck with your music, travels, and life post-grad school, Yasin. I hope it's not another six years before we cross paths, again...

A couple days after Yasin arrived, everything synchronized to connect with two other friends--both of whom I initially met back in Pakistan on an earlier leg of this journey. Emma has been traveling throughout Turkey for the past two months: the entire time since we parted ways in Iran. Yesterday morning, she came into Istanbul by overnight bus. A couple weeks ago, Irina finished up her research in Pakistan. This morning, she arrived into Istanbul on a flight from Kathmandu.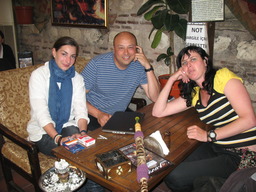 Irina, David, and Emma
Catch up over Hookah

In this brief intersection of days we have overlapping in this city there have already been multiple sessions around hookah pipes, smoldering away. Beers were drunk up on more than one occasion at one of various cafes lining the Galanti Bridge. It's been so much fun for the three of us to gather together again, catching one another up on where our paths have led since individually leaving Pakistan and Iran.

We're about to fork off in different directions yet again. Emma is going by air, flying to Spain on Saturday. However... despite that we've been taking different means of transport to travel along different routes, I still suspect that we'll catch each other again somewhere in Europe. After already connecting in three countries in the East, another reunion somewhere in Europe seems all but inevitable.

Irina and I actually won't be saying farewell for some time. We'll continue traveling west together into eastern Europe. That's Irina's territory. Based in Vienna, she's also spent years in the neighboring Balkans. Irina can get by in the Slavic languages: a talent I have zero ability with. I'm kind of looking forward to stepping back and letting her be the one to have a go at playing interpreter. Those roles have been reversed up to now.

While walking back from Sultanahmet this afternoon the two of us popped into Istanbul Gar, the main railway station with lines to Europe. We found a nightly 10:00 run is scheduled to our next destination: Plovdiv in Bulgaria. At 58 Turkish lira ($40 USD) for a rail ticket the fare would be cheaper if we were to go by bus. But, I'm sure we'll both feel better-rested lying out on a couchette on a train rather than sitting upright in a seat on some bus.

We haven't booked our tickets yet, but we'll probably be departing Istanbul the day after tomorrow.

Next stop: Bulgaria.