2-Day Sublet II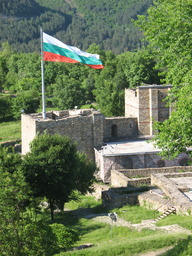 VELIKO TARNOVO, Bulgaria
May 29, 2011

The perfect accommodation in this city came so easily. We were offered an apartment even before we'd collected our baggage from beneath the bus on which we had just arrived.

Letting out apartments to travelers for brief stays is one practice I've found to be common and ordinary across most of the formerly communist states of eastern Europe. I wish it were like this everywhere. I have also managed to arrange rooms this way in a couple other parts of the world I've traveled through--but only rarely. The arrangement works like this:

Touts hang about bus stations and railway termini. Some hold up scraps of cardboard with the word accommodation handwritten in felt-tipped pen. Others are more direct, such as the fellow who approached me and Irina as we were collecting our bags.

"Do you need a place to stay? I have an apartment in the old city. Thirty-five lev ($25 USD) per night," a man wearing a baseball cap bearing the VW logo asked us.

We didn't have to discuss the matter long. The man in the VW baseball cap (who also drove a Volkswagen) drove us down an old cobblestone lane, Gurko St.. We came to number 52. We looked at the apartment inside and agreed that we'd take over the place for at least two nights.

It's a wonderful arrangement. At that price, we paid less than we would have for any average hotel. The quarters I've lined up this way are usually in the most central part of the city. Every time I've taken on a short-term sublet with some local the apartment has been immaculately kept with fresh sheets and towels provided.

I think this system is a legacy of the way property was divvied up after the collapse of communism. Some people won out and wound up with several spare apartments. There are also others who didn't do as well--yet still seek out short-term subletters. On more than one occasion, I know that I've taken over somebody's primary residence, that of somebody who is willing to earn extra income by giving up their own place while crashing the odd night with parents or friends.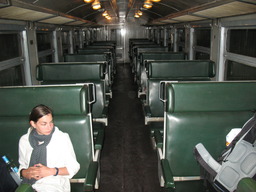 Irina and I have found Veliko Tarnovo to be a charming old city in a beautiful setting of valleys. A river zig-zags beneath. Our two-day sublet has a balcony overlooking everything. Our view across the water is of a central peninsula which houses both the State Art Museum and enormous black sculptures celebrating the rise of the Bulgarian nation. This balcony has become our default place to unwind after a day exploring the city. It's a good place to sip local ouzo and fire up the hookah. No matter whether dusk or midnight, there always seems to be a colony of frogs out croaking in full force. Over our time in the sublet (which has speedy wi-fi) we've managed to finish watching all episodes of Season 2 of The Apprentice, with the exception of the final hour. We'll save the finale for some point down the road.
After a couple nights unwinding here, it's time for us to move along from Bulgaria. At the moment, we're just killing time. We've taken a local train from Veliko Tarnovo to a railway junction a few kilometers out of town. We're waiting on the overnight run from Sofia to Moscow. Irina and I will be riding just the stretch in the middle. Come 06:34 tomorrow morning we'll be getting off in Bucharest.
Next stop: Romania.