2-Day Sublet III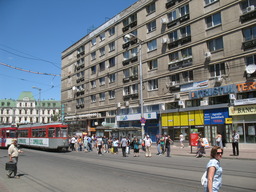 CHISINAU, Moldova
June 7, 2011

Our apartment turned out to be uber-cozy.

I've found the system here in Moldova is no exception to that in other formerly communist states of eastern Europe I've visited. Rather than staying in a hotel, it's perfectly normal in this part of the world to find a furnished apartment let out for a night or two.

As with each other time I've stayed in a short-term sublet, the floors and counters were spotless. The fixtures and furnishings were all either brand-new or in solid, working order. Fresh linens and towels were provided. The kitchen was well-stocked with pots, dishes, and utensils. This particular apartment had a bonus that none of the other places in which I've stayed had: in the corner of one room, a wi-fi router radiated out a speedy Internet connection.

Finding the place was easy. This was the best-organized of such sublets I've taken on. It was the first time I've made arrangements through an agency, Adresa. At their office in the city center they offered us several three-ringed binders thick with color photos of units from which to choose. That made it so much more efficient than the past times I've trolled about railway station entrances in search of old people holding up a cardboard sign announcing "quarters".

Irina and I flipped through our options. We started at the bottom-end. One apartment was available for 425 Moldovan lev--but the photos didn't make it look too enticing. It appeared spartan and utilitarian with its most dominant feature being ugly curtains. It was also far out of the city center. I convinced Irina that it might be worth it to pay a little more to stay in a more central, nicer-looking unit. The one that I had in mind went for 500 MDL ($44 USD). After arriving at the apartment we were both glad that we chose to upgrade.

In addition to the wi-fi router, the well-furnished kitchen, and other amenities, the bedroom has a TV offering up far too many channels from which to choose. This abundance of programming is moot: most stations are from neighboring countries broadcasting either in Russian or some other language in which we have little interest in muddling our way through. The worst offender must be the channel called Nostalgia.

Nostalgia seems to air nothing other than programs originally broadcast back during days of the Soviet Union. Its logo even replaces the third and fourth letters of its name with the crossed hammer-and-sickle symbol of communism. We've found it amusing to watch Soviet-era fashion, news, and sport--for all of about five minutes.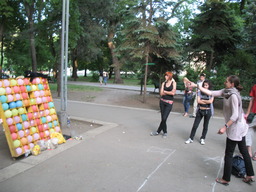 Irina Casts Dart at Balloons

So, rather than watch TV, Irina and I spent last night sitting out on the small, enclosed balcony. It's getting hot. With the windows flung open, we whiled last night away in typical fashion: music playing off one of our laptops, a hookah smoldering with double-apple flavored tobacco, and a shared bottle of local wine. This is the perfect place to pause and play house for a couple days.

The city of Chisinau itself isn't too bad. The city center is lined with leafy central boulevards busy with shops and restaurants. Irina is a fan of communist-era architecture; we spent the afternoon wandering from one stocky government building to another. Last night, I lurked at a service in the city's central Orthodox church. A priest delivered the sermon in tandem response with five kerchief-clad women who repeatedly accompanied as chorus.
---
After making my way through this corner of the world for several weeks, I feel that I now have a sense of the superficial elements of street-level eastern Europe:
Cheap 2.5-liter plastic bottles of beer
Currency exchange houses posting rates for USD, EUR, and RUR--all in big, plastic numbers
Kwas (KBAC)
Mini-skirts whose hemline falls nearly flush with crotch level
Street and place names that include whatever date communism collapsed in that particular country some two decades ago
Trams
Next stop: the "not-nation" of Transdniestria.