Decadence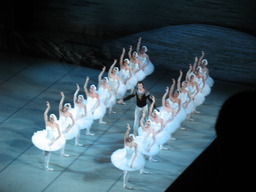 Swan Lake

ODESSA, Ukraine
June 12, 2011

Odessa might be the best city I've found to go splash out, indulge, and spoil myself.

Situated on the Black Sea, caviar is cheap and common. Well, we're technically not buying sturgeon roe (I don't think) but some other salty, black fish eggs. Caviar-or-not, they taste good and every little mini-mart carries them.

Champagne is also everywhere. Well, we're technically not buying anything produced in the Champagne region of France but sparkling white wine labled "sekt". I can't tell the difference.

Like many other cities formerly Soviet, Odessa has state-subsidized ballet and opera performances on several evenings every week. Irina and I were planning on attending performances three consecutive nights at Odessa's ornate opera hall. But, leaving a day late and arriving into the city the next day after the box office closed meant that we were able to attend only one performance: Swan Lake. The only tickets available were for seats up top in the second gallery. But at 20 Ukranian hryvnias ($2.50 USD), we really couldn't complain.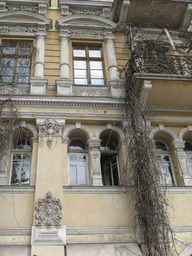 Odessa Architecture

The city itself is lovely. Odessa has dozens of fin-de-siecle buildings still standing, though many are in a state of disrepair. Some are in a process of renovation; I'm curious to come back and see what this city looks like a few years from now. I could easily spend a very long time here...

This is the last of our three days in Odessa. We've returned to a favorite cafe set just up above a grand staircase leading down to the Black Sea, the Potemkin Steps. Cafe Shiko is on the southwest corner of Yekaterynynska Plaza, a roundabout with a massive statue of Catherine the Great. Irina and I are both sipping on tiny cups of my current favorite drink: hot chocolate. This is no ordinary cocoa. Hot chocolate in eastern Europe is thicker than anywhere else I've drunk it. The consistency is like a chocolate bar that has been melted into a cup. It's practically a warm pudding. The beverage is so thick that along with each cup comes a teaspoon to eat the chocolate as it cools and becomes to viscous to drink.

We'll take dinner somewhere then depart on the 310SH, a midnight train to Simferopol down in the Crimean Peninsula.

Next stop: Yalta