Playing Uncle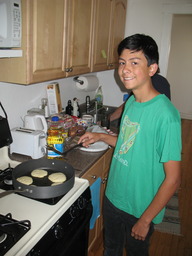 Nick Cooks Pancakes

Chicago, USA
September 7, 2011

I tried to explain the rules of play by drawing analogies with similar games:

"Have you played Hearts before? No? How about Euchre? Whist? Bridge... ?"

Nick and I were taking an evening in. Megan's boyfriend, Drew--who lives and works way out in the western suburbs--had come over. Four would be the perfect number to play Spades. I figured that staying up playing cards one night could be a fun experience for my nephew during his visit to Chicago.

I was surprised to find that none of the others had played any of the games I mentioned. I'd have to teach Spades from scratch. I couldn't present the game as just one more variation on the standard formula of card games in which one player leads, the others follow suit, and the high-card or trump takes the trick. I'd need to explain the basic concepts of bidding, sluffing, and even what a trump card was. How could Nick not have grown up with this stuff? His father is a master at Spades and the one I invariably turn to when I need instructions for any new game explained.

I really must perpetuate my education of the nephlings in all manner of card games...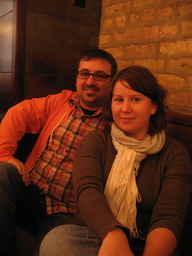 Drew and Megan

For the latter half of Nick's visit to Chicago we made a location change. We left our base in Aunt Kathy's suburban neighborhood, Oak Park, to move over to Megan's central apartment off Logan Square. Even before our shift, he and I had been taking the 'L' around town every day; it's so convenient to have been staying in the heart of the city these past days.

Megan's place is close to, but no longer at the exact location where she was living the last time I came through town. She's upgraded to a bigger apartment a few blocks over on Mozart Street. Even better for Nick and me than staying in this great location is having Megan (who grew up here in Chicago) alongside to run around town together, now. She knows the city and knows what's on offer.

She joined us for a Cubs game last Sunday. She guided us to dinner at Piece Pizzeria near Wicker Park. She came along to a long-running performance by local theater troupe, the Neo-Futurists, whose base is in a (former?) funeral home.

The performance we attended was of Too Much Light Makes the Baby Go Blind, a semi-improvisational stage production that's been running for over 25 years. It keeps going by keeping fresh. For each performance, 30 sketches are crammed into an hour. At the end of each week's final performance the audience members determine the minimum number of new sketches that will have to be introduced into the subsequent week's program. The finale brings people on-stage from the crowd to cast two dice, the sum of which determine how many new pieces will have to be scripted over the immediate days. The program is completely transformed every few weeks.

Nick was the youngest in the audience. Though edgy, there was nothing untoward, nothing inappropriate for a 15-year old. It was both a production that adults would choose to attend on their own time as well as a production my nephew could enjoy. At least, that's the experience I was hoping for. I know I would have considered it cool to have felt connected to that scene when I was Nick's age.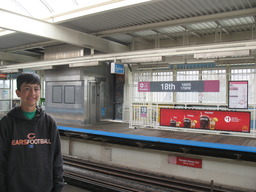 Nick Waits on Pink Line

It's been a full visit. In addition to a visit to the Field Museum, the two sports events (both Cubs and Bears), the theatre performance, and various card games, I've made a point to bring Nick to other areas around town. One day I told him he was the one in charge of which part of Chicago we'd explore. He searched a bit on-line the previous night, then led us to Oldtown and Lincoln Park. Nick has a far better sense of direction and how to get around on a subway than I did even after I'd finished high school.

Monday, I took Nick around Pilsen, a Chicago neighborhood rich with ethnic character and history. It was first dominated by immigrants from eastern Europe, then by immigrants from Mexico, most recently gentrifying with those Caucasians partial to cheap, central real estate in which to set up their boutiques and art galleries. We walked the length of 18th street from the Red Line to the Pink Line. His souvenir to bring back to Seattle was a loaf of bread bearing the brand name, "Bimbo".

Yesterday, we concluded our Chicago visit with an afternoon in Chicago's Chinatown. I found it unexpected that, despite being in a city so much larger, the Chinatown here feels less remarkable than the one in Seattle. The neighborhoods are probably of a similar size with buildings built during a similar era lined with shops and restaurants offering similar wares and fare.

We came to Chinatown just before Nick's flight; I wanted to take him and Megan out for dim sum. I'd skimmed reviews on-line and settled on a restaurant that had fine reviews of the traditional quality of their dim sum--though thin reviews of their ambience. "Quality of food is more important than setting," I reasoned.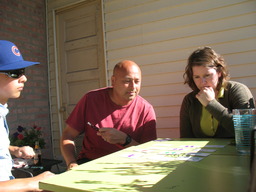 Nick, David, and Megan
Play SET

I was mistaken. Seated around another table across the restaurant were the two very women who would prove me wrong. At one point while we were eating, Megan and I speculated just what this couple could be doing. They didn't have Asian features so didn't seem connected to the restaurant's ownership or operations. But there were stacks of papers lying in front of them next to what might have been a portable fax machine or printer. They were drawing up some sort of documents but were occasionally engaged with the staff--so it clearly wasn't just a private business lunch. What were they doing?

It turned out the two were from the Chicago Health Board. Between the time we walked into and out from the restaurant, massive green stickers condemning the restaurant had been adhered to both sets of doors leading into the restaurant. Ugh. Guess I'll have to factor ambience in along with menu reviews the next time I invite people out to eat somewhere new.

Dodgy sanitation incident aside, it's been--at least for me--a perfect visit showing my nephew around Chicago. We've spent the right amount of time in the right mix of places. I had a good time. I think Nick had fun, as well.

He flew back to Seattle, yesterday. I'm about to do the same. I'm now waiting to board a non-stop flight to SEA from ORD. This will be my first time back there in 15 months.

Next stop: Seattle