Cops in Kitchen

Montréal Alleyway

MONTRÉAL, Canada
September 24, 2013

I had not expected to turn around from my tuna-noodle casserole to see two police officers step into my kitchen. Bon Cop spoke in French and asked us fewer questions. Bad Cop spoke in English and, while civil, was blunter and more probing in his line of questions.

Before finding the law standing next to my refrigerator I had been in front of the stove stirring up a boiling pot of macaroni. The cat had been complaining that I hadn't yet shared the brine from the cans of tuna I'd opened. When I'd heard several people stepping through the front door of the apartment I had assumed it must be another prospective tenant who had come to view the room that would be available at the end of the month.

Instead, a fully uniformed City of Montréal police officer strode up behind me. He was tailed by a squatter but otherwise identically attired cop. Between the two was my roommate, Giles.

"Uh... bonjour?", I said, not quite sure what to make of the situation.

"Bonjour/Hello," the taller of the policemen addressed me in that unique compound word anybody who deals with the public in Montréal opens with.

I immediately lapsed into my native language:

"What's going on?"

"We have reports that an elderly lady who lives here with her dog hasn't been seen for several days. The door to the back balcony has been left open and the neighbors are concerned."

"Are you sure you're in the right apartment!", I asked him. "The landlady does keep her own section of the house including the back balcony. But she always leaves that door open which is a good thing as she chain-smokes. And she's not all that elderly--she might be 50? There's no dog living here. She has a cat. I last saw the landlady here, yesterday. Are you sure you've got the right address?"

As I spoke, roommate Giles nodded his head repeatedly. I'd clearly been corroborating whatever conversation he'd been having when he let these two policmen into our shared apartment.

"Yes, we're sure," Bad Cop replied with authority as Bon Cop stepped out and surveyed the back balcony. "Do all of you have I.D. that has this address on it to show that you live here?"

"No. I don't have anything with this address on it. I just moved here at the start of the month," I answered him, miffed that my roommate had let these cops into the place where we live and outright annoyed to be asked to verify who I was in my own home.

"Look," I said trying not to show my irritation. "I'll show you what I.D. I have and a letter that came to me here with my name on it."

I dug out a form letter the Elections Bureau had mailed me when I updated my absentee address. I had previously placed it in the recycling bin. At the same time I handed over my carte soleil, the provincial healthcare card.

Bad Cop jotted details into an electronic tablet of some sort.

"What is this?", he asked, eyeing the foreign stamps underneath the postmark.

"It's a change of address confirmation for my voter registration. I'm from the U.S.," I said, doing less and less to hide the fact that I felt this was a fool's errand wasting everybody's time. Did they really need any further evidence to prove that three students hadn't disposed of some elderly woman and her dog to move themselves into the spare rooms of her apartment?

I didn't wait for Bad Cop to reply:

"Is there anything else... ?", I said.

"No. No. That's all," he answered. He and Bon Cop stepped downstairs and outside, leaving me and my two roommates in the kitchen. The three of us laughed and started speaking with each other in French.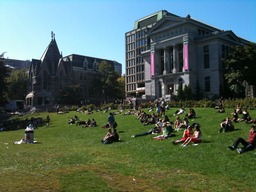 University Campus

"I am so glad you had your I.D. and that letter," Giles confided. "I didn't want to show them mine."

"Yeah? Why not?", I asked.

"I have a lot of traffic tickets that I've never paid. They go back six years and I'd guess they probably total $1,000. I was afraid that if I showed them my I.D. there would be some warrant out for my unpaid tickets and they'd arrest me."

We laughed again. I advised Giles that--expensive as it might be, it would likely be less nerve-wracking to pay his traffic fines than to constantly worry about arrest warrants. I also advised him that, legally, he hadn't needed to allow the policemen into our apartment unless they already had a warrant.

Even before today, I had already been inclined to move house. After this afternoon, I've definitively decided that I'll find some other apartment to live in come the end of semester.