Record Label Visit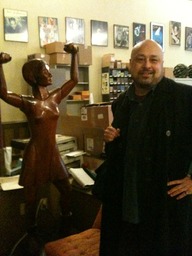 David Visits Righteous
Babe Records

Buffalo, USA
December 6, 2013

"I moved there from Buffalo. But that's nothing... " - Ani DiFranco

If those particular lyrics hadn't happened to stream through my earphones a few weeks ago I would likely have never visited the headquarters of Righteous Babe Records. Instead, I've come away with several posters, a CD, and a private mini-tour of the recording empire built by Ani DiFranco.

For those who don't know Ani DiFranco's music, she tends toward poetic lyrics and can whale on an acoustic guitar. Over my college days I bought her CD's as they were released and attended her concerts several times when she performed in Seattle. It was only when I saw the other people who came to her concerts that I realized that her main appeal was not at-all to my demographic but rather to college-aged women. There must have been 20 female fans to every male fan in the theatre.

Whatever. To this day I still like her music.

It was only a few weeks ago when listening to one her MP3's that I made the mental leap with the lyrics: "'Moved there from Buffalo?' Is that where she's originally from? I'll be passing through Buffalo again soon. Maybe I can check out some place around town where she used to play... "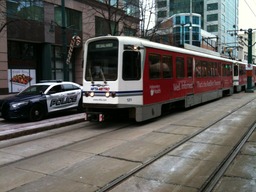 Buffalo Metro

A quick on-line search turned up the headquarters of the recording label she founded as a teenager, "Righteous Babe Records" was set right in the heart of downtown Buffalo. The website didn't mention the possibility of a retail store or any other reason to drop in but I decided that a visit to whatever was behind that address would be my mission passing through Buffalo this time.

It very nearly didn't happen. I slept in until noon. I began to convince myself that it probably wasn't worth the effort to go into downtown. "Maybe I should just study at some coffehouse nearby. I ought to catch up on my 'blog and ought to prepare for my upcoming Arabic final exam. But, tomorrow is Saturday... "

But, I knew that any business operations would likely be closed later. I walked across the SUNY at Buffalo campus to ride the metro to Fountain Plaza and walked a few blocks over to an old refurbished church. There were no signs to indicate that visitors were welcome inside. I stepped in, anyway.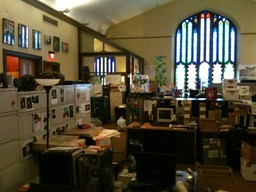 Righteous Babe Records

Normally, I would have walked up the sole flight of stairs to the offices upstairs but a young janitor had just mopped them down. He pointed out an elevator. When I stepped out on the second floor I was clearly entering a place of business: cubicles and desks, each with a computer and some with employees. There was no clear receptionist. The woman at the cubicle closest to the elevator asked me if I needed help.

"Uh... maybe? Is this Righteous Babe Records?"

"Yes it is. What can I help you with, today?"

"Oh, I was hoping that you might have some sort of a storefront... "

"We sort-of do. Let me take you to the stockroom."

I was casually escorted to a room in the back chaotic lined with shelves piled high with LP's, CD's, and T-shirts. There was one lone employee slipping vinyl records into cardboard sleeves for shipping.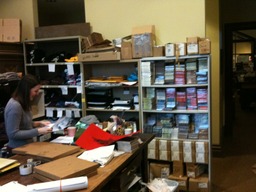 Righteous Babe
Records Stockroom

"Is there anything in particular you're looking for?", one of the two asked me.

I mentioned a cover of a Prince song I'd seen Ani perform live but had never found an official released version of. They apologized that that particular track had never come out owing to "licensing issues" but I was free to browse around and look for anything else that might interest me.

The woman preparing LP shipments turned out to be wonderfully friendly and informative. She pointed to a stack of concert- and CD-release posters from years past and told me I could take as many of them as I pleased. A couple of each had already been archived for posterity but the rest were long overdue to be sent to the recycling bin. I recognized some of the titles I had purchased brand-new upon release so many years ago and wondered just how long that stack of posters had been bound for recycling.

I didn't feel right taking anything without purchasing something so picked out a CD of a live performance recorded here in Buffalo last year. All the while I was examining music, posters, and T-shirts the stockroom employee continued packaging up items for shipment while giving me a running background of the business:

"The church was slated for demolition but the City of Buffalo offered it for $1 to anybody willing to bring it up to code. It required a lot of expensive retrofitting and upgrades--installing an elevator and heating, things like that--but now it's the headquarters of the record label. There's also a space dedicated to art exhibitions and another let out by a non-profit on the ground floor.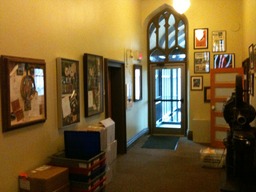 Righteous Babe Records

"Oh, you've decided on that CD? Let's call it an even $10; we don't need to hassle with the tax. Do you want a tour of the building?"

The friendly stockroom employee took me out and pointed out the most significant paraphernelia: Grammy nominations lining the wall, an oil-painting caracature that was reproduced to appear on a cover of Rolling Stone, a hand-carved wooden statue of Ani DiFranco, herself.

"A fan brought this statue to a concert in Arizona. He evidently lived in some small town and had to fly part of the distance. He took this onto the plane and presented it to her at the concert."

I couldn't resist asking the stockroom employee (whose name I never did get) if she would get a photo of me standing alongside the carved wooden statue.

I left very happy to have made my first fan pilgrimage to a record label. I picked up an additional poster to pass along to the friends hosting me, Kevin and Katie--at least half of whom I know enjoy Ani DiFranco's music, too.
---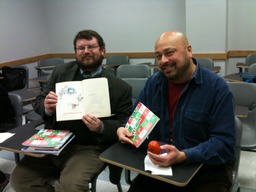 Kevin, David,
Persian & Persimmons

In a wholly unrelated way to finish my day, Kevin asked me if I'd like to join a session of a Persian class he is taking informally at the SUNY at Buffalo North campus. Sure, why not? It's been so long since I was last in Iran that what I could produce was rusty... but still far from the bottom of the small class. That's how we spent the end of our afternoon eating persimmons provided by the elderly teacher and reviewing basics of Farsi grammar and vocabulary.

Now, I'm at about to conclude the day with another local friend, Professor N. We'll take dinner together tonight then hopefully connect again tomorrow with colleagues: a crew who teach in SUNY at Buffalo's education department that I've come to know. Then, as always happens only in love songs and somehow in my actual travels, I'll ride the midnight train out of town. (Well, technically it's the 23h59 train out of Buffalo, though that doesn't sound as romantic.)

Next stop: Chicago