Christmas Candy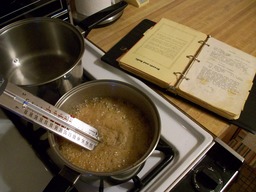 Pralines in the Pot

Chicago, USA
December 12, 2013

There's been food action beyond the normal routine Aunt Kathy and I observe whenever I come to Chicago. Over this visit we've been preparing batch upon batch of all the best Christmas candy together in her kitchen.

Usually what culinary excitement we share sticks to a limited path of nearby places we frequent when I come calling. There is inevitably a grocery shopping trip, usually to the local Jewel, for whatever we prepare up at home. No matter how brief my visit we always manage to eat out at at-least one of our standby cafes around Oak Park. As I'm staying a full five nights at Aunt Kathy's over this visit we should manage to hit up three favorites by the time I head on out of town. The Onion Roll has patty melts and chocolate phosphates, Buzz Cafe serves up a solid Reuben, and Mom's Place has an item on their breakfast menu that includes toast, eggs, hash browns, sausage, and grits--almost too much for even my appetite.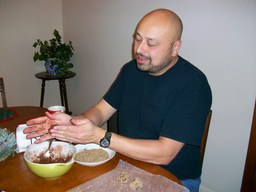 Rolling Rumballs

But even more fun than ordering from familiar menus is an activity brand-new to me: measuring, boiling, and cooling ingredients into candy in her condo kitchen. Since longer back than I can remember, since even before my own childhood days growing up in Seattle, Aunt Kathy has always shipped out a box of wrapped gifts up and Christmas candy she prepares up here in Chicagoland.

Before arriving on this visit I asked Aunt Kathy if she would hold off on both rituals this year so I could play a part. I wanted to lend a hand with shopping and wrapping and was curious about experiencing the candy making process firsthand. I hoped I wouldn't make for too many cooks.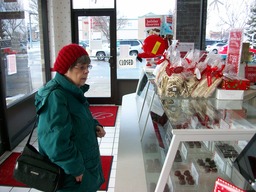 Aunt Kathy in Candy Shop

Aunt Kathy no longer prepares all the sweets I recall from childhood Christmases. I asked about something I hadn't seen in years, seafoam. That evidently takes a tremendous amount of attention during preparation and tends to easily crumble to dust even when not shipped cross-country. She's also given up on the full-day steaming process it took to prepare each plum pudding. We did have the time and energy to make up batches of the confectioneries I loved best: rumballs, pralines, and toffee.

I wonder how many people today follow recipes as Aunt Kathy does. A three-ring binder of recipes Aunt Kathy typed up long ago on a manual typewriter directed us. Most were versions copied from the recipes my grandmother made up every Christmas--though Aunt Kathy confessed that Grandma's traditional toffee had been replaced with directions for a far easier "10-minute Toffee" she found published in a newspaper one year.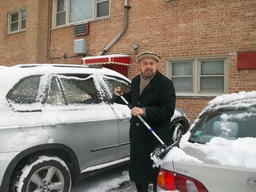 David Shovels Snow

The rumballs were easiest, requiring no cooking at all. The 10-minute toffee recipe was nearly true to its name once all its simple ingredients had been prepared. Most involved were the pralines which required long shifts watching a candy thermometer to ensure that the bubbling pot on stovetop surpassed "thread" but didn't approach "hard ball" stage and was removed from the heat and set aside to cool somewhere in "soft ball". I tended to the pot while Aunt Kathy helped me out with another project in the side room using another traditional talent of hers. I asked if she could help me mend a sleeve that was coming undone on my woolen overcoat. She got busy with Grandma's sewing machine, reattached the separated parts, handstitched the lining, and replaced the button that had fallen off. My coat is as now good as new. Thanks, Aunt Kathy!

I had a lot of fun attempting the Christmas candy. I needn't have worried about being one cook too many in the kitchen. After the final batch had cooled down, been boxed up, and shipped out Aunt Kathy thanked me several times: "I can't believe I'm done with everything for Christmas, already! You did all the work."

Well, not really, Aunt Kathy. Busy as I was, I didn't do any real work: it's not considered "work" if it's all fun, right?

Below are digital versions of the traditional family Christmas candy recipes taken from Aunt Kathy's recipe book:

PRALINES​
 
2 cups sugar

Add when boiling high:
½ cup brown sugar
1 Tbsp. butter (or margarine)
1 cup thin cream (Half & Half)
pinch of salt
 
After candy has cooled add:
½ cup chopped pecans
1 tsp. vanilla
Pecan halves 
 
Boil until barely workable ball is formed in cold water (around 236
degrees on a candy thermometer).  Place in pan of water to cool.  When
ready (I usually let it cool down to about 100 degrees) add vanilla
and pecans and beat until stiff.  Place spoonfuls on wax paper; put a
pecan half on top.
 
Note: It's hard to get the timing just right.  If the candy is not
quite cool enough, it will spread out into really big circles on the
wax paper.  Then, usually by the time you get to the end of the candy
in the pan it will be a little too hard and won't spread as well.
Once it's ready you need to work fast!
 
RUM BALLS
 
1 cup crushed vanilla wafers
1 cup confectioner's sugar
1½ cups chopped pecans
2 Tbsp. cocoa
2 Tbsp. light corn syrup
¼ cup of rum
 
Combine fine crumbs, confectioners sugar, 1 cup pecans, and cocoa.
Add corn syrup and rum, and mix well.  Shape into 1-inch balls.  Roll
in chopped pecans. (Note: you may need more than ½ cup pecans for
rolling the balls).
 
10-MINUTE TOFFEE
 
1 cup sugar                                      
2 sticks butter
3 Tbsp. water
1 Tbsp. Karo syrup
1 pkg. (5 oz.) almonds, chopped
5 oz. Hershey's chocolate (3½ bars)
1 cup chopped walnuts
 
Note: have all ingredients prepared before starting; you have to work
quickly once you start spreading the toffee in the pan.
 
In electric frying pan, combine all ingredients except nuts and
chocolate.  Turn heat to high.  Stir constantly in one direction until
mixture begins to thicken and darken (about 10-12 minutes).  Quickly
stir in almonds.  Pour mixture onto greased cookie sheet.  Spread
evenly with spatula or wooden spoon.  Break chocolate into pieces on
top of mixture.  As chocolate melts, spread evenly over toffee
mixture.  Press walnuts into chocolate.  Freeze 1-2 hours until hard.
Break into pieces while still chilled but not frozen.  Store at room
temperature or in refrigerator.
 
 
SEAFOAM CLUSTERS
 
Combine in a large pan, beating thoroughly:
 
1 c. granulated sugar
2 c. brown sugar
¾ c. water
¼ tsp. salt
1 tsp. vinegar
 
Cover and cook until sugar dissolves.  Continue cooking until syrup
forms a very firm but not brittle ball (255 degrees) when tested in
cold water.  Remove from fire, and then gradually pour syrup over 2
egg whites, stiffly beaten.  Beat continuously while adding syrup, and
then continue beating until candy holds shape.  Add 1 t. vanilla and 1
cup chopped nuts.  Drop by tsps. on a sheet of waxed paper.