Mulled Wine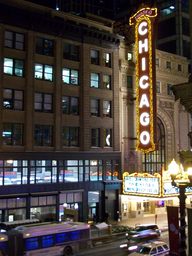 Chicago, USA
December 13, 2013

It's not a real party until somebody sets their hair on fire. (Jia-yi was perfectly fine once she patted down her flaming tresses.)

My friend from summers of language study past and I have managed to meet up twice over my present trip passing through Chicago. Jia-yi is always down to be social and always has intriguing, easygoing friends worth hanging out with. Both evenings have been hosted by a friend of hers who I hadn't previously met, Milana.

It's been perfect timing for a couple informal gatherings in the holiday spirit. I've just finished my first semester of grad school in Montréal so was well ready to pass some late evenings with good company away from textbooks. Milana has just finished interviewing at universities around the U.S. for her residency so is in a rare period of not having to labor long shifts at a local hospital. Though Jia-yi is still in the thick of a 9-to-5 routine--presently as university librarian--she's always up for passing an evening together in the company of friends.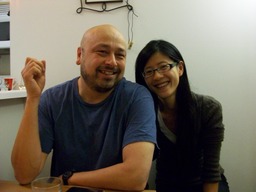 David and Jia-yi
Pre-Tealight Incident

Our first evening was just the three of us conversing over mugs of mulled wine. Jia-yi and I brought the red. Milana steeped oranges, star anise, and cloves into holiday cheer. We repeated the routine again last night with a larger crew including several more of their friends. Before converging on Milana's we started with a trivia night an easy walk down the street on East Wacker Drive. Though our crew bombed the pub quiz by going for the all-or-nothing option on the final question everybody had fun. There was talk of a return to quiz night. I'm always down. I'll let you all know when I pass through again.

With quiz night over the entire team retired to Milana's for more mulled wine. As Jia-yi topped my mug off again for the nth time she bent forward to pass it over the ledge separating kitchen from parlor. This time, she didn't notice a tealight resting on the counter below. The entire room recognized what was going on before she did. I was frozen in shock, too startled to react. My subconscious ran unhelpful commentary over my inert state: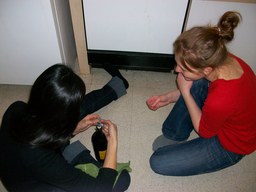 Jia-yi and Milana
Improvise with Broken Corkscrew

"It looks just like Independence Day sparklers on either side of her collar. I don't smell anything, though. Isn't burning hair supposed to have a horrible stench?" (The odor came only after Jia-yi finally cottoned on to what was happening and pattted out her flaming hair.)

My friend no longer on fire, our conversation resumed. The question of where we'll be living over the next years came up. Milana could wind up just about anywhere in the U.S. for her residency. I'm planning on staying on in Montréal for awhile, myself. Unexpectedly, Jia-yi's career development might make us neighbors again. She's actively exploring open librarian positions at universities across Canada. She seems content at her current position here in Chicago. But, vacancies she had been considering on a whim (at the behest of a friend who just moved north) seem to be taking real traction. I told her that a move would have to be inevitable: all the cool kids are moving to Canada, these days. One particular listing was at McGill, even. Now, that would be funny. Could we wind up on the same campus again, someday?

Thanks for the pleasant evenings of glog and conversation, Jia-yi and Milana. Maybe see you again in Montréal?