Winter Blues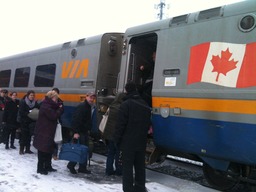 Return from Chicago:
Windsor, ON Platform

MONTRÉAL, Canada
December 20, 2013

I've felt sluggish and unenergetic since returning to Montréal.

I blame it in part on not yet recuperating from the end of the semester. Classes may have finished two weeks ago but I only took my sole final exam of the term at the beginning of this week.

I also blame it on the weather. The days are presently filled with about twice as much darkness to daylight. The freezing temperatures don't make anything any more pleasant.

I'm disapointed not to be going back to Seattle for Christmas. I would have gone there rather than Chicago at the end of the semester but for the final exam I took this week.

But, to be honest, I know the largest part of why I feel down is as I've had a falling out with a close friend. (The mistake was mine.) I won't air the details. It's the details that strained things between us.

I feel low not knowing whether we'll patch things up.