Persian Immersion VI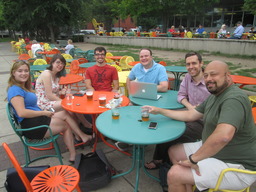 Drinks at the Terrace:
Allison, Iman, Austin,
Cal, Ryan, and David

Madison, USA
July 11, 2014

Ice cream out on the patio, beer down on the Terrace... our class instructor, Mehrak, has been wise about mixing up his instruction. In the past week our group has twice gathered outside of the classroom over session time. He probably recognizes there needs to be a good balance of work to play to keep our language-saturated minds from burning out before the end of summer. It feels like getting extra recess time to run around and play outside.

It's not a reprieve from our language study: we still speak in Persian. It's not even all that long of a time: each occasion we've stepped outside has been for under an hour. That's not much time out of a four-and-a-half hour schedule of classes every morning. But, it sure is good to walk away from the desks and chalkboards to bond over a pitcher of locally brewed beer or nibble on ice cream churned up right in the building where our class meets.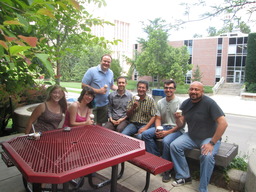 Ice Cream Outside Babcock Hall
Allison, Iman, Cal, Ryan,
Mehrak, Austin, and David

It's almost the logical class activity: after a three-hour mid-term exam, how else is a teacher going to engage with students over the remaining time left that day?

Both locations where we held our open-air class sessions are UW Madison institutions. The Terrace is a long outdoor strip on the shore of Lake Mendota dotted with tables, a music stage, and a bar serving up mostly beer. The Babcock Hall Dairy Store wouldn't be all that different from any other campus food service outlet but for its local dairy products. Milk bottled right at the UW (there are cows living on campus,) cheese curds, and ice cream made in-house are all on offer. Classmate Cal ordered a flavor called "orange custard chocolate chip" and kept remarking that it was likely the best ice cream he'd ever eaten.

Thanks to Cal for the round of ale and thanks to Mehrak for the round of ice cream. (And for letting us go outside to play.) We're halfway through the program!