Persian Immersion VIII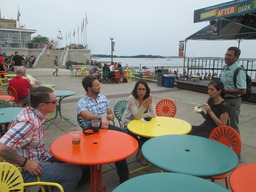 Advanced Persian Students
and Teachers at Terrace

Madison, USA
July 19, 2014

"Wait," I instructed Kayla. "Don't walk away now. If you leave the table you'll attract attention to yourself and the cops will look at us all the more closely."

Yesterday evening the two of us were out sitting at a table along the UW Madison Terrace with drinks between us. A squad of people checking ID's had just appeared and was going from table to table. Everybody was being carded. A flashlight--I assumed one that would illuminate holograms--was shone upon each ID presented.

Kayla was sitting with her back to the ongoing inspection. I'd been watching the crew approach our table but didn't say anything until we were next. I assumed that anybody within line of the sweep who was seen getting up to leave would be especially targeted to produce proof of legal drinking age. Yet an undergrad, this was not something Kayla would be able to provide.

Kayla with Art Bike
Outside Natatorium

"I'm not leaving, I'm just moving away from having a drink in front of me," Kayla said, squirming toward the end of the table. I wondered how plausible the story that two mostly-full drinks--one draught cider and one "Lime-a-Rita"--were both mine and that Kayla was drinking nothing at-all might sound. The crew finished inspecting the ID's of everybody at the table behind Kayla, approached ours, and then walked on by without a word.

Once they were out of earshot we laughed in relief. I shared my theory as to why ours was the sole table they didn't card:

"They must have seen me and presumed that any woman who was out with this old geezer couldn't be half his age. The way you're dressed up tonight they might have even seen you from the front and presumed you were somewhere in your late twenties."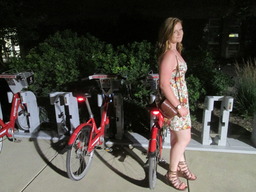 Dressed up for Night
out at the Terrace

We finished our drinks, rode B-cycles back to the dorm, then spent the rest of the evening together puffing on a hookah set out between us filled with smoldering banana-flavored tobacco.

It's now the morning after and I'm up early. When the cafeteria starts serving we'll both make our ways across the plaza to Dejope Hall where we eat our breakfast every weekday and brunch on the weekend. Then later this afternoon we'll join our class for a field trip: a day in Chicago.

More adventures in summer language school lie ahead, I'm sure.