Crosstown Moves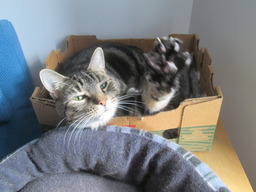 Temu

MONTRÉAL, Canada
September 13, 2014

Is anybody else as itinerant as I am? I'll be schlepping my stuff around town to move house not once but twice in the next six weeks. Though, after that, it looks like I may have some permanence ahead of me.

As ever, Professor Gwen is once again out of the country. This time, she's nominally presenting at a conference in Istanbul--though has tagged plenty of additional time beyond that to get to know Turkey. That's left me a 10-day cat-sit stint in her roomy, well-decorated apartment with her two kitties, Temu and Oggie.

She'll be back in just a couple days. That's when I'll move back into the same apartment building where I was living last semester, a little studio off of Parc LaFontaine. I had planned on that being where I'd live through this school year, but a far better living situation just fell into my lap, today. The professor for whom I cat-sat last Christmas sent e-mail asking me if I'd be interested in renting the separate ground floor of his home. Back when I'd taken care of his cats last year I noted the neat, lower apartment he'd split half of his house into. I asked if he'd need a tenant any time in the near future. Now, nearly a year after I asked, the McGill student he was letting the place out to will be leaving, freeing the place up at the end of October.

The place is superior in so many ways that I'm already excited to be moving in despite that that won't happen for several weeks. It's about four times the size of that little studio off the park I'll be back in until November 1. I believe the front sitting room alone will be bigger than the studio. Rather than a two-burner range attached to a sink and dorm-room fridge comprising my kitchen facilities I'll have a full, dedicated room in which to cook replete with full-sized fridge and stove. Having a separate master bedroom means that I can host guests out on the futon in the front room. It's fully furnished and all-inclusive: Internet access, heat, electricity, and whatever other bills home owners pay every month are bundled into the rent. No more hoarding coins to pay for laundry. At $550 per month it actually works out 5% cheaper than the little studio I'll be in through October.

The only drawback is location. It's not even that it's far from campus: Google tells me that I could ride my bike to the Roddick Gates in 15 minutes if I rolled east along Sherbrooke. (That route would be direct but there's plentiful traffic and no bike path along that busy road. I'll likely add another 5 minutes to my commute by detouring down to De Maisonneuve which has a cycle track.) My only reservation about the move is less a matter of the distance and more the new apartment's location in a heavily English-speaking neighborhood: NDG, Notre Dame de Grâce. Living there will mean less opportunity to practice my French on any day-to-day basis at places such as the supermarket or the bakery. (It feels decidedly weird to me to perpetuate conversation in French when the person on the other side of the counter is likely a native English speaker the same as I am.)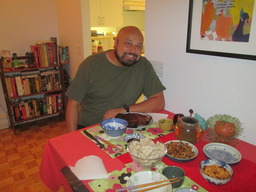 David Cooks Dinner

Otherwise, the location is perfect. The place is set in a cute, old residential neighborhood with a nearby business strip of shops, pubs, markets, cafes and bakeries running along Monkland Avenue. The Villa Maria metro station is just a few minutes away on foot. It's also quite close to Professor Gwen's place. Come November, I'll finally be settled. I've all but decided that this will be home not just for the remainder of the academic year--but for however long I stay on here in Montréal.

Aside from my upcoming moves within Montreal there's not much significant news in my life these days. I'm taking a light courseload this semester: my only class is more Persian language. That will (theoretically) allow me to focus on my thesis.

Last night, I took advantage of my dwindling days of having a well-furnished kitchen to have Siliu over for dinner. Serving from completely contrasting menus I prepared a large batch of barbecued ribs to serve alongside a huge pot of steaming dumplings. Somehow, the odd combination came together well. I'm looking forward to being able to host people for dinners such as these far more often once I've moved into my new place at the end of next month. I'm further hoping that my new location will allow me to host, perhaps taking in the odd guest from out-of-town or old friend who happens to be passing through.

Things are looking ahead for me in Montreal.