Free French: Reunions III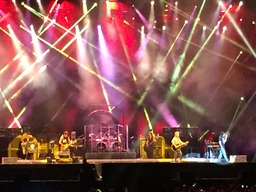 Boston

QUÉBEC, Canada
July 14, 2015

"And, surprise! I'll have an item of good news to share with you when we get together when you come back to Québec City," Annie wrote in an e-mail message some days ago.

"Just what 'surprise news' could my former roommate/French teacher have to share with me?," I wondered. Perhaps she was now engaged? Or had her family recently grown in some other way? Maybe she was off to live for some years on some other continent once again?

Yesterday evening Annie and I sat ourselves down outside a coffehouse along the Grande Allée to catch up.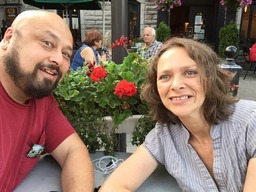 David and Annie at
Outdoor Cafe on Grande Allée

"So, is your 'surprise news' the fact that you've trimmed your hair from hanging down below your shoulders to hanging up above them?", I joked with Annie.

"No, of course not!", she responded. "My big news is that I've finally decided that I'm going to pick up my Ph.D. program where I left it off so many years ago. I'll be taking evening classes at Université Laval this autumn in addition to teaching French to adults and working at the Assemblée Nationale."

"Oh, that is so excellent!", was my immediate reaction as Annie shared her news with me. "That means we're both officially perpetual students, now."

"Yeah, but my sister who still lives back in a little town near where we grew up sure doesn't see it that way," Annie said. "When she heard my news she lectured me there was no point in going to school to do anything other than to embellish my credentials in order to advance a specific career path."

"Ugh. Well... perhaps that's the definition of how the world spins according to the life of somebody who's content to never have left small-town Québec," I said.

I didn't need to belabor the point. Whenever anybody exudes such radiance and spark in conversation as Annie did when sharing their current state of affairs it's transparent how happy they must be in life. Annie is one of those friends whom I've always found to be comfortable in their own skin and vibrant in how they approach their entire life. I'm sure it helped her disposition in how, on top of working two rewarding jobs and being on the verge of resuming her doctoral program, she's taken her exercise routine to another level. Not only has Annie maintained the constant jogging schedule she kept when we were roommates but has evidently further added a regular swimming workout, carrying out both activities several days every week.

Chez Somayeh

Before she and I met up over this visit I had been worried that the deteriorating ability in my spoken French that I've sensed since moving to all-too-bi-lingual-Montréal might hamper our communication. But everything I wanted to say came out from my end, if not fluidly, entirely in French as we spoke and caught up.

I was happy to find that our relationship as close friends evidently didn't end when I moved off to Montréal nearly two years ago. That kindred connection was evident in the way we spoke non-stop for an hour and a half over a small outdoor cafe table before Annie finally confessed how hungry she was. Shouldn't we move along to somewhere serving food to continue our conversation? Checking the time when she said that made me realize that I was late in getting to the next concert I had specifically returned to Québec City to attend. Annie went off to dinner somewhere; I made my way to the stage set up on the Plains of Abraham. We promised to meet again somewhere soon.

This is just the start of a re-union of people I shared French lessons with. I'll be spending the better part of this next week and a half making trips between Québec City and Montréal. Though what most excites me is the opportunity to see friends I made while living here learning French the impetus bringing me here now was the Festival d'été, Québec City's summer music festival which brings dozens of acts to several stages throughout town over 10 days every year.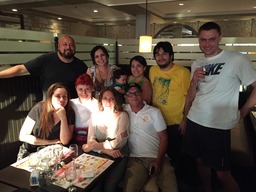 Free French Reunion
Back: USA, Iran, Peru (x3) & Ukraine
Front: Colombia, Ukraine, Québec, & Iraq

As soon as I'd rolled back into town seeing a large number of old friends and classmates was easily and immediately done thanks to former classmate Somayeh and her husband Habib who organized a dinner gathering at the very same restaurant where we concluded our first and third terms of Free French: Casa Grecque. Menu prices are reasonable and with a bring-your-own-bottle policy the wine flowed freely. Faces I hadn't seen in nearly a year--or well more than that time--were on-hand: The Ukranian couple who hosted impromptu drinks chez eux after an afternoon field trip. The Iraqi refugee whose path to asylum in Québec I always wondered about for how entirely different it must have been from the route I took in getting here. The Peruvians whose baby shower I attended before they'd become parents. The kind Colombian couple who gave me a spare bicycle that I still ride to this day back in Montréal.

I'll likely call on each of them again separately while in town, as time allows.

I've just finished seeing the summer music festival's mega-performances of the evening. On the same stage were two 1970s mega-rockstar bands that I hadn't realized were still touring so many decades after the height of their popularity: The Doobie Brothers and Boston.

As Annie and I said goodbye to each other outside the coffeehouse I mentioned I was on my way to see those two bands. She'd never heard of the former group; perhaps they weren't big here in Québec. But, despite expressing an absolute lack of interest in anything nostalgic, she conveyed her familiarity with Boston just before we parted ways:

"Hah! Boston... will they perform 'Amanda'?", she joked with me.

"Amanda? I'd completely forgotten that song. The main one I was going to hear was 'More than a Feeling'," I told Annie. We both laughed remembering back to the time when we were young when those songs would have been played on the radio.

More music and more good times here in Québec City to come over the days ahead...