Free French: Reunions IV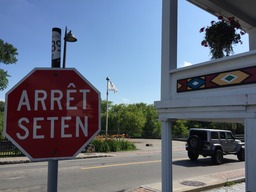 Stop Sign in French and Huron

WENDAKE NATION
July 22, 2015

Feh. This is the third year running that I've recognized my birthday less in the true spirit of my annual ritual and more in a strictly letter-of-the-law way.

For this birthday, as with each since I turned 17, I've observed my custom of "being somewhere out of the country" on my day. But over recent years getting to interesting destinations has become more difficult for me. Now that I have status to live both in Canada and in the U.S. I feel that I should go somewhere other than either of those two countries. As I've gradually become less global in my range that's meant some questionable definitions of what constitutes being "out of the country". One year I stepped into the nearest foreign consulate. A couple years ago I found a place where I'd simultaneously be outside of both Canada and the U.S.. Last year, it was a visit to the nearest Indian reservation.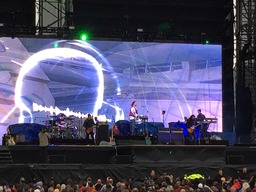 Alan Parsons Project:
Live in Québec City

Today, I've opted for a trip similar to the one I made last year--though today's journey was to a totally different "First Nation". As I was already visiting Québec City to attend the concerts of the Festival d'été, anyway, the choice of where to go to on my birthday was easy. A short ride on RTC route 87 brought me from the campus of Université Laval to, technically, a different country. The nation of Wendake lies more-or-less within the limits of Québec City. (Which I just realized is the smallest in a series of Russian dolls as the Province of Québec proudly proclaims itself to be a separate nation within Canada.)

I have been here once before. Two years ago on a field trip I visited the area of Wendake that most caters to tourists, the Huron Traditional Site Onhoüa Chetek8e. Over this visit I decided to explore other areas of the territory to see what else was here. I found some lovely hiking trails running along the banks of a river beneath a waterfall. Up above the river in the city center a grid of streets named after local indigenous people contrasted with the largely French names of the street signs around Québec City.

I was content to limit my time out-of-the-country-on-my-birthday to just a few hours on such a muggy and humid day. It wasn't that much fun walking around in tacky weather. Though there are traditionally-themed tourist attractions such as longhouses, much of Wendake isn't all that exotic, looking pretty well the same as the rest of Québec. Though superficial, really, the most obvious evidence of being in any another nation while within Wendake is the languages on the stop signs. French arrêt is on top with Huron seten printed beneath.

Next year on my birthday I really, really have to get myself back off-continent to somewhere farther away for a real trip.

David and Andres at Alan
Parsons Project Concert

In addition to observing my birthday while in the area I saw more concerts of the Festival d'été. The final two shows of Québec City's 10-day summer music festival were, as with others I've attended over this visit, of 1970s-era blockbuster bands that I hadn't realized were still out on the road touring. Closing acts were the Alan Parsons Project and Deep Purple. Former classmate Andres joined me for both; he turned out to be a big fan of the music of the former group.

We were both happy that I managed to borrow an extra festival bracelet to lend to Andres allowing him into the evening shows. The two of us met on the Grande Allée about an hour before the first act went on. That was plenty early enough to secure a spot comfortably close to the main stage. The band announced their appearance with strains of "Genesis Ch.1 V.32". Over the course of their set the band performed all the other songs I was familiar with: "Sirius", "Eye in the Sky", and "Time" alongside far, far many more songs I didn't recognize.

My familarity with music of the closing band, Deep Purple, was even less than that of the opening act. I knew only one of their songs. But, why not stick around for the finale of the festival, I figured? In part, we stayed because we had a meeting scheduled with a former classmate much later in the evening. We had plenty of time to pass before 23h00. It didn't cost any more money for us to see both bands so we were both happy to stay on for the closing act. Andres didn't know the band's music at all but we were both happy to bop our heads along to the beat.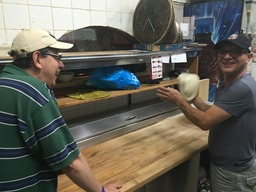 Andres and Loa'ai Reunite
in Back of Pizzeria

Our late-night rendezvous was with our Iraqi classmate, Loa'ai. All three of us began studying French together in the same classroom three years ago. I was always happy that those particular two were enrolled in the same class together with me and not just because they each had an outgoing personality that complemented the classroom dynamic. They were also, I confess, the only two students who were older than I was. It was somehow nice not to be the oldest one in the entire room.

Though his education back in Baghdad was of a far more technical subject that what he's doing now Loa'ai has found steady work: he works the late shift at a pizzeria just across the street from the main library in Québec City's lower town. When I walked in just at closing time the other workers closing the restaurant up tried to shoo me back out again with a quick, "Sorry, we've just closed." I explained that I was there to see a friend. Loa'ai stepped out from the back kitchen and embraced me with a big hug. We hadn't seen each other in over two years.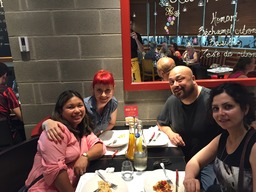 Original Classmates: Thelma,
Olga, David, & Somayeh at Pizzeria

The other restaurant workers left. Loa'ai turned the ouvert sign, locked the front door, and we--the three old guys of the class, the Club des maîtres--took the next two or three hours catching up. Loa'ai made a custom deluxe-combination pizza covered with heavy handfuls of all the best ingredients for me and Andres to split. I drank a cup of hot tea. We chatted and chatted well past midnight. Andres and Loa'ai hadn't seen each other in over two years, either. It was good to see how well everybody has settled into life in the new country over that time.

Though I would have loved to have had the time to have made even more social calls around Québec City, I'm content with what extra time with friends from classroom days I have had. I've fulfilled my birthday obligation here in Wendake. I'm now on my way off the reservation and on to one final rendezvous before I return to Montréal. Bus route 87 will take me back to Université Laval. Then, tonight I'll meet with three more former classmates (once again at a pizzeria) from the first days of our study of French. After dinner I ride on home to Montréal.

Now that I think about it, exotic destination or not, this has been a pretty good birthday. I've seen so many good friends, heard some good music, and will have eaten lots of pizza. What more could I want for?