Bicyclist from Buffalo II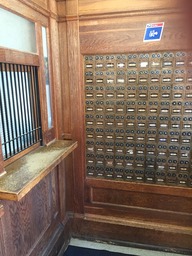 Oldest U.S. Post Office

Hinsdale, N.H., USA
August 18, 2015

Even when contemplating death, everything Professor N. says sounds so nice in her musical Caribbean lilt:

"I think... I'm going to die. I can't keep going, David," Professor N. gasped out as she crested a hill on our bike tour along the Connecticut River.

"That's okay," I said. "We're not going to make the entire three-state loop, today. Let's pause here to rest for awhile and have something to eat and drink."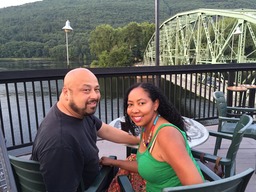 David & Professor N. Above
Bridge to New Hampshire

We sat ourselves right down on the pavement at the top of the hill we'd just climbed on the outskirts of Hinsdale, New Hampshire. We opened our bags and then scarfed down our provisions for the day's bicycle tour: bananas, nut bars, Tetra-Pak cartons of apple juice.

It had been too much to expect that we'd be able to complete the long ride I'd charted for a bike tour. I'd consulted area maps to plot a circuit along both banks of the Connecticut River. It wasn't so far in terms of distance: 30 miles/50 kilometers. But, as a casual bicyclist whose rides had been largely limited to lakefront bike trails back in Buffalo, Professor N. had little experience with hills. I was fairly sweaty and tired already, too.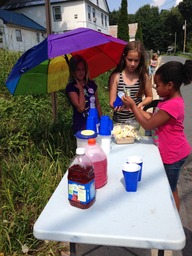 Lemonade Stand

Though we didn't finish the entire loop that I'd charted out we did make it to the main destination that I most wanted to visit along the route. The longest-running branch of the U.S. Postal Service, a location that's kept regular hours for the past 200 years, is located here in Hinsdale, New Hampshire--not far down the road from where I'm cat-sitting in Brattleboro. I wondered what such an old building would look like. I hoped to pen some postcards to friends and have them franked by hand inside the post office to give them more allure.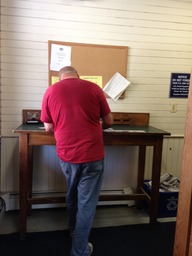 David Pens Postcards

Utterly exhausted as she was, Professor N. had the good spirit to roll along a little farther from our crash-and-burn point at the top of the hill on into Hinsdale. An unexpected bonus en route was coming upon a small umbrella and table being set up by girls offering lemonade. Well, what they were offering was not truly lemonade but cups of fruit punch or iced tea poured out from plastic jugs with labels on them. Homemade lemonade or not, we rewarded their entrepenuership with two dollars for two cups and rode into the old city center.

The post office was what I had imagined. Corners of it were plain and modern bearing the same ads as any other post office in the country would, today. But, half of it was ancient. Banks and banks of old, P.O. boxes lined walls laid at odd angles. Many had combination dials bearing letters rather than numbers. The postal employee on the other side of the counter was happy to frank my postcards by hand though told me that she had to "look the other way and didn't hear that" when I commented that I'd take some photos inside the unique location. Do some regulations prohibit taking photos inside a U.S. post office?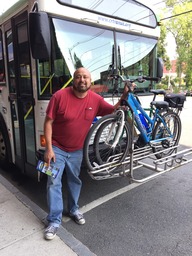 Back in Brattleboro:
David Next to Bus Bike Rack

Professor N. and I had a stroke of good luck to end our day tour. Even before I knew that she'd be coming along to visit Vermont over some of the time while I cat-sat I'd already mapped out the local transit possibilities to get around. I knew that there was an infrequent bus, but one that could get us--and both of our bicycles--back to Brattleboro. I wasn't sure the precise schedule but knew that there was at least one more departure this afternoon.

We're waiting on that bus now. We're at a lovely park alongside a river with waterfall just down the hill below the country's oldest post office.

It's been a good day for both of us. But, I think I'm going to have to attempt the full circuit again. I'd like to try to ride back out here as part of the full loop after Professor N. has returned to Buffalo.