Catsit Conclusion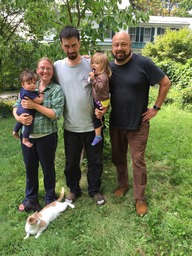 Benjamin, Logan, Olivier, Li-
ly, David, & Timmy the Cat

ABOARD 54 VERMONTER
August 30, 2015

Biking downhill to the Brattleboro Co-op was my first task of the morning. As I walked outside I found Olivier standing among tools scattered about the ground in front of the porch. He himself had evidently stepped out well earlier in the morning--despite that he and his entire family had arrived back home on a trans-Atlantic flight only yesterday. He was excitedly tinkering with electronic parts to attach a motor to his bicycle to transform it into an "e-bike".

After grocery shopping I rode back uphill to my friends' home with a pint of cream and a carton of a dozen eggs. I believe Logan incorporated all of those eggs in some way into a huge pancake brunch. We took our time sitting outdoors eating on their side patio. The sun was shining, the children were playing with each other, and even the cats were clearly happy that the family was back home, strutting about inside the house far more openly than they had when I was the one taking care of them.

International travel must be so much more of an undertaking for Logan and Olivier, these days. They've grown to four since I last saw them. The entire family just returned to Brattleboro after spending most of August in France. In addition to their daughter, Lily, they now have a son, Benjamin. I had met little Lily several times in past years but this was my first time meeting the younger child; he's still just a few months old.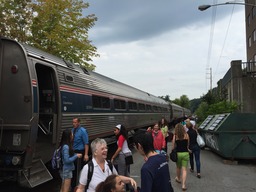 Depature from Brattleboro
It's been fun to check in roughly every year or so to see how my friends' family has been developing. Lily seems to be growing up with native ability in both English and French: I'm sure those regular visits to see her grandparents back in France help round out the limitation of having only one French-speaking parent here in the U.S..
I may have the opportunity to see Logan, Olivier, and their rapidly growing children again in just a few months. Logan extended me an invitation to Thanksgiving dinner with her extended family once again this year. That will be hosted either here or once again back at her father's home over the river in New Hampshire. If I'm still in the area I'll definitely come back for turkey and pumpkin pie.
However it's probable that I'll already be out on the road by then. I really want to avoid another bitter winter like the one Montréal endured this past year. Also driving me back out on the road is the fact that it's been three years since I last spent Christmas with family in Seattle. So, if not over Thanksgiving dinner again this year, I'm sure I'll spend time re-visiting with Logan and Oliver at some other point before long. After all, we do have a pretty good track record of meeting recently. We've done so at least once over each of the past years, in 4 different countries on 3 different continents.
It's been so nice to see that my friends are doing so well and to have an extended visit somewhere new to me. But, my two-week cat-sitting residence in Brattleboro is now over. I'm aboard a train slowly wending its way north up toward the Canadian border.
Next stop: Montréal