Nuit Blanche IV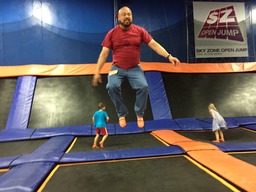 David Bounces on Trampoline

OTTAWA, Canada
September 20, 2015

I hadn't realized that Ottawa also has a "Nuit Blanche" just as Montréal does. But, it's far more pleasant to stroll through the streets here to take in the late night of plentiful outdoor art exhibitions, performance pieces, and sets by musicians than it is back where I just drove from. Rather than being held in the dead of winter, as Nuit Blanche is in Montréal, the late-night, citywide party in Ottawa seems keyed to the beginning of autumn.

Among the dozens of attractions we passed Friday night were a duo playing didjeridu and drums on a street corner, demonstrations of woodblock print carving outside the Ottawa School of Art, and some sort of giveaway that invited passers-by to "Steal this Art" inside a truck parked along Byward Market. My favorite installation had to be one set up in a row of stalls lining George Street. Some group of whimsically-minded people came up with the inspiration to act out the kitsch-art classic picture "Dogs Playing Poker" in real life. People donning dog costumes gathered around a green felt table dealing out hands of poker while howling and barking. They encouraged people to step in off the street to be dealt into a hand or two. I was happy to engage in all the silliness for a few minutes of the evening.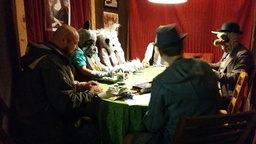 Dogs Playing Poker with David

My main reason for coming to Ottawa this weekend was not to attend Nuit Blanche (the great appeal of Dogs Playing Poker notwithstanding) but to call on friends who I met back in days living in western China: Bonnie and Matthew and their children. Their family moved from England early last year to make a go of living in Canada. Realizing that I may not have much longer based on this side of the country I figured this was the right time to catch up in-person while we still have proximity.

Life seems to be going well for everybody. Bonnie has been steadily working part-time. Matthew has just received a job offer that will keep him in the solar industry but give him more tasks specific to IT, a department he hadn't worked in before. Despite living in Ottawa for over a year both of their children, Tai and Aila, still speak English with a decidedly British accent. Matthew says that people back home in the Channel Islands tell him that his pronunciation has begun to adopt a Canadian lilt, though his speech still sounds properly English to me.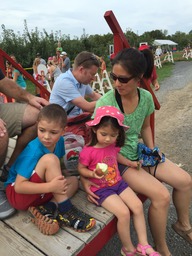 On Tractor Bed to
Go Apple Picking

The most remarkable thing to do with talking with the family was not their British accents but something I hadn't been aware of until Bonnie and Matthew commented specifically upon it. Their son, Tai, spent a good part of the first evening of my visit excitedly describing to me the place we would visit the next day: an enormous gymnasium that was lined with trampolines from wall to wall. I didn't think anything of his detailed description until his parents told me later that evening that Tai is extremely reticent even when interacting with teachers and other people with whom he's far more familiar. Though Tai is perfectly capable of articulating what he wants he just often chooses to remain silent. The drawn-out conversation he held with me was evidently the longest period of communication he's held with somebody outside his family. I felt somehow honored that--for whatever reason--Tai quickly saw me as a comfortable, safe person to engage with at a level he wouldn't normally when interacting with somebody else unfamiliar.

In addition to bouncing madly on trampolines at Tai's favorite place in all Ottawa and going out for the Nuit Blanche festivities we've made several other family-friendly trips over this weekend visit. Yesterday, we drove to a nearby orchard to go apple picking. The weather was fair enough and and a nearby field adequately large and clear that we were able to briefly relive our days back in Asia when we'd regularly throw the Frisbee around.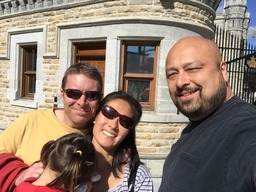 Matthew, Aila, Bonnie &
David Outside Ottawa Mint

This morning we concluded my visit by taking a tour of the one destination I'd specifically decided to visit when plotting out my trip to Ottawa. The Royal Canadian Mint allows people to walk through its facilities to see where coins are manufactured. That sounded fun to me. The machines operating this morning included ones stamping coins from long sheets of pure silver or gold much as a machine in a bakery might cut cookies from a layer of dough.

Thanks for hosting and taking me around Ottawa once again, Bonnie and Matthew! Hopefully it won't be again a matter of years before we next meet. Given that it was over 10 years ago that we last saw each other in the place where we all first met, perhaps next time we should have our get-together as a reunion back in Xinjiang?