Cast of Characters MMVII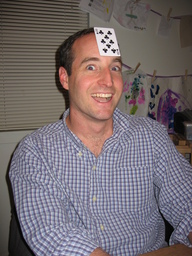 SEATTLE, USA
January 1, 2007

2006 has passed, over the entire year I neglected to update my profile of friends seen around Urumqi. Here's an update on all the people I profiled in these past entries:

Cast of Characters
May 28, 2004

Cast of Characters II
April 17, 2005

Cast Reunion
June 10, 2005

Mike

Mike ended his global journey one year ago, arriving home after a year of travel around Latin America. Three years on the road have given him perspective on how good life can be in America. He's currently taking things easy, enjoying life in a comfortable city. Mike is currently working at a law office in downtown Seattle. He and fiancée Minh Chau are expecting a baby boy, due in March of 2007.

---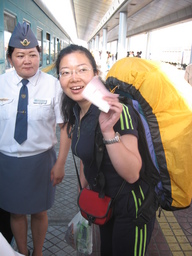 Joyce
As always, Joyce has kept busy. She presently holds an executive position with a small Beijing investment group. The engagement I wrote of in my last Cast of Characters update was broken off, though in October 2006 she and a new boyfriend moved into an apartment in central Beijing together. Joyce is preparing to take a battery of tests that will give her the equivalent of an additional B.A. in English. In July of 2006 Joyce was sent up to Ulaan Baatar as a writer for the Chinese travel journal World Vision. She, Meenday, and I spent several days together around Ulaan Baatar, this photo shows her on the railway platform for the train bound for the border with China.

---
Zhi Shuang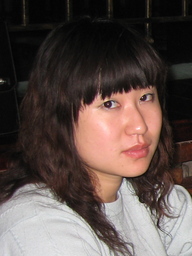 This past year Zhi Shuang found work in journalism, the field of her undergraduate studies. She's been working at an on-line news service in Urumqi, locating articles from other sources to collate and present on her company's website. She doesn't seem excited by the work, but doesn't complain overly about it. She had been considering pursuing a master's degree in psychology at a school in Zhuhai (southern China), though hasn't spoken of that recently: I presume those plans have fallen through.
Zhi Shuang had been living independently in a flat near Urumqi's People's Square. Her parents have been staying with her over the past several months, as they are renovating their own place. Zhi Shuang should have her apartment to herself again sometime this month.
Zhi Shuang's closest friend, Bahar, was married this autumn. Since then Zhi Shuang has spoken more and more of how she herself would like to be in a relationship.

---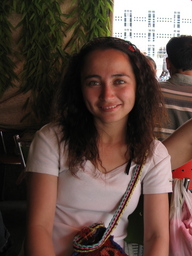 Nisagul
I've shared my apartment with Nisagul for over two years now. At the moment she's housesitting for Tiffany who is away in the U.S., though will likely move back into my place come February.
Life has been well for Nisagul over the past year. Her role as a trilingual tour guide took her not only to all the major points around Xinjiang this summer, but to other cities of China including Xi'an and Shanghai. Her company pays her very poorly--even by Chinese standards--though tips given by foreigners are generous. As with many companies around China, the management is corrupt, pocketing most of her tips for themselves. Regardless, she's done very well this year and used her earnings to buy household items and clothing for her parents and her brothers, as well as spending a small amount on luxuries for herself.
This past year also saw Nisagul's first major relationship, with another Uighur tour guide. That seems to have fallen apart, though things only became rocky recently.
Nisagul is presently taking French classes several nights a week. She intends to find work at a different travel agency next summer.

---
Shahnaz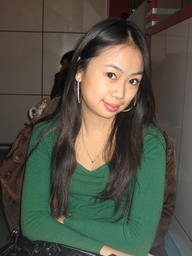 Shahnaz broke up with her boyfriend in Xi'an, spent some time back in Urumqi, then moved to Beijing. As ever, she's juggling boyfriends--only some of whom are aware of the others' existence. Shahnaz has spent the past year studying at Beijing's branch of the Alliance Français. This past November she took an exam to assess her French language abilities. If her scores are above a certain mark, she will be eligible to attend university in France. She's planning on moving to Paris in February.

---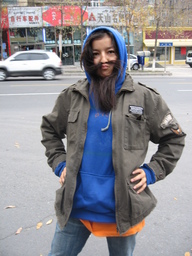 Shamsiya
Both of my friends who had been working at Urumqi's Fu Bar (Shamsiya and Nisagul) were fired short months after they began work there. For a fair while after losing her job, Shamsiya didn't do much. This summer I connected her with an American who runs a restaurant and coffeehouse near People's Square, "Uncle Bob", who runs Uncle Bob's Cafe. Shamsiya has now been working at the cafe for several months and seems to be thriving.
Shamsiya filled a niche. Uncle Bob wanted to hire somebody to work in his kitchen, but specifically needed somebody Uighur, female, and English-speaking. Uighur males have a reputation for trouble. Uighur customers not only avoid eating Chinese food, but will avoid eating at any restaurant where the cook is not Muslim. As to languages, though Shamsiya is naturally strongest speaking Uighur, her Chinese is probably better than mine and her English is becoming natural and fluent.
Shamsiya moved in with Nisagul and me shortly after we got our new place in March of 2006.

---
Rahila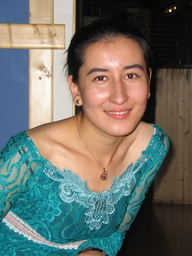 After graduation in summer of 2005 Rahila found work as a sales agent at the Urumqi Mercedes-Benz dealership. She hated the work, so attempted to follow in Nisagul's footsteps, finding work as a travel guide over summer of 2006. She found that to be a lot more work than selling Chinese men expensive cars, so returned to Benz several months ago.
Rahila and I saw each other most frequently over the weekly summer sessions of Ultimate Frisbee. She and her sister Mahira evidently grew up playing Frisbee in Kashgar, which surprised me. I recall the first time we played together, asking if they'd ever played before--most people in Xinjiang have never seen a Frisbee before. They responded by hurling the disk with amazing strength and accuracy. They could throw the Frisbee with such force that, even after flying all the way across the field, straight into my hands, it still stung to catch.

---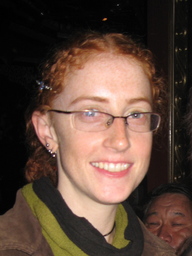 Tiffany
Since my last Cast entry Tiffany has been busy. In autumn of 2005 she, Nisagul, and I traveled together to Tibet. Tiffany's visa was cancelled by the police in Tibet; she was given 20 days to leave the country. She returned to Southern California to find temporary work through that winter, then returning to Urumqi to begin classes at Xinjiang University. Over the past two semesters she has been my classmate in Chinese class, simultaneously studying Kazak with instructors from the university.
Tiffany has taken this winter in California as well, working at the same job she worked one year ago to save money for her next year in Xinjiang. She should return to Urumqi sometime before the semester begins in March, though will likely transfer from Xinjiang University to the Xinjiang Art Institute.

---
All of the other people I mentioned in previous entries but have no photo for this time are westerners who have moved along from Urumqi. I've not seen any of them since they've left China. Paul went on to do graduate work in New Mexico, the last I heard from him he was doing research in Bolivia. Aaron and his girlfriend Susan found work in Washington D.C.. Rian and Laura returned to Harvard to finish up their doctoral work. Catherine moved with her boyfriend to London, where she works as an account manager for a large advertising agency.