Chinese Backpackers III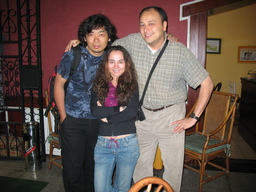 Lu Jun, Nisagul, and David

URUMQI, China
May 24, 2008

The timing just worked out right for a re-union.

Three years ago, when Nisagul and I were crossing western Tibet, we first met Lu Jun. He was also exploring the area. I didn't think that I'd be seeing either of them again over my remaining time in China, let alone together. I fly out of the country tonight. Over this past week, Nisagul has been leading a tour group on a loop around Turfan, Hotan, and Kashgar. It was unlikely that she would return to Urumqi before I left, so we had already said our farewells. When I called Lu Jun while visiting Beijing--where he lives--a few weeks prior, I had just missed him. He was on his way to Shanghai, we didn't manage to connect.

Happily, everything came together. Nisagul flew back up from Kashgar this morning. Lu Jun wasn't planning on passing through Urumqi, but, he too arrived this morning. Evidently, he's picked up a job leading travel around western China, himself. Lu Jun is currently leading a group of tourists from Spain on a road trip from Beijing to the base of K2. It's not his usual line of work. He doesn't sound too excited by this present trip he's making, accompanying a group of westerners. At least it is getting him back out to the western region of China which he loves.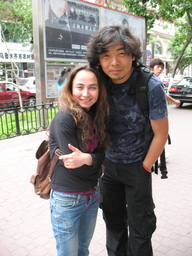 Nisagul and Lu Jun

The three of us took lunch together at The Vine, a cozy Caribbean cafe run by two women from Curacao. The Vine was the only restaurant I knew of which was operated by foreigners when I moved here a few years ago. Over rice and beans we laughed a lot, reminiscing about shared memories of that road trip when we met three years ago: What could have become of that silent, older Korean man who was our traveling companion for a week? Lu Jun said that the entire GD219 has recently been well-surfaced and is a much easier journey today. Over dessert, we debated just where along that road Aksai Chin lay, the slice of Kashmir India and China went to war over four decades ago.

We talked about maybe making the journey again, or perhaps taking a trip to some other interesting location nearby. Lu Jun said that he actually received the approval and funding to make a documentary of a return trip along GD219 between Xinjiang and Western Tibet this year. However, as that was set to place in March the entire project was scrapped when Tibetan protests turned violent and deadly that month.

Before saying our farewells, Lu Jun presented Nisagul with a copy of a book he wrote chronicling several of his trips around Tibet, including the journey over which we met. He says that Alone in Tibet has sold out its first press run of 6,000; he'll give me a copy from the batch. I'd love to have one. It would give me something written in Chinese which I'd be excited to pore over; both Nisagul and I are mentioned by name in one chapter.