Dinner at Tiffany's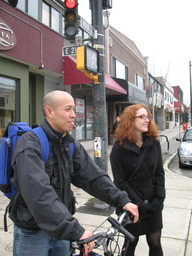 René and Tiffany

VANCOUVER, Canada
February 1, 2010

When I pulled into town Tiffany was cooking dinner: a chick pea dish, a string bean dish, homemade bread, and homemade peanut-butter cookies for dessert.

Being such an inept cook myself I always feel overly appreciative when somebody prepares me a meal in their own kitchen. At least I provided the wine: cheap Shiraz and Merlot that Tiffany specifically requested. Evidently, the cheapest bottle of wine in B.C. sells for about three times what it would go for across the border in Washington State. Fortunately, I happened to bring a couple additional bottles to leave after dinner. Unfortunately, I didn't read Tiffany's follow-up e-mail message before going shopping: she requested that I bring up an entire case.

Tiffany has been living here since the day after we last saw each other in Portland. She caught a ride north to Vancouver; Friederike and I drove south to California. Tiffany's boyfriend, René, is Canadian. The two of them were both burnt out after living many long years in China. Last June they decided to relocate to L.A.. However, obtaining status as a U.S. citizen living in Canada seems easier than obtaining status as a Canadian citizen living in the U.S.. René was unable to work legally in L.A.; they moved here just to live in a place where they could stay together. Tiffany found that enrolling in an urban planning certificate program at a local community college was all she needed to not only attain resident status, but to also acquire the right to work after several months living in the country.

This was meant to be a road-trip along with Brother Ben. I didn't want to make this drive to Vancouver solo. But... Ben found that his passport had expired. Thankfully, he checked the day before we were set to leave. It wound up being a lonely drive north.

Tiffany glows about living in the city of Vancouver. I find that ironic. I've been making efforts to move up here for years--it's just bureaucratic red-tape that has kept me from being here any sooner. That she beat me here is unexpected: she never mentioned any intention to move to Canada while we were living in Urumqi. Still, I find the move unsurprising. Wouldn't anybody in the world want to live in this cool city? Now that she's living here, I'm hoping that we can resume playing Frisbee on a regular basis--assuming that my green card does eventually come through.

Tiffany remains the unchallenged Queen of SET. She and I just finished playing a few rounds over our morning coffee. I've never played against anybody of her caliber, against anybody who can sense that a pattern is laid out on the table before being aware precisely which three cards it is that form the set. Though I usually lose, I do love playing a few rounds against stiff competition.

Last night I introduced another game: Fill or Bust!. I don't know why I've gotten back into this particular game recently--it was something I last regularly played long, long ago. The game showed up in Greg's Christmas stocking roughly 25 years ago. We brothers played often when young; it's been a great game to re-discover when old, as well.

Fill or Bust! is far less cognitive than SET; it's much more a game of chance. It mainly involves rolling dice in specific sequences to accrue points. The last time I played wasn't actually that long ago--and here in B.C. as well. A month-and-a-half ago Friederike, Bonnie, Matthew, and I cast the dice over the evening we got together. I knew it was a good game but hadn't realized how addictive it would be. Bonnie just sent me a Christmas card in which she informed me that she crafted playing cards of her own to replicate the game so she could play with her parents right before moving off to Penzance. I love how the games I play go viral.

Tiffany and I are about to square that bet I lost. Our stakes were dim-sum together at the winner's venue of choice. Sadly, this meal will have to be on me, though I concede that she won fair-and-square. Then, after we've finished dim-sum, I plan to pick up another box of Punjabi sweets to bring back to Seattle. Barfi and gulab jamun are my standards--though I might branch out and try something new with this visit. Fortunately, Tiffany and René's apartment is a mere two blocks from my favorite Indian sweet shop.

After filling boxes full of sweets, I need to take care of the main mission of this trip. This afternoon I'll drive out to Richmond to get my medical exam for immigration. Finally, I think I can manage to drive all the way back to Seattle to make it home tonight--though will likely first linger at some cafe to avoid rush-hour.