Famous Babes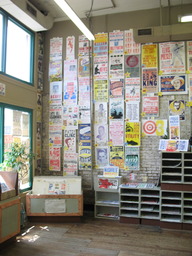 Hatch Show Print

Nashville, USA
August 27, 2010

"Your aunt in Nashville wants to meet you where!", said Ruth's mother.

I had just sat down across the dining-room table from Ben, Ruth E. and her parents. I had stepped away from a hand of euchre to take Aunt Martha's call. Ben and I were spending our last night in Bloomington before setting off on the next leg of our road-trip south.

I was skeptical myself, given the name of the place where Aunt Martha said we should meet.

"She said we should meet her after work at some barbecue place outside Nashville. It's called 'Famous Babes'."

I acknowledged that any place called "Famous Babes" sounded less like a well-known Nashville barbecue pit and more like some chain bar with big TV's, cheap beer, and waitresses in short shorts and tight T-shirts.

Longtime readers of this weblog will remember Aunt Martha. She's one of the few people who came out to visit me while I was living in Urumqi. We last saw each other about four years ago in Chicago. She moved to a townhouse in a sub-division somewhere outside Nashville around that time. She works as an accountant. Famous Babes?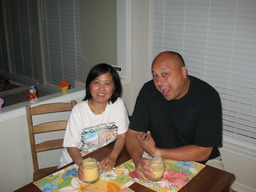 Aunt Martha and David
Drink Mango Lassi

Rolling into town together with Ben after the five-hour drive from Bloomington, he and I found that the location was indeed a chain restaurant--but not of the skanky nature we had feared. I had misheard Aunt Martha. She had actually told us to meet at a place called "Famous Dave's."

Their barbecue turned out to be pretty tasty.

Ben and I have had only a couple nights in town. Aunt Martha and I spent our one full day taking in the basic tourist attractions around downtown Nashville. It's my first trip to this city so I felt no guilt about following the freebie tourist map to pick places to visit. Unfortunately, the one place I had heard of and thought I might like to visit before coming to Nashville, the Grand Ole Opry, is still undergoing renovations from flood damage. Aunt Martha and I made do with lunch at another Nashville music institution, the Wildhorse Saloon.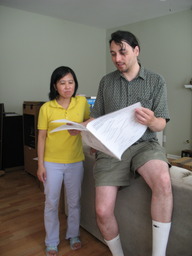 Aunt Martha and Ben
Read Bookcase
Assembly Instructions

The place I found of most interest in Nashville was clearly marked along the downtown tourist trail: Hatch Show Print. Hatch is a print shop that has been running off posters for music concerts and other events since the 1870s. Some of their presses look like they haven't been updated since the 19th century. I used to run offset presses in a high-school graphic arts program so had appreciation for a place that still did their lithography with moveable type in four-color runs. Everything today is so much easier using computers for the layout and typesetting--but it doesn't look or feel the same.

I bought a few postcards from Hatch. They were two-color jobs announcing performances from many decades past: hypnotists, magicians, and vaudeville entertainers. They had been run off on a stiff card stock. On the blank side of some of the cards was a shallow reverse impression of the lettering. They not only looked distinctive, but hefting one in my hand felt like grasping onto something from another era.

Much of our time here has been less about seeing the sights and more about time together with Aunt Martha. Ben and I have helped her with a few long-overdue projects around her house. Having two big guys on-hand has meant requests for all manner of tasks that she put off since moving in. Ben helped her assemble a new bookcase that had been lying in a box in her garage for months. He also determined which of the two new printers she had in her closet was the better and got it up and running. I hung up a shower curtain and helped cook dinner and dessert in her kitchen one night. (Dumplings and samosas from Costco; my mango lassi recipe from scratch.)

It's been good to just spend time together. It's all catch-up for me and Aunt Martha, but this is the first time she and Ben have met. Nice to have family to connect with along our road-trip and to show us around town.

But... it's time to continue on the final leg south. Now: off to New Orleans to see Rian and Laura.