Wall Walk III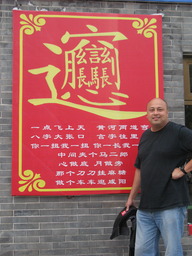 David Contemplates
Bian Bian Mian

XI'AN, China
October 20, 2010

Yes, it's full of people agressively hawking exorbitantly priced kitsch. Yes, it's full of hordes of other western tourists. Yes, I've been here at least a dozen times before. But, I always love visiting Xi'an.

The ancient city walls were restored sometime several years after my first visit. I can't remember exactly which year the restoration was finally finished, but I do remember being excited to finally get up on top. The old walls were my favorite part of the city even before they were fixed up, back when several long stretches were crumbling or entirely demolished. I recall contemplating during my first visit here whether there was some place from where I could scale the walls to see the view from the top. I recall feeling disappointed when I couldn't find anywhere to do so.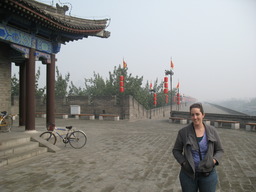 Ruth E. Atop Xi'an City Walls

So, every time I've passed through Xi'an since their restoration I've bought a ticket to climb atop the ancient city walls. I've walked around the entire perimeter on a couple occasions before, which takes about four to five hours. On this visit, I again bought my ticket to go up around the city walls. But this time was different: rather than walk I made the circuit by bicycle.

Going by bike was less my decision and more the choice of the friend I've met up with here: Ruth E. In the time since I left Bloomington a couple months ago, Ruth E. beat me in coming here to China.

While I was studying Uyghur in Bloomington this past summer I occasionally prodded her to make her first visit to China: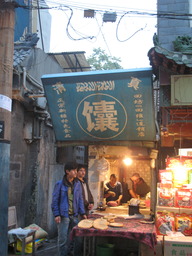 Nan for Sale in
Muslim Quarter

"Your sister (Rachel E.) has been working in China for years. If you ever think you'd like to go, you might as well do it while she's still out there. What if you found out she was suddenly moving back to the U.S.? Wouldn't it feel like you missed an opportunity?

"And, if you make it all the way out west, you can finally see this Uyghur culture and language that I've been studying, here. If you go, I'll even show you around Xinjiang, okay?"

Though I wasn't entirely serious--how likely would it be that Ruth might make it to a place remote as Xinjiang?--I feel bad that ultimately, I didn't deliver on my words. She and her sister did indeed travel out to Xinjiang, making it all the way down to Tashkorghan on the Pakistan border. But, while they were out west, I was still down in Vietnam at the time and wouldn't cross the border into China for another week, yet.

I don't know how much my words swayed Ruth E. into making this trip to China. Probably not much. She had likely considered visiting Rachel many times before. This month-long visit around China is actually just a small leg in a greater journey she's making. But, whether or not I could play tour guide for Xinjiang, the region of China I know best, I still figured we should meet up while in the same country. I proposed meeting in Xi'an.

Coming here from Kunming wasn't terribly far out of my way. Whether or not I came to Xi'an, I'd still have to take the same pokey train as far as Baoji--a city only a couple hours west--before transfering onto the trunk line west to Urumqi, my next destination. Xi'an was just a bit farther on eastward. Ruth E. was up for the rendezvous; she flew here from Beijing.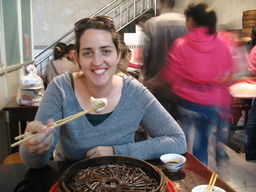 Ruth E. Finishes
off Brothy Dumplings

Since connecting here a few days ago, in addition to cycling around the city walls we've visited the other standard tourist attractions: the Terracotta Warriors, the Muslim Quarter, the Great Mosque... We've made return visits to the Muslim Quarter on account of the food. There's a particular type of steamed dumpling which I love, commonly served throughout that neighborhood. Along with choice of filling (usually lamb or beef) it also has tasty broth boiled up inside. Another of my favorites, sour plum juice--酸梅汤--is available everywhere in the area, too.

While strolling around the Muslim Quarter I found a food new to me: 黄桂柿子饼 huanggui shizi bing, a type of fritter with various choices of sweet filling: peanut, black-sesame, and rose-petal--among others. We sampled them all and kept coming back for more. (Rose-petal was our favorite.)

There were signs everywhere for a dish which we didn't try, but I'm always happy to see on offer: bian bian mian. "Bian bian mian" is the name for a local noodle dish. I've eaten it before. The flavor isn't bad, but nothing special. What is special, is the character used to write its name. "Bian" has over 50 strokes and must be the most complicated character I've seen commonly written on signs anywhere. I don't think it exists as a proper word in the dictionary, but everybody in Shaanxi Province knows the character.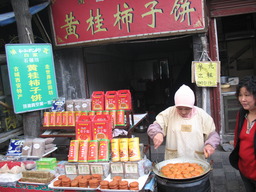 Sweet Persimmon Friters:
黄桂柿子饼

The sign I'm standing in front of in the photo at the top of this entry is a massive rendition of the character bian. Beneath it is a poem that both outlines the order of strokes used to write the character while also describing the nearby ancient city of Xianyang. There is a similar dual-layered poem that simultaneously describes how to write the complicated character while also depicting details of the city of Xi'an.

Ruth has flown back to Beijing where she'll spend her final days in China. Then comes the greater part of her journey. Next week she flies on to East Africa, where she'll spend her next six months performing volunteer work.

Bon voyage and good luck in Africa, Ruth.

Me, I'm not hopping continents (yet) but do have a ticket for a morning train (the T193) for the long journey west. Next stop: Urumqi.