Old Friends V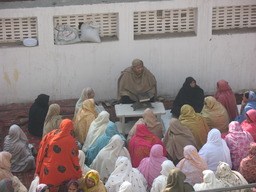 LAHORE, Pakistan
January 12, 2011

I don't know why I didn't stay with Gudu's family from the first day I arrived in Lahore. Gudu, his mother, his sister, his cousins: these are the same people I stayed with the last time I visited Pakistan in the summer of 2007.

These final days of my visit have been so enjoyable. I finished off this stint in Lahore with a few nights staying at Gudu's family apartment in Lahore's old city. Over 90% of our conversation was in Urdu. Though I know that I'll likely never gain full fluency in Urdu (or in any language other than English,) it does feel good to have the ability to express myself easily, to comprehend day-to-day speech, and to sustain conversations in the local lingua franca.

I found that of everybody in the extended household there was only one person, Gudu's sister, Mavra, who could manage a little English. She has largely been bored staying at home since my visit three years ago. Mavra completed a degree in computer programming nearly two years ago--but she hasn't managed to find a job. Almost all of her days are spent without venturing outside the house.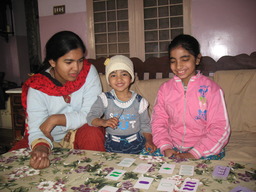 Mavara, Dhaniya, and Fatima

It wasn't hard to get talk flowing or to get people engaged over my stay by introducing something new and fun. I taught everybody simple card games: speed, Indian Poker, SET. Young cousins Dhaniya and Fatima were among those who came by for dinner each night. (Their side of the family occupies another apartment two stories above.) Teaching, learning, playing... it was a fun way for everybody to spend our evenings together. The younger generation repeatedly requested another round of one game or another that I had just taught them.

Gudu and Mavra's mother, the matriarch of the household, prepared the meals over my visit. Supper each night was always several courses. One night a spicy fried chicken was the main dish, the next night mutton in sauce. To cater to my tastes on another night she even attempted a Chinese dish: hot-and-sour soup. It was pretty good.

Alongside each centerpiece dish, there were several others new to me: some kind of fluffy rice with split-peas; some kind of sweet puree of lentils and flour. I learnt an easy way to prepare a dessert using just two ingredients. Sprinkle brown sugar over steamed white rice and stir together well. Yummy.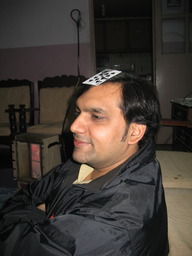 Gudu Plays Indian Poker

Gudu has been at work during the day, so I've seen less of him. But, I have been happy to reconnect and find that he has good things happening in his life. When we do talk, he still strikes me as one of the nicest guys I've met. He doesn't speak very much. When he does have anything to say he always delivers it in a soft, gentle manner. Gudu is generally agreeable and clearly interested in what other people have to say. It's good to see him doing well.

Gudu has especially good news: he is about to be married. In Pakistan there are separate stages to the wedding. He and his bride have already performed the nikkah which seems akin to a formal engagement and dowry agreement set between the two families. The actual wedding ceremony, the shadi, will be in Karachi this March, after which he and his new wife will move into a new place here in Lahore. I regret that I won't still be here in Pakistan that much later. They invited me to attend; I know it would be an amazing party to experience.

I'm on my way out of Lahore, now. Next stop: a return to Islamabad to try to straighten out visa matters. I've already overstayed by 10 days the term allowed under my current Pakistani visa. There should theoretically be no penalty if I overstay by fewer than 14 days. But, I don't yet know how soon or which direction I'll go when leaving Pakistan.

The Iranian embassy told me to call back again later this afternoon. I'll do that once I'm back on the Daewoo bus heading up to Islamabad. If they still haven't made their decision whether to grant me a visa or if they say my application has been outright declined, I think I'll get a flight to Dubai within the week. If there is good news from the Iranian embassy, I'll try to extend that lapsed Pakistani visa and continue the overland journey along west to Iran.
---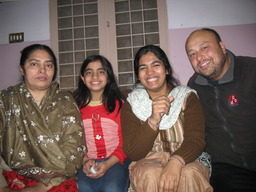 "Mã", Fatima, Mavara, and David

The photo at the top of this entry was the view outside of my room one morning while staying at Gudu's family home. I heard a woman's voice speaking in some language that I couldn't understand. She was clearly giving some sort of lesson.

Looking outside, I saw scores of other women gathered around her across the courtyard. I asked people in the household what it was about. Evidently, the instructor was speaking not in Urdu, but in the local language, Punjabi. Ladies' Quran study class meets regularly over on the opposite balcony.