Downward Dog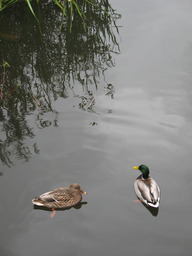 False Creek

VANCOUVER, Canada
October 22, 2011

It was my first time. I didn't know what to do. I attempted to move in tandem with everybody else's motions.

"Hold this position, then end in either 'Downward Dog' or 'Child Pose'," the woman leading the session instructed.

The former sounded naughty (though wasn't); the latter turned out totally different from the fetal position I expected to curl up into.

"What are these foam blocks used for?", I wondered occasionally throughout the class. They were lying next to each mat but nobody seemed to be using them. There were a lot of things I wasn't sure about so just followed along as I could.

Carrie's membership at the downtown YMCA came with a few guest passes; she asked me if I wanted to use one for an afternoon session at a Hatha Yoga class. It had been years since I'd been inside a gym. I'd never attempted yoga before. But since that first session, I'm now interested in trying again. The hour slipped by in what felt like 20 minutes. I felt both soothed and invigorated. The entire afternoon following the workout my body carried a warm energy from having been pushed--but not too far. Curious foam blocks and confusing terminology or not, I'm considering seeing if the YMCA back in Seattle might offer a deal on a short-term membership for my final month back there.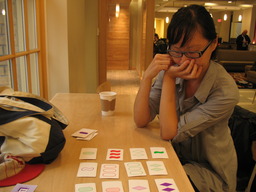 Carrie Plays SET at
YMCA Before Yoga

No, I haven't settled in Canada... quite yet. This has been a quick jaunt to Vancouver just to spend time with various friends.

I've been staying with Ed and Carrie. They're still in the same apartment building where they lived when I came calling a couple years ago. Though that location might soon change, depending on which opportunities they follow:

Ed has credentials as an accupuncturist but he seldom practices here--he's fallen into a more manageable routine with steady hours and paycheck by teaching English. Carrie is contemplating a graduate program in architectural design--but that would take the couple to another province. In more than one conversation since I've been here they speculated about just picking up and living abroad once again (they first met in Taiwan) to teach in an international school with western curriculum.

For my sake, I'd be happy if they're yet here in Vancouver whenever I do finally settle. They're good people to spend time with, interesting to talk to, and both were up for repeated rounds of the card and dice games I now carry with me wherever I travel.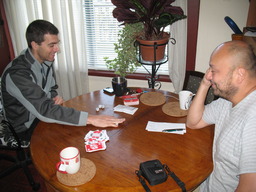 Ed and David Play
"Fill or Bust!"

These past days in town also afforded me time to re-connect with my longest-standing friend: Kim. She came a few days before I arrived to attend the Vancouver Writers Conference. (I came here by Greyhound but we'll drive back down together.)

I don't call Kim my "longest-standing friend" for nothing. (Or should it be, "most long-standing"? She's the writer between us, I should ask her... ) I recall our first meeting many years ago over a three-day "orientation" before a new school year began. This was in the summer back before we began attending second grade. Ever since, we've managed to continue some link of friendship ever since: over periods off and on, over periods close and distant. Is it normal to retain friendships that began as children? Perhaps it is now in an era of social networking. But, even today I find it remarkable that I retain any vital connection with somebody I met when we were both seven years old.

Though she's still based in Seattle, Kim has spent more time recently in Vancouver than I have. We've been running around town catching up over various days when she hasn't been busy elsewhere attending some event related to the Writers Conference. She knows this city far better than I do so I've been happy to follow her lead, especially when the times we've met have been somewhere over food. She's introduced me to: her favorite coffeehouse (Arbutus Coffee on W. 6th), to her favorite barbecue joint (Peckinpah on Water & Canal), and to her favorite late-night greasy spoon (Sophie's Cosmic Cafe on W. 4th.)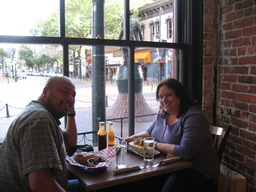 David and Kim Eat
Barbecue at Peckinpah

Seeing different parts of town with different friends has affirmed to me that I do want to live in this city. Yesterday, an unplanned stroll took me across much of central Vancouver. It was meant to be an impromptu peek at an area of town that's gone through considerable change in the past years. But one place led to another and we'd soon covered several neighborhoods and several miles on foot.

While on a Skytrain ride back from the yoga class with Carrie, we made a snap decision to hop off several stations early. She suggested that we visit a nearby area that formed the Athlete's Village during last year's Winter Olympics. But, instead of heading back to catch the next train once we'd looked around we continued strolling around False Creek. Our diversion turned into a nature hike. Then, walking along the water we eventually found ourself in the marketplace, coffeehouses, and nouveau-bohemian artisan community of Granville Island. We finished with the longest stretch walking all the way back along busy Broadway to the apartment off Commercial Drive that Carrie and Ed share.

There are an energy and a beauty to this city that I've always been drawn to. I haven't felt those to be any different on this visit. I'm fairly certain I'll spend at least several years living in this town.

But, that time hasn't quite begun. Before settling down in Canada I first have a detour to make. Tomorrow, I'll catch a ride together with Kim back down to Seattle. I'll spend the month around Thanksgiving visiting with family. Then come December, I'll head to points further south.

See you again in 2012, Canada. I promise a longer stay.