Amigos de Viajar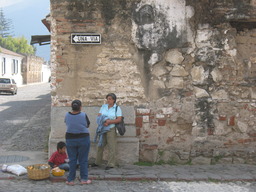 Antigua Street Corner

ABOARD BUS LEAVING ANTIGUA, Guatemala
January 12, 2012

Before I carried on west and she turned back east, I wanted to make certain there was nothing outstanding left to be said.

"I'd better head now if I'm going to cross the border with Mexico, tonight. I guess this is finally goodbye after another month out on the road together. Anything you want to talk about before we part ways?"

"No," Irina said bluntly. "What would I have to say?"

"Specifically about you and me," I said.

"No," she repeated, continuing to stare at her laptop screen, smoking silently.

"You still going to come see me in Canada after your program is over?"

"Ja. Sure. I guess."

Irina looked up at me, then came over and gave me a long embrace. We finished with several pecks goodbye.

"I should go," I said.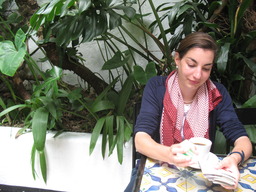 Coffee Break

"Well, see you soon on Skype," Irina smiled.

"I guess I'll see you there," I smiled back.

"I have enjoyed traveling with you this past month... ", I waved goodbye as I walked down the stairwell and left Irina to check out of our hotel along her own timeline.

It was the farewell that I anticipated. She and I do make tremendous travel companions together. From the way we each spend money, to what kind of tourist attractions interest us, to our drinking habits, to even the time of day we both get up out of bed: we make for a wonderful pair out on the road together. But, after crossing over a dozen countries together this past year we've come to know each other's quirks and nuances intimately. Despite-or-because-of-which: neither of us feel inclined to pursue any more-defined connection.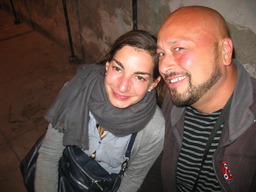 Amigos con Frijoles

I suspect we'll take another journey together somewhere before long. After her program at Universidad para la Paz finishes in late spring, Irina will attend a conference in New York. I asked if she wanted to take a couple weeks after the conference to finish her dissertation while staying with me up across the border in Canada. Then, later this summer our paths should cross again in Europe. I'll be attending the wedding of a couple friends getting married in France; she'll be on her way back to Pakistan via Germany and Vienna. We're talking about making a short bicycle tour of the Côte d'Azur. We'll be travel companions again sooner than later.
---
As I stepped out from our hotel a battered school bus passed by: typical public transport between cities in Guatemala. It had destinations of nearby villages painted on its windshield. I recognized one name I'd seen on some map before, Pastores, but wasn't sure whether that was on the way to the right border. I had a sense it might be somewhere in the correct direction, west of Antigua.
I ran behind, then alongside, and finally hopped onto the bus as it slowed for me.