Charmed II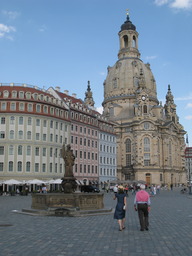 Dresden Frauenkirche

DRESDEN, Germany
July 17, 2011

Lars flicked his fingers across the glass, expanding the detail of the map. Across the screen of his iPad walking paths came visible displaying routes across the border to the closest towns in the Czech Republic. We could head either north or south. Either way, our hike would take a little under two hours; the four of us hit the trail right after breakfast.

Along the route we passed a cherry tree bearing fruit not quite ready to drop--still tart, but tasty. Further along the trail there were red-currant bushes with clumps of berries hanging off--that fruit also edible but not quite ripe. The sun was rising higher; it was a fine day for a walk. I was out with friends both old and new. I was walking alongside a Danish couple I've known for many years, Lars and Lykke, as well as alongside Irina--whom I first met only last year. Even at our ambling pace, we still managed to cross into the Czech Republic in time for lunch.

I realized that there's something common amongst most of the friends I've been calling on since arriving in Europe. Our initial link was having met while living or traveling somewhere in Asia: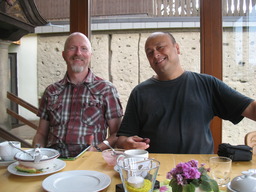 Lars and David

How did I wind up spending the last days around a small German village near the Czech border, Lichtenhain, with a couple people I first met decades apart on a distant continent?

I began by re-connecting with Irina. When leaving Munich I caught a ride up to Mannheim to see her. The timing worked well. Irina had returned from Vienna to visit her hometown for a few days. It was the first time she and I had met after parting ways in Ukraine--and far sooner than I believed would be possible. I wasn't sure whether the two of us would be anywhere proximate enough to the other to meet for at least the next year.

We fell right into the same routine we kept while traveling together around eastern Europe. Walking around exploring the area during the day (she now as local native tour guide,) cooking (Irina far more adept in the kitchen than I--though I did attempt a basic Mexican dinner one night,) and evenings of conversation over wine. We didn't bomb out on TV as much as we did while idling in Islamabad earlier this year--but did make a point to watch one more episode of The Apprentice: the finale of the season we had left off when back in eastern Europe (UK series 3).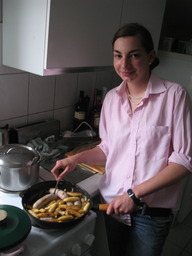 Irina Cooks Sausage

After a few happy days staying in Irina's hometown the time came for me to get together with Danish friends. I had been planning on heading up to Denmark. But, the couple I was planning to call on first--Lykke and Lars--happened to be taking a few weeks of vacation here in Germany. Even backtracking all the way across the country from Mannheim the timing, the connections, and the rail fare would all work out better if I came to where they were vacationing than if I were to travel up to Denmark after they'd returned.

I asked Irina if she wanted to join. She was about to head back down to Vienna soon, anyway. Dresden would be en route; why not? We shared a cheap ticket on the regional trains to eastern Germany, adding yet another episode to our summer traveling together.

Lykke and Lars are doing well. They're both in the same places in life as when I last saw them, three years ago. Lykke still works at a college in Nykoebing. Lars still works at a telecom in Copenhagen. Those cities are not in the same area of Denmark, but they are connected by commuter train. Though they've lived in separate cities over the last years they've managed to sustain their relationship. Their lives are intertwined, despite the distance. Even though I met Lykke separately, at a time before she and Lars even knew each other, I can no longer imagine one without the other.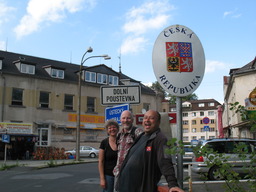 Lykke, Lars, and David
cross Czech/German Border

When the four of us hiked through the woods and across the border into the Czech Republic, Lars brought along a pair of walkie-talkies for us to keep in contact. He's constantly intrigued by gadgets and new technology. Each time I see him he shares some new electronic device. In addition to the walkie-talkies (which have "7km line-of-sight range", he told me) his iPad provided the navigation outlining our walk.

I love seeing Lars. I've never been that much of a gadget-guy, myself. But, the times he excitedly demonstrates features and functionality of some gizmo, it's hard not to feel as captivated as he does.

The town we arrived upon in the Czech Republic held little of interest. Even with Lars' GPS navigation it took us some time to find anywhere open for lunch. Happily, the meal was fairly good once we did find a place to eat. Lykke and I both ordered a Czech dish similar to Chicken Cordon Bleu that turned out to be quite tasty. Most of the other businesses in the border town were establishments run by ethnic Vietnamese: nail salons; shops selling goods imported from Asia; and grocery stores selling food, cigarettes, and liquor at prices far lower than they would be a few steps away across the German border.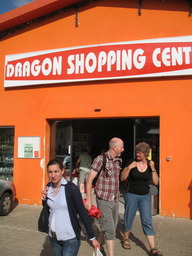 We stopped off at the largest of these places, the "Dragon Shopping Center" before walking back into Germany. Irina was excited by a couple beverages she hadn't seen since her last trip to Prague. Kofola was a type of Czech soda pop with a slight bite: not bad, but one sip from her bottle was enough for me. I had a far higher opinion of Becherovka. That was a brand of bitters Irina described as tasting like "gingerbread or Christmas cookies". That sounded excellent. Both she and Lars picked up a bottle to bring back to Germany.
The four of us strolled across the border to the nearest town, Sebnitz. We just managed to catch the last bus back to our hotel in Lichtenhain by running as fast as we could when we saw the bus pulling out of the depot from afar. Then, back at our hotel, we unwound and stayed up late. Lars had downloaded an app for the card game SET onto his iPad. We each raced to be the first to poke the screen, identifying sets of three. We sampled the Becherovka. It took me a while to pin down the flavor. Despite Irina's gingerbread analogy, it wasn't the flavor of ginger that dominated. I did taste other ingredients that reminded me of Christmas cookies. I finally concluded that the strongest flavor in the liqueur must be of clove. The bottles we bought were drained by evening's end. Lars and I decided that we needed to make a return trip across the border the following day to bring back several more bottles of Becherovka.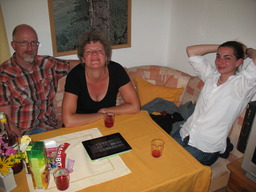 Playing SET on an iPad

Irina and I left Lichtenhain a day earlier than Lars and Lykke in order to visit Dresden. Again, as when the two of us were exploring Ukraine together, I was unexpectedly charmed. Over the decades since World War II, the old city center has been pieced back together from obliteration. It's beautiful once again. It's not a bustling city, but there is a certain vibrancy to life on the streets. After one of the several times I remarked on how pleasant I found Dresden, Irina said that it's no secret. She said that Dresden is one of the better places to reside today in the former DDR, considered pleasant and liveable in a way that attracts families. I can see why. After touring the architecture, the two of us spent the rest of our afternoon gazing at people and buildings from a beer garden along the banks of the Elbe across from the city center. What a nice place.

We finished our evening by strolling up to Alaunpark, a large patch of green filled mostly with people in their twenties hanging out, playing Frisbee, playing soccer, drinking beer, and charring meat on portable barbecue grills. Maybe it was just the beautiful weather that colored my perception. Or, maybe it was the pleasant company. Whichever the case, I do hope to visit again some day and get to know Dresden, better.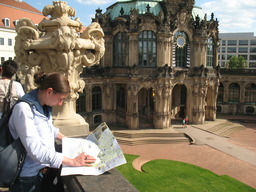 Map of Dresden

Once again Irina and I have bidden farewell to one another. We said goodbye at a railway platform in the main station. I've been trying to figure where things are going--though she remains inscrutable. A couple nights ago I pressed her directly, asking what happens to "us" (specifically choosing a plural pronoun I hadn't previously used) after this farewell. She dodged the question and changed the subject, though did offer a cryptic half-reply of, "At least we'll be on the same continent... ." (Technically, she's right. Irina will be in Central America over the next year as part of her graduate study program.)

I persisted somewhat, but she clearly didn't want to talk about whether we might carry on as a couple in the future. She didn't bring the matter up again before we said goodbye, so I truly don't know where, when, or how we'll next connect.
---
I'm now on the first of a series of trains. My final ticket out of Germany is again one of the cheap fares that allows rides on only the slower regional lines. It's even cheaper than when I last rode--39 EUR--for a weekend ticket all the way across the country.

I'm bound for my last destination within Germany. Next stop: Aachen