Perpetual Student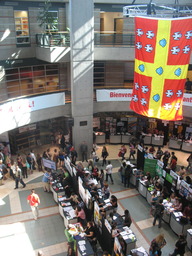 Informational Booths
Desjardins Hall

QUÉBEC, Canada
September 9, 2012

Color-coordinated gangs of students have been roving the campus this past week.

Some are masquerading as Indians out of the Wild West. Others are suited up as groups of animals mingling together unnaturally, such as a band of lions, bears, and frogs who passed me strolling down the hall, Wednesday. A few bunches might be attempting to portray parties of superheroes, but I'm not really sure what-all it is I see each time I turn another corner. These groups have been roaming in and out of doors, pausing at various points to chant or sing together. Whatever this tradition is that inaugurates the first week of school at Université Laval, I've found it highly amusing.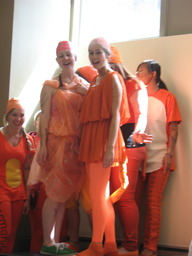 Back to School:
Université Laval

We had been forewarned by Monsieur C. that the campus would become chaotic once the regular students began their classes. I expected that to mean hordes of lost freshmen milling about. This, however, feels more like the entire student body is undergoing fraternity rush. Do Canadian universities have the Greek system, too?

It's only now upon the start of my second term here with this sudden crush of people and activity that I feel I'm on a university campus. All these students were on strike over the entirety of the first term of my French language integration program.

The beginning of the new academic year has brought other elements familiar from days back when I was an undergraduate student, myself. I was convinced by someone at a booth with a large banner offering Abonnements à tarifs étudiants jusqu'a 89% de rabais! (Student-rate Subscriptions at Discounts up to 89%!) I signed up for three magazines: The Walrus and Canadian Geographic published in English along with a periodical in French covering contemporary issues, Affaires Plus (A+). The subscription booth didn't seem to have many other takers. I suppose most people of average university student age today aren't interested in subscribing to print journals.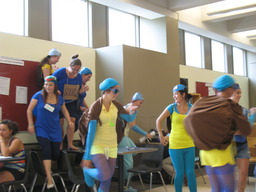 Back to School:
Université Laval

I do realize that I already have access to more than enough reading matter what with all my class assignments, the collection of the Québec City library system, and the whole world on-line. Though after so much time having no fixed address while out on the road and abroad over the past years, receiving physical mail is a small enjoyment that I appreciate ever so much more.

I finished this week by taking care of other mundane necessities for my next term of life as language student. I pressed a new sticker over the expiration date on my ID card extending its validity by another semester--though probably won't use that for much more than accessing PEPS, the campus gymnasium. I signed up for a direct-debit deduction for my monthly pass on the RTC, Réseau de transport de la Capitale. I was already getting a discounted student rate on the city bus and didn't mind going to the convenience store to recharge my OPUS card at the end of each month. But making the purchase automatic now saves me an additional 10%.

My life feels in-order. Even with this term's change of teacher our six hours of instruction go by each day as if we'd been doing it together for years. I suppose I must be the true perpetual student. But, even considering how I'm back in a routine that I've always enjoyed... I am surprised by how comfortable and settled my overall existence here in Québec feels.