Pear Crisp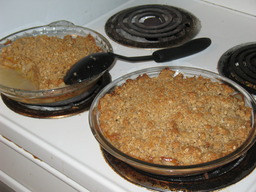 Pear Crisp Cooling atop Range

QUÉBEC, Canada
October 8, 2012

What a disappointment. Our apple excursion was called off on account of foul weather. That class outing was to have been my first visit to nearby Île d'Orléans.

Several fellow students grumbled along with me in the classroom that morning. The weather wasn't really all that bad. Why were we stuck inside learning how to correctly use the direct, the indirect, and the tonic form of each French pronoun? If there was any consolation, thankfully Madame É. has grown savvier in her role as afternoon activity coordinator from those initial days when she conducted our class with iron fist. Recognizing we all had fresh air and apple orchards on our mind she fobbed an easy assignment off on us and declared that once we'd each finished the task we'd be free to leave. I slipped out of class over an hour early--still disappointed not to have my promised 5-lb. bag of apples.

An intra-class bake-off based on apple recipes had been scheduled for a few days after our class field trip. I had planned to enter a family recipe for apple crisp. But, no field trip meant no apples. And no apples meant no bake-off: yet another disappointment to the day. I made sure it wouldn't be a total loss.

Long before our class apple adventure was rained out I'd sent e-mail to all my siblings back in Seattle. I asked them whether anybody had a digital version of the apple crisp recipe we all loved as children. I had happy memories of preparing up batches of the dessert in our kitchen following a recipe handwritten into a cookbook bound with three rings. I was afraid the recipe might have never been copied out and lost forever somewhere in the clutter of the house where we grew up.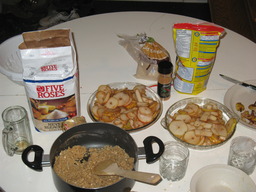 Pear Crisp Ingredients

My e-mail kicked off a long thread amongst all my siblings reminiscing about days when we would harvest fruit to bake up the dessert. The backyard of the house where we grew up had two pear trees and an apple tree: all of which bore fruit every autumn. The latter dropped crabapples we never bothered to harvest. The pears from one tree were Boscs that were edible but hard, mealy, and bland. But the pears from the third tree were tender, juicy Bartletts.

So, we seldom followed the recipe as written. With perpetual bounty of pears we always baked not apple-, but pear crisp. With such a large family the default way to cook anything in our kitchen was to start by quadrupling the ingredients. When cooking pear crisp our family further deviated from standard instructions by again doubling (octupling?) all the best ingredients, everything that went into the topping.

Greg sent a quick reply to my e-mail message saying how that family recipe had now become a staple of his children's autumn, too. He offered to type the recipe up and send it along later that evening. Jen beat him to it. She sent along a scanned image of the very pages in the homemade cookbook we followed as children, embellished with her annotations. Everybody chimed in on techniques to finesse the recipe emphasizing how extra cinnamon--cloves, perhaps--could never be a mistake and to be sure to double the topping ingredients. The thread ultimately devolved into my siblings repeatedly stating, "Mmm, I sure could go for a pear crisp right now... "

At Le Jardin Mobile, a local chain with good selection of fresh produce, I found Bartletts in season and on sale. As I'd already picked up sacks of sugar and flour as well as a huge block of butter specifically for the cooking competition I figured I'd have to go through with preparing the recipe, bake-off or not.

A few days ago I baked up my first pear crisp in years. The result was two platters: one large one small. I ate nearly half of the smaller dessert on my own, it was so good. It tasted just as I recalled.

I'm not sure it will be any problem that I have nobody else in-particular to share all this pear crisp with.
Apple Crisp (serves 6)
Original Recipe
¾ cup quick-cooking rolled oats
½ cup flour
¾ cup brown sugar
⅛ tsp salt
½ tsp cinnamon
½ cup melted butter
3 - 4 cups sliced tart apples
Preheat oven to 350 degrees.
Butter baking dish.
Mix oats, flour, sugar, salt, cinnamon.
Add melted fat to oatmeal mixture and mix with fork.
Peel and slice apples, put in baking dish.
Spread oatmeal mixture on top of fruit.
Bake for 35 minutes.
Note: Be sure to quadruple the fruit and octuple the topping ingredients to prepare the recipe à la chez Wong!