Field Trip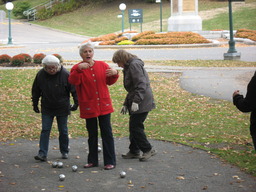 Pétanque Players

QUÉBEC, Canada
September 27, 2012

A trio of little old ladies was chucking heavy metal balls across a stretch of sand along the edge of the park.

"What are they doing over there?", Madame É. turned to me and asked. We were sitting next to each other atop a wooden picnic table.

"That's pétanque!", I practically shouted out.

"I played that game for the first time when I was in Belgium this summer," I said, hopping down to step over and stand alongside some of my fellow students who were already ringing the edge of the court to watch the play.

I heard several of my other classmates asking the same question as I walked up. What was this game these women were playing? I played authoritative know-it-all: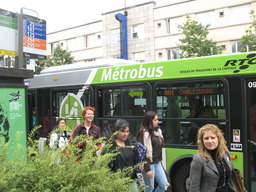 Francization Students Take
Route 801 to Museum

"Pétanque... it looks stupid and boring but it's really a lot of fun. The first player chucks a marker from one end to the other. Then, the other players have to try to land their balls as close as they can to where the marker fell. It originates from the south of France... "

The players noticed the attention they were drawing and paused their game to come up to us to chat. One of them was nodding and pointing at me as she approached.

"You're right. You're right. Where are you all from?", she addressed all of us in-general.

"We come from different places. I come from Iran. We're students of the Francization program for recent immigrants," one of my classmates replied.

This must have been the precise scenario the Ministry of Free French had in mind when charting targets and objectives for the classes they provide. "Recent immigrant will engage in conversation with native Québecois in both formal and impromptu situations... ", I can imagine some government document reading.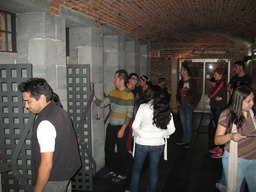 Field Trip to Prison

I still can't believe what a great program it is I'm enrolled in. One academic year at 30 hours per week of university French lessons. Paid for with stipend. Frequent field trips with gratuit admission to sites throughout Québec City over duration of course.

Our class excursion hadn't meant to start off as a field trip to the local park. It was actually an outing to the Musée national des beaux-arts du Québec which stood just behind the pétanque court. But our bus arrived in 20 minutes earlier than our appointment for a 2:00 PM guided tour. Madame É. suggested we pause at the park across from the main museum entrance rather than arrive early and en masse. Several of us took her request as an order to hop on the playground swings and start flying back and forth.

Inside the museum our guide spoke deliberately slowly which was wonderful for my comprehension. I'm not sure whether it was on account of the slower rate of speech or the viewing of subject matter familiar to me... whichever the case, I felt like I could understand 90% of our tour.

Our tour concluded with a visit to prison. One wing of the building now housing the Museum of Fine Arts was originally constructed to house Québec's first criminals. We stepped inside the claustrophobia-inducing cells. Madame É. immediately started to hyperventilate--seemingly on the verge of a panic attack--after just a few seconds surrounded by bricks and bars.

Student from Iran with
Madame É. in Prison Cell

I'm pleased. Though I'd already made my own way to other museums in this city this was my first time at this particular site. I'm sure I'll return--perhaps even in the next days. Evidently the metallic fold-on button showing that admission has been paid will allow me back into the galleries again anytime over a period of three days.

More fun to come. Our next week will kick off with another field trip to another area I was curious about. Monday morning our class will take a bus from campus to l'Île d'Orléans for a sortie aux pommes. My guess at translating that expression is that we'll be going out on an "apple excursion". In addition to its famous strawberry fields the island is also home to apple orchards.

We've been told that each student will receive a complimentary 5-lb bag of apples with our visit. Then at the end of the week all levels of the program will compete in a bake-off of apple-based recipes. Blue-ribbon prize will be a $50 gift certificate valid at a local chain of supermarkets, Metro. I've decided that I'll contribute a platter of apple crisp based on the recipe my mother had handwritten into her cookbook.

Why doesn't everybody on the planet emigrate to Québec?