Another Getaway II

Leonard Cohen On-Stage

QUÉBEC, Canada
December 4, 2012

What a weird contrast it was this morning. I ended temporary-fairy-tale-unreal-life by checking-out of the Château Frontenac then stepped back into regular day-to-day routine by riding the bus to campus.

Ordinarily, I live a simple life in this town. I walk to class. I attend Free French. I walk home. Most nights I cook dinner at home for one. Certain days I might go swimming after class or meet up with somebody for language practice--but that's about the extent of it. However, having visitors come through Québec City has been a great excuse for me to get out and take advantage of all that's on offer around town.

When Naomi said she was thinking of taking a 3-day weekend visiting Québec I insisted she had to stretch it to at least 4 days. That would allow us two days in Montréal then a couple more back here in Québec City. Not enough time for more than a taste of either, but we have managed to cram so much activity into exploring both cities.

I reasoned that I would likely never stay at the icon of Québec City--Château Frontenac--if I didn't do so while somebody I knew was passing through town. In a way it made perfect sense that I stayed there over Naomi's va- , my stay-cation. We stayed at another palace while touring Bavaria together last year.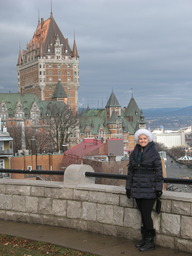 Château Frontenac
Towers Above Naomi

I'm not sure exactly what Château Frontenac was intended to be when it was built. I've heard it described as "the only castle in North America". I can't believe that's true--there's probably something that must qualify as castle somewhere in Mexico or further on south. Though this city does have history of French settlement all the way back to the 16th century the castle-thing was constructed only far more recently, at the end of the 19th century.

Whatever its pedigree, it does have the requisite spires and turrets I imagine on any castle. It's a spectacular building that has come to symbolize the city of Québec, itself. At some point its 600 rooms were repurposed to turn the building into an enormous hotel.

Within hours of stepping off our train from Montréal we'd checked in, taken dinner at a nearby bistro, then made our way down to Colisée Pepsi--the venue for one night only with Leonard Cohen. That man must be over twice my age yet put on one hell of a show. He was on-stage performing for nearly four hours. He opened the concert speaking in French then went on to sing several numbers in that language throughout the show. Every song of each encore seemed like it had been chosen as the perfect finale.

After the show and on into the next day Naomi repeatedly said, "That was the best concert I've ever been to!",--a statement I have to agree with. (Though the times I saw the Pink Floyd and the Rolling Stones as a teenager must also have to vie for title of "best concert I've attended". Three-way tie?) We looked up the Leonard Cohen tour schedule to see if there was a show further down the road we might be able to catch together. The most logical place could be a show Brooklyn... but he'll be performing there the night before I fly off to Vancouver for Christmas. It's probably logistically impossible for me to make it but Naomi is still pondering taking the train to New York to catch the show with her sister. I haven't ruled it out yet, either. That show was amazing.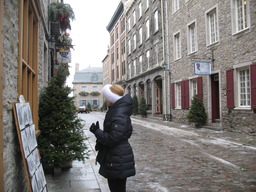 Naomi Explores Old Québec

Yesterday, our last night of this getaway, we somehow let three hours slip away over dinner. A restaurant on the edge of the city walls, The Hobbit, was the place for deep conversation and rabbit risotto. It was only fair that we round out our meals at a nicer place. Earlier that day, I'd insisted that to achieve the true Québecois experience we had to eat poutine for lunch. As opposed to most other friends I've guided through this city Naomi was reluctant to try it when she heard what the ingredients were. Still, she humored me and nibbled at this glop of french fries, gravy, and cheese curd I've somehow acquired a taste for, myself.

Goodbye, Naomi! You're probably already back down in Washington D.C., by now. It's always fun to meet up with you anywhere. Whether it's at another Leonard Cohen concert I do know you and I will have more adventures sometime soon, somewhere interesting on down the road.