A New Bet III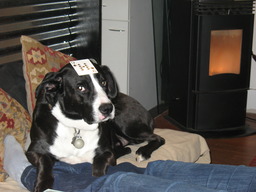 Canine Indian Poker

Portland, Oregon - USA
January 5, 2013

One of us will owe the other gefilte fisch in the Year of the Horse.

Tiffany and I were finishing brunch--the last of our time together over my current visit to Portland.

"You know, it's remarkable how consistent you and I have been about keeping up in-person. I think we've seen each other somewhere on the globe each year since we first met, what was it, 10 years ago?", I said.

"Well, the first three or four years don't count. That's when we were both living in Xinjiang," Tiffany replied.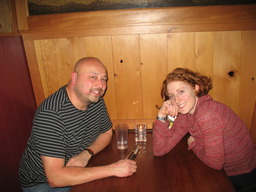 David, Tiffany, Beer

"Yeah, but since then we've both been all over the place," I said. "When I finally quit Urumqi and made my first grand overland trip west to Europe I returned to China the next spring. We saw each other in Beijing.

"Then the year after that I was back in Beijing again--I remember because all that Olympics stuff was finally gone.

"How about 2010? Oh yeah! That was the year I emigrated to Canada and saw you in Vancouver over that one-party-in-two-countries affair I held to celebrate.

"Then 2011... where did we meet? Was that when we went on that day hike back up in Washington State?

"I guess we techincally didn't see each other anywhere in 2012, but that calendar year just ended a few days ago. And it's still been roughly one year's time since we last met," I finished my mental tally of where all Tiffany and I had managed to recently see each other.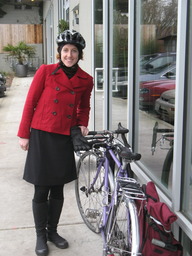 Tiffany Bikes Back
from Brunch

"Well, where will it be come 2014, then?", Tiffany asked.

"Next year in Jerusalem!", I proclaimed sarcastically.

"That reminds me," Tiffany pondered, "We never did establish what our next bet was to be. How about the condition be something like, 'Within the next year we wind up meeting again on some other continent--if not actually in Jerusalem per se?'"

"That could work. Stakes?", I confirmed.

"You just mentioned Jerusalem. Maybe the loser could treat the winner to Jewish food," Tiffany said.

"Perfect. I promise not to avoid you if we both happen to be somewhere far-flung at the same time just so I can finagle a Reuben out of you when we meet some later year. Of course, as with our previous bets Chinese New Year will be the deadline, right?" I agreed.

"Deal."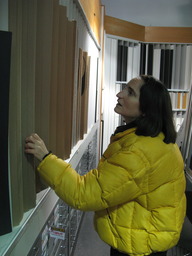 Leah Shops for
Art Supplies

We both laughed.
---
Though I've been crashing on Tiffany's couch, I've made time while in town to get together with another long-standing friend. Leah was my sister's best friend back when we all attended middle school. Going that far back means practically being family. She's literally seen me and all my siblings grow up.
As with Tiffany, Leah has also landed here in Portland in the past year or so. Leah too has taken the long route around the globe in making her way here. She and I last saw each other five years ago when I was passing through the Caucases. On that visit she graciously surrendered her hotel suite in Yerevan to me and stayed across town with her boyfriend. We then rode up to Tbilisi together with one of her co-workers. Damn, that was a long time ago...
So, Leah and I have had quite a bit to catch up on. We took tea and dumplings at a place in Portland's old Chinatown, the Red Robe Teahouse. There, we shared our news. Evidently, Leah spent the next several years continuing to live on in Armenia. Then she moved to Croatia. Then to Brooklyn. Now she's here in Portland.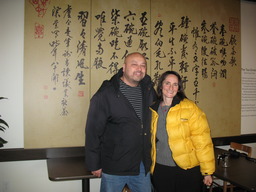 David and Leah at
at Red Robe Teahouse

I did have a vague awareness of where-all she was over the years. But, keeping myself off Facebook it's only over moments like this that I get a full sense of what's really been happening in most friends' lives. (Though, I get the impression that, despite the immediacy of updates, even when on Facebook it's only during face-to-face moments like this that anybody gets a true sense of what is really happening in their friends' lives.)

All of these places where Leah has been living she's been focusing on her art. Leah had a long career as a print journalist--which is still what I think of her as being. But, it was about 10 years ago that she made an abrupt yet serious decision to dedicate her life to painting. She still paints every day. She's managed to parlay her passion into an income by teaching courses both on-line and in-person. That's not yet enough to sustain her completely--she still takes the occasional gig tending bar or catering to make ends meet. But she is so clearly doing what she wants, living life on her own terms. It's good to see an old friend thriving.

Next year in... ?