P.O. Box: Fin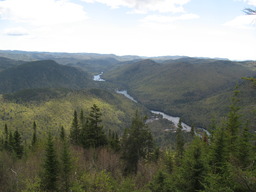 Sommet du Mont des Loups

QUÉBEC, Canada
May 25, 2013

The lease on my P.O. box expires at the end of the month. That leaves one week: time enough that anything already sent should reach me before I have to return the keys. Friends who still send postcards or letters (yes, I have received many of each in my P.O. box; do send more!) should update their addressbook for anything not yet sent.

My new mailing address (valid until August 10, 2013) will be:

ATT: David Wong
21-420 Av Rousseau
Québec QC G1M 3M1
Canada

That's actually the apartment of a friend and not my home address.
Complicating where I receive mail: my present landlords have just sold the property. I'll have to move elsewhere by some date in June. I might even stay at that very apartment behind the new mailing address: there ought to be a couple spare rooms there, this summer. Though, the location is a bit far from campus. It's out in a neighborhood called Vanier. If I moved there I'd have to walk down to the bus stop each morning, ride a couple buses, then walk across campus: a commute of probably a little under an hour in each direction. It might make more sense for me to rent another room closer to the university for the second session of the FLÉ that runs over the middle of summer. I've been spoiled by having a 15-minute walk door-to-door this past year.
On the bright side, I can move right out in mid-June when this present session ends. It will be a nuisance to have to schlep my stuff across town. But, three weeks between terms and nowhere fixed to pay rent sounds like a perfect excuse to hit the road--as if I ever needed much of one to make a trip.
There are lots of possibilities of places to go with three weeks free. I realized that it's been over a year since I was last in Chicago. That's striking distance for an overland trip out there and then back again to Québec City.