Cat-sit Christmas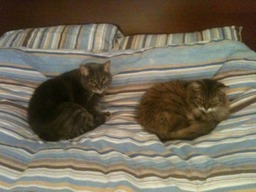 Miya & Moya

MONTRÉAL, Canada
December 29, 2013

I needn't have worried that I'd be spending a cold, lonely Christmas thousands of miles away from family. No, I didn't make it back to Seattle to see any of the people I'm closest to, this year. But, I'm cat-sitting for two weeks in a cheerful and warm old house a short walk from a métro station. Even better, a friend from my days living in Québec City has come to Montréal to spend the last week of the year visiting. It's been neither a cold nor a lonely Christmas, whatsoever.

This current cat-sit fell into my lap. Professor Gwen orchestrated everything. A departmental colleague of hers is away on sabbatical. Though there were nearby neighbors who would have been happy to have checked in on the cats every day over his absence, the homeowner preferred to have somebody staying on inside the home: somebody who would keep his cats company. Professor Gwen correctly assumed that I would be an eager candidate. Her introduction led to a cat-sit connection that has given me a cozy and warm place in which to install myself into the new year.

As for keeping non-feline company, Siliu came to Montréal on Christmas Eve. Our original plan had been not to stay here but to drive back down to New York, together. Those roadtrip logistics didn't ultimately work out. So, we've instead been taking advantage of our holiday time away from school (me) and from work (she) to catch up, unwind, and make multiple trips to Chinatown.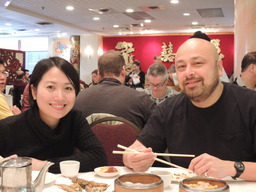 Christmas Day Dim Sum

Over the past days hanging out together I've clearly seen how strongly the four months since I moved from Québec City have affected each of our language abilities. Siliu's French has probably now become more fluent than mine. She speaks to her co-workers in the office only in French though also uses Chinese and English when sending e-mail to clients. I, on the other hand, have immersed myself in a daily routine with English at core. We still speak to each other mostly in Chinese with a smattering of French thrown in. Though, I've begun making a point to speak deliberately for longer stretches in English. Much as I could use practice speaking other languages to retain ability, I don't want to be a language leech.

Our Christmas Day was celebrated over dim sum. Boxing Day (which I have only now found out is an official day-off-work holiday across Canada) was reluctantly spent in-part amongst the throngs in the stores. The day after Christmas in Canada is observed much as the day after Thanksgiving is in the U.S.: massive retail promotions are announced to entice shoppers into stores.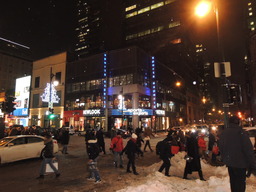 Downtown Montréal
Boxing Day, 2013

We were lured downtown only late in the day and only when my laptop's power transformer failed completely. The experience of immediately going out and spending money made me reflect on how tethered I have become to both computer and cellphone. I had no plans to contribute anything, let along a hundred bucks, to the country's busiest shopping day. But the prospect of my laptop not working was all it took for me to join in the fray.

Siliu was kind enough to give me a Christmas gift, one that perfectly complemented the birthday gift she gave me earlier this year. She tracked down a particular jar of ink to go with the fancy fountain pen she gave me some months back. She must have made her decision one evening while watching me write out Christmas cards (a task I still have yet to complete.) Siliu noticed that I was constantly dipping the nib of the pen into a jar of ink to keep the ink flowing.

"Why do you keep dipping the pen?", she asked me. "You do know that there's a chamber inside that holds ink."

"I know that," I said. "But somehow it always gets gummed up and the ink doesn't flow out--even when I clean the pen and re-fill with fresh ink."

Siliu enquired about the exact nature of the ink.

"That's the wrong ink!", she said. "You can't use that. It's for brush calligraphy. Of course it's not writing correctly."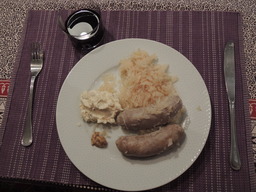 My Attempt at Cooking
Dinner: Potato Salad, Sauerkraut
and Bratwurst with Mustard

Today Siliu gave me a jar of the correct ink for the pen. (Evidently far harder to find in Montréal than in Shanghai.) I was touched to be presented with a Christmas gift--I hadn't expected to receive one here. Though the gift was an utter suprise, I did feel rather lame for not having had anything prepared in advance to reciprocate.

Siliu will stay on in Montréal through New Year's Day after which time she'll have to return to Québec City to go back to work. We don't have any special plans for New Year's Eve and it's probably just as well that we don't attempt anything around Montréal. Times Square at midnight had been our plan so whatever we might find in lieu of that, no matter how much fun, would probably feel like a runner-up disappointment. We'll probably take the evening at the cat-sit and just cook something up with some of the ingredients we've each been buying on runs to Chinatown. I hadn't known Shanghainese cuisine all that well but Siliu can cook and it's been fun to get to know another style of food better.

Thanks for coming to visit and thanks for the thoughtful Christmas present, Siliu! 新年快乐, bonne année, and yes: happy new year!