UUU Reunion VIII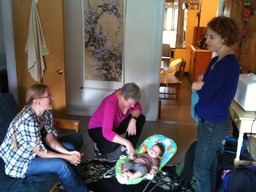 Logan, Professor Gwen,
Baby Lily, & Tiffany

Brattleboro, USA
September 14, 2013

A brief road trip. A reunion of faces last gathered over six years ago. A whole lot of fun.

I don't know why I retain such strong connections with a core of friends I met while living long, long ago in Urumqi. I don't know how I always come up with these crazy schemes to hang out and re-connect with everybody again in whatever odd corner of the planet. But, bizarrely, everything always keeps coming together in the end.

Tiffany's departure from Montréal has not ended, but extended our time together. When Tiffany informed me before flying back East that the routing for her visit would be an open-jaw itinerary into Montréal returning out of New York, I came up with one of those ideas that was so crazy it just might work. I sent Tiffany e-mail:

"Montréal to New York City is a little under six hours by car. Maybe we could hire a car and head halfway down. You'll be calling on Astrid while in the NYC metro area, anyway. She might be up for meeting us midway. We could have a reunion of the old Urumqi crew. We might even be able to get Professor Gwen and Logan to join in. It could be all of gathered together once again, everybody who was in this photo from so long ago. What do you think... ?"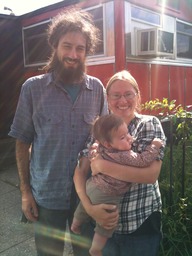 Olivier, Logan,
and Baby Lily

The improbability of arrangements not withstanding, our reunion of old friends did come together. Unfortunate timing meant that Astrid couldn't make it. But, the rest of us: Professor Gwen, Tiffany, Logan--and the bonus friends of Logan's husband Olivier and their infant daughter, Lily,--all spent a night catching up in Brattleboro.

It was a simple affair--just a casual evening re-connecting. I brought down mooncakes I'd picked up in Montréal's Chinatown. I was pretty sure those wouldn't be found anywhere in Brattleboro, perhaps anywhere in Vermont. We brought in takeaway: fish 'n' chips or falafel for dinner, we took advantage of the wine selection at the local co-op, and we passed the nicest evening together in the company of old friends.

Baby Lily has grown tremendously since I first and last saw her over Easter weekend. Olivier and Logan have settled into a comfortable existence in Vermont. Serendipitously for Tiffany, the entire crew happened to be heading further south today to visit Logan's grandmother in Connecticut.

"You need a lift south?", Logan asked Tiffany last night. "We're not going all the way to New York City, but well into Connecticut, if that helps."

Tiffany was unsure if this ride would be helpful.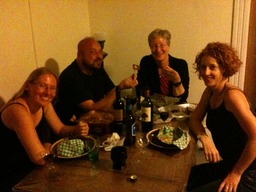 Logan, David, Professor
Gwen, and Tiffany

"Just where in Connecticut?", I asked.

"Cheshire," Logan said.

"I'm not sure," I said. "But, I think that's really close. You can probably get into Manhattan on Metro North. That'd be a lot cheaper than the Greyhound fare out of Brattleboro."

And, of course, everything did come together perfectly for onward rides.

We've just taken a breakfast feast of tea, scrambled eggs, and toast. Tiffany, Olivier, Logan, and Baby Lily are about to head south. Professor Gwen and I are about to turn around and head north back to Montréal. Such a nice getaway.

I wonder how long I'm going to keep meeting up with people I met in Urumqi in different parts of the planet. I wonder when the next reunion of friends who played Frisbee together on the Xinjiang University campus will come.