Old Friend, New Setting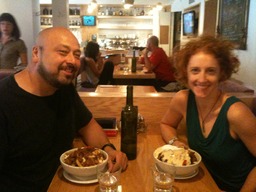 David and Tiffany
Share Poutine in Montréal

MONTRÉAL, Canada
September 10, 2013

I've been living in this city for scarcely a week and my first guest has already arrived. Appropriately enough, the first person to come out and visit since I moved to Montréal turned out to be Tiffany: a friend I met while living on the other side of the planet, a friend I've managed to consistently keep traveling and meeting up with for nearly a decade. Montréal now just adds to the odd range of far-flung spots scattered about the globe where Tiffany and I have now spent time, together.

My new living situation is not ideal for hosting. The landlady is uncool with guests. The spare sleeping arrangements mean flopping out on pads laid out on the hard floor of my room. But, we've both hosted the other in similar accommodation and we've had to shelter down in far worse on occasions traveling together.

Since her arrival just after midnight early this morning we've managed to get around and see a fair bit of the city. Today, I gave Tiffany a rough introduction and orientation to Montréal as I know it. We cycled around town together. She got around on shared Bixi bicycles, pedaling from one docking station to the next to swap each bicycle out within the 30-minute borrowing limit. I rode ahead on my own creaky 10-speed (which I was quite happy to bring back from Québec City this past weekend.)

From my place in the Southwest our tour started at a coffeehouse on Saint-Denis Street where we attempted to combat jet lag. Disappointingly, as the place had been recommended by a local friend, they brewed up coffee far inferior to Tiffany's standards. (But then, Tiffany does live in the caffeine-mecca of Portland.) Our next stop, a small diner up on the Plateau, was a better discovery. Known for their signature poutine dish, Fabergé served up not just a curious local flavor to introduce to an out-of-town visitor but a satisfying meal I'll likely return to eat again. Our poutine brunch was followed by an easy hike up to the top of Mount Royal that afforded a fair view of downtown and the McGill campus.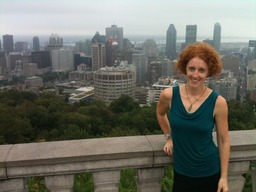 Montréal Skyline Behind Tiffany

Our cycles brought us down through Chinatown where I bought a tin of mooncakes (white lotus-seed paste with double yolk.) Those are a treat we'll share with fellow friends from days living out in Xinjiang, this weekend. Our day out on Montréal concluded with dinner at the home of one of those very friends who is living here now, Professor Gwen. She whipped up a dish that brought us right back to those days living in western China: a mean plate of lamb polo, the staple dish of the region.

Strange (or perhaps not strange, given the broad range of places where we've hung out together) as it is to see each other here in the province of Québec, this Montréal meet-up hasn't settled our present quirky bet of whether we meet up again somewhere this year in some farther-flung, place.

Starting tomorrow, Tiffany will spend her remaining days in town hosted by Professor Gwen. Then, the three of us will take a short road-trip that will bring together a reunion of everybody pictured in the photo at the bottom of this entry from six and a half years ago in Urumqi.

It's always good to catch up. Thanks for making the trip all this way, Tiffany!
---
More adventures with Tiffany & Cie to come.

Next stop: Brattleboro