Olivier & Logan's Baby Shower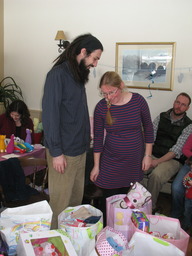 Olivier, Logan, Gifts

Franconia, USA
February 17, 2013

I'd never been invited to a baby shower before. It turns out it's kind of like celebrating Christmas Day but with all the presents given to one (yet unborn) person, all of them wrapped up in pink. Gifts upon gifts were piled up: strollers upon bottles upon infant car seats. Logan was certain that she wouldn't have to buy any clothes for the first several years of her daughter's life even if she'd received only half of the bounty that came in.

Though not immediately useful for a newborn my gift was well-received. I gave a couple sturdy French alphabet- and picture books I'd bought before crossing the border. The couple are planning to raise their baby bilingually having her speak English with Mom and French with Dad. Olivier noted that my gifts were rather Québec-centric. 'Q' is for 'Québec': next to the letter was an outline of the province. 'D' is for 'drapeau': next to the letter was an image of the blue and white fleur-de-lys standard.

Lots of people were on-hand who I remembered meeting at the couple's US wedding. From the wedding in France there was only Logan's father, his partner, and I. They were kind enough to invite me to stay the night at their family home in the hills of New Hampshire which allowed all of us more time together after the baby shower. There, I helped Logan sort what the couple would take on their drive back to Vermont the next day.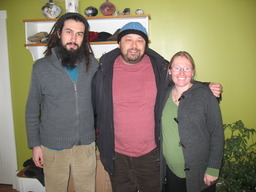 Olivier, David, Logan

"Let's make four piles," she instructed. "One to take now. Another to take if there is enough room in the car. A third to take later. Another to take never."

Logan decided what went where; I placed the items accordingly. A surprisingly small stack went into the "take never" pile. Logan selected only the items she was certain hadn't been bought specifically for her daughter. That left only used items given by friends whose children had outgrown them--usually onesies with lame one-liners. Slogans such as "Daddy's Little Peanut" or "I'm the BOSS around here!" were instantly rejected.

Searching for Items in Barn

This morning we rooted through the back barn-cum-storage-shed for specific items the couple were looking for to begin family life: a cast-iron skillet with lid, a vaccuum cleaner, a vegetable peeler. I find it simultaneously amusing and heartwarming to see the two now, literally on the opposite side of the planet, settling into a domestic life so different from where they were when I called on them in southwestern China.

Logan's due date in exactly one month. They'll be parents whenever I next see them. Best of luck with parenthood, Logan and Olivier. I hope to see you soon in Vermont after your family has grown!