Former Classmates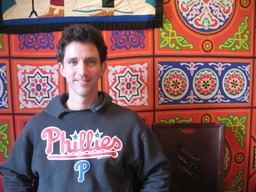 Aaron

New York, USA
February 20, 2013

"I remember you with long, long hair!"

"And I remember you always wearing glasses!"

We did the "bro' hello": a simultaneous handshake and semi-hug then sat down across the table from each other. It took until our falafel and baba ghanouj had been set between us to work out the precise dates and places and finally determine that it must have been in Nanjing at the end of 2005, over 7 years ago, when we last met face to face.

Though Aaron was living in Washington, D.C. for most of his recent years we could never synch our schedules to get together any of my recent times passing through that city. But, sometime in this last year he moved up to Brooklyn. I took the A train out to his end of town to finally get around to a long overdue catch-up. We met in Bedouin Tent, a simple Arab restaurant among many along Atlantic Avenue.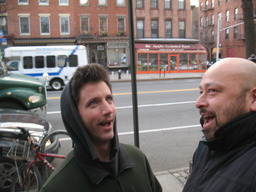 Aaron and David
on Atlantic Avenue

Almost immediately we talked of the other particpants in the Uyghur language class where he and I first met ten years ago:

"You know, with the exception of that one guy, I still keep up with all of them, even the professor."

Hearing our former instructor's name, Aaron mimicked a lecture long-past that, for no obvious reason, we both remembered well. In faux Uyghur brogue he referenced Kazakh vowel harmony while patting imaginary figs between his palms: as obscure an inside joke as could be. I broke out into loud laughter.

"Let's see, who else is there?", I continued on. "I just saw Astrid last night. She's been teaching at a college in New Jersey the past few years. She's got it going on. Sounds like she has some tangible positions to transfer to later this year at other schools both in the U.S. and abroad.

"Olga turned up in Bloomington the summer of 2010 and was my sole classmate. She was based out in Maryland then. So, we got together on occasion after that and played games times I passed through D.C.. But, recently she ran off to Ankara for work where she still is, now. But she's cool: we still keep up through handwritten letters, if you can believe it! She's one of the few who actually writes nowadays.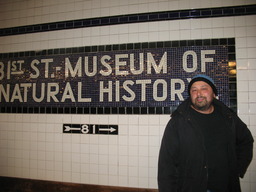 "Then, I actually randomly synched up with Yasin for a day or two in Istanbul in the summer of 2011. He'd just finished his Ph.D. in ethnomusicology at SOAS in London. I think he'd based himself in Switzerland doing I'm-not-sure-what after that. I think he knew somebody who had a whole house somewhere he could live rent-free or something. But he was bopping around going to conferences and performing traditional musical instruments in all these places across the Middle East and Central Asia. That guy was so good with music and languages... "
After I finished recounting my last connection with each of our classmates Aaron and I caught each other up in-depth with what we've been doing, ourselves. It turns out he and I have been following somewhat parallel, if staggered, paths. He went to Bloomington to study Uyghur at SWSEEL the summer after I was there. He's now contemplating his next step since landing in Brooklyn. Central among the options he's considering are various programs of further graduate study. He might yet submit an application to begin this autumn. That's a step I took myself just a month ago.
It was so fun to get together and have a good gossip about what we and our former colleagues have been doing over the years. I think that connecting this way was possible in-part because Aaron is one of the few people I know who, like me, is not on Facebook. Keeping up with people in the oddly old-fashioned ways of handwritten letter and in-person visit somehow feels more fun to me.
Aaron and I are hoping to synch up again Friday night if our schedules allow. I extolled the virtues of Free French in Quebec; he said he might drive up for a visit when the weather is better. Whenever it is we do next meet, it had better not be another seven-year gap between the next time you and I connect, Aaron!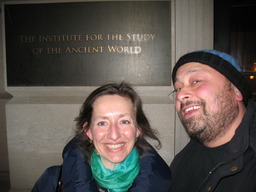 Astrid and David outside
Institute for Study
of Ancient World

It was with another former classmate whom Aaron and I both met in that same language class 10 years ago that I spent my yesterday evening. Even before I announced I would be passing through New York, Astrid already had plans to come into the city to attend an evening lecture at the Institute for the Study of the Ancient World. The topic was the development of civilizations in prehistoric Central Asia. "Would I be interested in attending that?", Astrid asked as we tried to figure out where we could meet.

"Of course, I'll meet you there!", I e-mailed back. I pointed out after the lecture that the last time we met was at a shopping center in New Jersey and I was happy meeting there as it meant finding any place where we could overlap our time. But this event was one I was truly interested in and probably would have found my way to all on my own without her invitation.

The topic was fascinating. I knew the geography of the area well-enough as it's drawn today. But those names and borders sure looked different 7,000 years ago. Astrid had a professional connection to the speaker. She introduced me over the wine and cheese reception held in the adjacent reading room, post-lecture. He was friendly and open; we spoke briefly about Central Asia and about programs of graduate study. It turned out that he worked with Professor Gwen at another university back before she was at McGill.

Small world. Or maybe it's not so much small as that I just run with people with a really specific field of interest. Whichever the case, I have so enjoyed spending these last two days running around New York and Brooklyn with my two former classmates.
---
Flashback entry: Aaron, Astrid, and David together in Urumqi nine years ago.