Serendipitous Snowstorm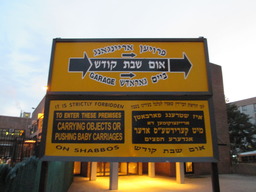 IT IS STRICTLY FORBIDDEN
TO ENTER THESE PREMISES
CARRYING OBJECTS OR
PUSHING BABY CARRIAGES
ON SHABBOS

New York, USA
March 3, 2014

It's complicated my travel itinerary. It's shortened my time visiting with other friends further on down the road. But, the snowstorm that cancelled my run to Washington, D.C. came with a major silver lining: I've been able to spend a full evening catching up with a good friend who I otherwise wouldn't have seen again in many months--if not years.

By all rights, neither of us should have been here in this city, right now. My departure out of New York was scheduled for 12 hours ago. One week prior, Catherine Q. packed up and left New York, moving herself to Geneva. Improbable as our crossing paths in New York was, we've just spent the entire evening together catching up at several places around Brooklyn.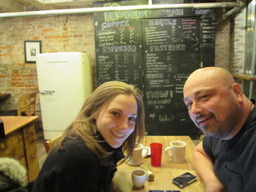 Cafe Selfie w/Catherine Q.

As newly-minted attorney, I assume that Catherine Q. doesn't have much choice in just what sort of cases she takes on. But, she must have leapt at the offer to take on an inarguably far jazzier job description than what she had been doing before last week. Now: residing in Switzerland forming expertise with tax law of that country's secretive banking system. Before: working at same firm on a project fighting bowel-injury claims day-in and day-out. Catherine Q., whether you've received a pay bump, I am so glad for your recent change of job focus and setting.

Catherine Q. just happened to come back to New York for a long weekend. She returned to run errands and to pack up what possessions she'd stashed with a friend before her sudden and unexpected change in job. By coincidence, my delay in journey has meant our time in this city overlaps enough to allow a proper catch-up.

A chain of text messages established that we'd meet up in the Brooklyn neighborhood where she's staying with a friend: Williamsburg. I happened to be in another part of Brooklyn, Carroll Gardens, this afternoon. The two areas were just close enough and I had just enough time that I chose to walk to our meeting point. I didn't know what I'd find in the neighborhoods in-between but figured it would all be terrain new to me.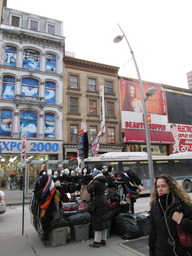 Walking through
Downtown Brooklyn

I was right: I really hadn't known what to expect on my long walk. I still don't know what the name was of one particular area I passed through, but for a good many blocks I crossed an entirely Orthodox Jewish neighborhood. There were stretches where there were more signs in Hebrew (and less often, in Yiddish) than there were in English. Men wearing flat black hats with long locks of hair curling about their ears beneath formed the majority of my fellow pedestrians for about 20 minutes. There were several street corners where children and women dressed in kerchiefs and long skirts waited on rides to somewhere else at the end of their day. No matter how many times I re-visit this city I do always find something new to me.

At every stop throughout our evening together both Catherine Q. and I were scratching our heads as to just why Williamsburg recently became hipster destination du jour. The coffee at Swedish cafe Konditori was good--but the ambience was about par with that of any off-campus college coffee shop. Williamsburger offered fat homemade cheeseburgers with creative choice of condiments and "adult" milkshakes whipped up with shots of Kahlua or Bailey's Irish Cream. But, even as a small, local, independent burger joint the menu on offer seemed far from an original concept--let alone one that hadn't already been duplicated by corporate, national chains.

"See. There goes another person with a hula hoop," Catherine Q. pointed a particular pedestrian out to me at one point.

"That's the current workout accessory to be seen walking down the street with. It's the new yoga mat. But, everything in this neighborhood closes up around 9:00 P.M.," Catherine Q. said, leaving both of us still puzzling over just what it was that drew everybody else to Williamsburg. We walked on through the cold trying to find any bar still open after dinner. Eventually, we shivered into a place called Cameo that suited our need for a couple of nightcaps.

I admit that if we ourselves were true hipsters we would have been in the know as to which places were unique and worth moving to the neighborhood for. Maybe another time...

Thanks again for dinner and coffee, Catherine Q.! Improbable as it might be as neither of us live in this town, I'm optimistic we can catch each other again soon. Maybe we can synch up when you have to return for that Bar swearing-in at end of April. And Geneva does sounds like a place I really ought to visit before you find yourself some even better job to transfer to.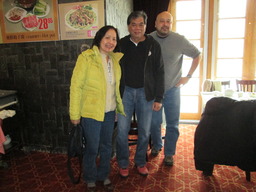 Auntie Lulu, Uncle Philip, & David

In addition to re-connecting with Catherine Q. there was another clear benefit to the foul weather that's delayed me from moving on from New York. The snowstorm down in D.C. extended what time I could spend with the relatives over this visit I had planned to call on. I hadn't stayed with Uncle Philip and Auntie Lulu in nearly four years so figured it was high time. We wouldn't have had nearly as much time to catch up if my connection hadn't been cancelled.

Over recent months, Uncle Philip has been generously devoting lots of his time, effort, and expense to drive a project fixing up my family home back in Seattle. It made sense to connect with him and check in about where that project is heading and what role I might play: I'm hoping to be back out west with family for some weeks after this semester ends.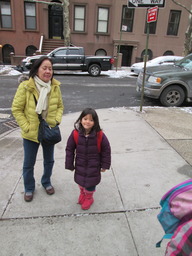 Auntie Lulu Picks
up Grand-daughter Cassidy
After School

Had I kept to my original itinerary I would have had the briefest of times with my uncle and aunt--just enough for a late dinner and early breakfast. Instead, we've also managed a full, leisurely dim sum this afternoon. Both are doing well. Uncle Philip has recently extended his restaurant lease for another five years so won't be retiring anytime too soon. (I do believe that keeping busy and keeping working makes him happiest.) Auntie Lulu happily left the world of accounting several years ago and is clearly enjoying dividing her time between their second home in Las Vegas and spending time here in New York with her grandchildren.

Thanks for hosting me last night, Uncle Philip and Auntie Lulu! Hoping we can manage some reconnection in Seattle later on this spring.

I should finally be along on my way from this unintentionally extended visit to New York, now. I managed to rebook my leg to D.C. for an overnight run leaving at 1h30--which is under a couple hours from this moment. I'm at the at the 7th St. L subway station waiting for what seems like the train that never comes. I'm thankful for the overhead readerboards above the platform that tick off the estimated time ("22 minutes remaining") until the next Manhattan-bound train.

Next stop (assuming an L train eventually does arrive and I don't have to again revise my itinerary): Washington, D.C.