Co-worker Connection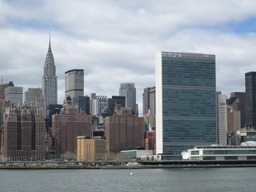 Crossing Brooklyn Ferry

New York, USA
April 24, 2014

The timing of our trips has synched just right. Though neither of us live here in New York I've just managed spend a full two days together around town with an old friend. It's been a great way to start summer vacation and leave thoughts of school behind.

I suppose meeting up somewhere away from home isn't all that unusual for either of us. Jenn and I have managed to see each other fairly regularly over recent years: usually in Berlin or Washington, D.C.. We even had one day visiting this town, several years ago. It's been fun to meet up again and visit the city together.

The tail end of Jenn's 10-day New York visit meshed perfectly with the end of my academic year back up in Montréal. That made for a convenient arrival into town for me. Jenn arrived over a week in advance of me so had already lined up an ideal place for us to stay: a short-term Williamsburg apartment sublet.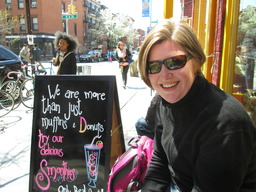 Jenn - Brooklyn Muffin Break

We've taken the past two days to catch up on where-all life has led us with New York City as the backdrop. We got along well-enough even back in long-ago days as co-workers. It's been surprising how similarly our tracks have paralleled since then: leaving work in Seattle some dozen years ago, living abroad almost entirely since then, relationships formed and ended, and opportunities each of us are pursuing after being drawn back to North America. I can't tell if Jenn is fully sold on quitting Berlin and moving here to New York--but it is clear that she's ready for lots of change in her life.

At the same time while she's contemplating a move here it seems like Jenn also has a lot going on back in Germany. She recently spoke at a TEDx conference in Hamburg delivering a lecture sharing her research interests. She's taking time away from her job teaching at an international school in Berlin to regroup and launch herself into whatever move comes next. At the moment, that means a week-and-a-half here in New York, including job interviews, to see if this city might be her logical next step.

I find the possibility that she might settle here amusing as the last time we were in this town together was the first time she visited New York as an adult. I was better oriented around town, but perhaps she'll be the local showing me around the next time I pass through.

David and Jenn on
East River Ferry

Around New York we're both content to play the tourist and explore parts of the city either brand-new to us or familiar and well-loved. Yesterday, our passage from Brooklyn into Manhattan was via the East River Ferry: a water-crossing I'd heard described as scenic and worth making on some trip to New York. Windy and cold as the weather has been I'm glad to have finally have done it. The trip offered a view of the city skyline from a perspective I'd never seen. I'm surprised ferries are still connecting the boroughs today as Manhattan is so well-joined by bridge and tunnel.

Much of our time navigating New York has been spent finding places with good, simple food. Our morning ritual these past two days has started with a cup of "Oslo Coffee" on one nearby corner and then a walk of a couple blocks to choose a "New York Muffin" from a cafe on another corner. Each are large; each cost $2. The only place I had on my list to visit before coming on this visit to New York was "Baohaus", a hole-in-the-wall on 14th Street with creative takes on traditional Chinese steamed buns. The two of us went there for lunch yesterday; the pork-belly bun is highly recommended.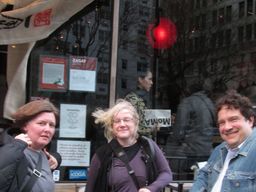 Jenn, Bonnie, and Marven
Windswept Hair

In further culinary adventures we took one evening dining with fellow former co-workers, Marven and Bonnie. It's certainly been a long time since I've viewed my tie to all three of them in terms of a working relationship. All of our connections endured beyond the office and evolved into some level of genuine friendship. (That was where Marven and Bonnie first met and they're now married.) Dinner was a good reminder of where we all originally met. Though, as I've kept up with Jenn so separately--seeing her in wholly different places from where I call on Marven and Bonnie--I sometimes forget that they not only know each other but that we all worked together in the same office many years ago.

Marven knew of a ramen house on 4th Avenue between 9th and 10th Streets that had the best broth I've tasted outside of Japan and all the authentic noisy ambience I'd expect there, too. This has been a nice time in New York: good friends and good food.

Jenn is now on a flight back to Berlin. I'm sure we'll meet up again somewhere before long. (Montréal this autumn might be a possibility.) Wherever we do re-connect, it will be fun to see if our lives continue to move along largely parallel lines.

As for me, my time here isn't finished, yet. I still have a couple days yet in New York and several more people to see around town.

Next stop: Cousin Jade's Mott St. apartment