Fremont Catsit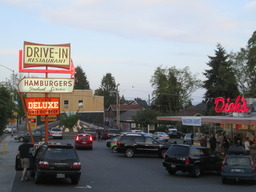 Seattle, USA
May 16, 2014

This latest cat-sitting gig has been just what I needed. My first 10 days back in Seattle felt far too busy. Over that entire time I was simultaneously preoccupied with being on-hand to help fix up Dad's house and finishing up a term paper--all the while trying to seeing family and friends around town for the first time in over a year. The pace of this past week has been just the opposite: my time has largely been spent sleeping in until late morning. My biggest present responsibility is feeding a cat twice a day. I feel like I've finally had my first real moment to relax after leaving Montreal.

Other preoccupations are now similarly minor. I've been getting around town on my bicycle. That's been wonderful. The weather here has been fine. The bike I keep out here in Seattle is far better than the second-hand 10-speed I ride around Montreal. Though what I ride out here is a better bike, I've had worse luck riding it on this visit. I've been repeatedly repairing punctures, replacing inner tubes, and eventually wound up swapping out a worn tire that I think was at the root of the continual flats I kept getting.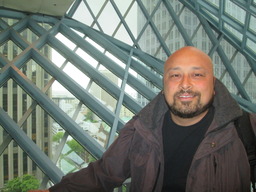 I've managed to schedule time to catch up with a few friends while I'm staying in the area: Meals around town to catch up with Clarica and Susan M.. Meena came by yesterday; we walked around Greenlake together. She and her family are a world away from the life they were leading back when I visited them in Copenhagen. They're now contentedly living in a home on the Eastside--an area where Meena raves about the influx of Indian groceries and restaurants. The kids are now both old enough that Meena is far removed from new-mom phase, actively networking and looking for opportunities to get back into practicing law.
I'm nearly done with my lazy time in the Seattle neighborhood of Fremont. Linda (whose cat I'm currently sitting) will be returning, tonight. I'll pick her up from SEA then move along. I'm ready. It'll be fun to play the houseguest and call on more siblings and friends around Seattle while I'm out here...