Ex-Roommate in Buffalo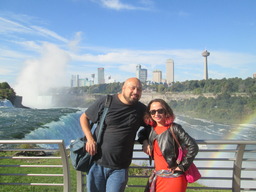 David and Nisa Stand
in Pot of Gold?

Niagara Falls, USA
September 28, 2014

We're two for two, now. Both of the times Nisagul has visited the U.S. we've managed to catch up and hang out in some city or other that she's passed through.

My former roommate from years living in Xinjiang is once again in the U.S.. This time she's leading a Uyghur tour group on an enviable itinerary: Urumchi to Beijing to Honolulu to Las Vegas to Washington, D.C., to New York to Niagara Falls to Los Angeles.

Before actually managing to connect we tried to figure the ideal location to get together. All the group's other destinations were well too far away for me to consider slipping off to from Montreal. New York City was striking distance and sounded like the most fun. That would have been a wonderful place to have run around together over Nisagul's her first visit to that city. But, that would have meant me skipping a couple days of class and paying for a pricey mid-week car rental. Mapping it out I realized that meeting in western New York State rather than in the city itself wouldn't be that much longer of a drive. The dates meshed far better with my class schedule. I had a coupon for a free weekend car rental.

Pulling our rendezvous off took some logistical finesse: First, I had to rent a car for the weekend. Then, I had to drive a full day from Montreal to Toronto, on to Niagara Falls, across the border then down to Buffalo.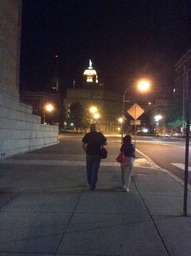 David and Nisa
in Downtown Buffalo

It's all come together. Here we are once again, my ex-roommate and I. Yet another time we're meeting in yet another improbably random location somewhere on this planet: Niagara Falls, this time. Given how we first met in Urumchi and have since added as disparate datelines as Lhasa and Chicago to our rendezvous sites over the years perhaps there's really nothing at-all unusual about our now meeting in this cross-border tourist town.

Though the two of us have managed a fair amount of time to catch up over the weekend, Nisagul is very much here for work. The group Nisagul is guiding through the U.S., while entirely Uyghur, is in some ways typical of so many tour groups leaving China these days. People with more money than worldly experience want to snap photos of famous world monuments on their first trip to the West. They want to stock up on the designer handbags and the tech gadgets that are manufactured in their home country but sell abroad at lower prices than they could pay back home.

However, going on the cheapest tour (which is the default choice for many travelers from China) means traveling on a thoroughly last-class experience. Accommodation is in dumpy motels that substitute northern New Jersey for mid-town Manhattan. This morning Nisa's group checked out not from some quaint B & B near the Falls but a weathered, mid-20th century EconoLodge lined with grimy carpets situated way out next to the Buffalo Airport.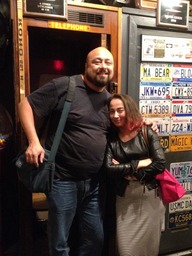 David and Nisa
at Anchor Bar

Even pax from groups from China who haven't opted for the cheapest tour option are often unhappy. Though meals are usually included in tour packages many tourists opt to retire to their rooms to eat packages of instant noodles they have brought in their suitcases rather than sample unfamiliar dishes.

Nisa's group has been no exception to this behavior. She's found the reluctance of her clients to eat anything but some form of instant ramen to be baffling and irksome, especially given the pains she's taken to accommodate them. Before the group arrived she asked me if I knew of any halal places around Buffalo she could bring her group to. The tourists had been complaining that they wanted to have a meal that they were certain conformed to their religion's dietary restrictions. I did know of a couple halal places--an Iraqi restaurant and a Pakistani buffet both of which I'd eaten at when calling on Kevin previous times I'd passed through Buffalo. Nisa booked a dinner for the group at the latter though none of her group chose to go there. It turned out not to be really a question of eating halal food but of specifically finding somewhere to eat Uyghur laghman. Even with a legitimate alternative all of the group instead again chose to douse instant noodles they'd brought from China in boiling water spiked with MSG-heavy flavoring stock in the privacy of their hotel rooms.

"Why are they traveling abroad if they don't want to even try anything different?", she asked me rhetorically.

Nisa herself was happy to take advantage of her location in a corner of the world she'd never visited to try local food she'd never eaten. I picked her up at the dumpy EconoLodge from where we went out to the Anchor Bar, the restaurant where Buffalo Wings were first created. Spicy wings were washed down with pints of local beer. After dinner we drove downtown for a close-up look of the wonderful 30-something storied art-deco City Hall at the center of Buffalo.

David, Nisa, Beer, Wings
and Onion Rings at Anchor Bar

We carried on to Elmwood Avenue where I hoped to find a coffeehouse where we could catch up. We were pleasantly surprised to find the entire strip had been taken over by a block party. We wandered amongst late-night revelers. A hip-hop group on a stage set in the center of the street stridently declared "Fuck Cheektowaga!" to much cheering and applause before completing their set. We both wanted to linger at the block party but found an ice-cream parlor, a branch of Friendly's out near the airport motel, to be a better place for conversation.

And converse we did. It was good to get Nisa's news. Tensions back in Xinjiang notwithstanding Nisagul's situation is largely good. All these places she's been leading tours this past year, Southeast Asia; the Middle East; and the U.S., speak for her career trajectory. Family life is a little trickier but seems to have achieved a level of detente. Her parents are traditional Muslims who grew up in Kashgar at a time when that city had far more identity apart from (and, literally wholly independent from) China. They can not comprehend why their daughter in her mid-thirties has yet to marry, settle down, and raise a family of her own. But, as both of her younger brothers have already followed that path and brought them grandchildren there is less outright lecturing as there had been in years past. Who knows? Maybe they'll get their wish: Nisa has relatively recently begun a relationship with a boyfriend back home. Good luck with this one, Nisa! Maybe he'll finally be the one who lasts.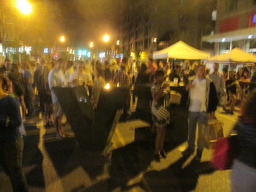 Elmwood Avenue Block Party

When we talk Nisa occasionally teases me how our lives have traded place. Over the course of the evening she shared how she was envious in the early years of our friendship how I was the one out traipsing around the globe back while she was an inert university student. Those roles are now completely swapped. That change has extended to who treats whom for dinner, as well. She absolutely insisted on picking up the tab at the Anchor Bar. (Though, I did insist on at least picking up the cofee and ice cream sundaes, thereafter.) Both of our lives really have developed and come so far since we first met.

We've concluded our brief reunion by taking in Niagara Falls, together. The day has been clear, sunny, and warm so provided the perfect backdrop to stroll together and finish our catch-up. We hiked along the banks of the Niagara River as fast-running water flowed along on its way to chute out and cascade spectacularly into the Falls. We crossed footbridges to nearby Goat Island before Nisagul had to regroup back at the tourist center to bring her group on to the Buffalo airport for their flight to LAX. We contemplated when and where our paths would next cross. Neither of us could guess though we were both certain that it wouldn't be too far in the future and almost surely in some other place, perhaps in some other country, where we'd never seen each other.

Good to see you again, Nisagul, and good to see you doing well! I am sure we'll do it again somewhere before long.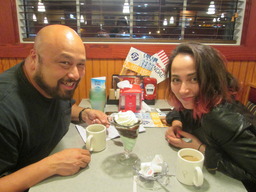 David and Nisa
at Ice Cream Parlor

Now, I am working my way out of Niagara Falls as I always do according to my personal ritual the times I pass through this city. I'm pausing for a cup of coffee at that same branch of a certain big coffee chain located inside the lobby of a certain big hotel chain while catching up on this weblog. Ahead, I'm hoping there won't be much traffic at the border but even if there is I've padded my schedule a little. I'll first stop off in Hamilton to say "hi" to Akbar and see how he's been. I gave him a window of a couple hours when I might roll into town. We should have most of the afternoon to catch up. Then, this evening I'll fill my car with three people who signed up for a rideshare lift I offered from Toronto back to Montreal.

I'm pleased that this weekend getaway to see an old friend has been more a question of time than of money. The weekend rental coupon I used to book the car didn't make it totally free but taxes came to around $10. The car they gave me is a huge gas-guzzling Jeep Cherokee but even with the lousy mileage the majority of my expenses are offset by offering a lift between Toronto and Montreal. With the contributions coming from rideshare passengers (I had one on the way here, too) I have the added benefit of a different envrironment in which to practice French. The guy I gave a ride to on the way out was a recent immigrant from Cameroom who spoke almost no English. I'm hoping I have a similar crew to practice languge with on the way back.

Okay. My coffee's finished; it's time to hit the road.

Next stop: Hamilton