Transport Hub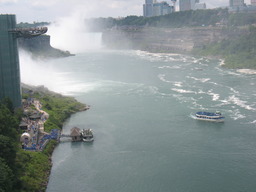 Niagara Falls Boat Tour

Niagara Falls, USA
July 06, 2013

I've been passing through the Buffalo/Niagara Falls region quite often, recently. The hub of transport connections linking points in the eastern U.S. and Canada has brought me through this area at least four times since the beginning of last year. I'm always happy to make my way by stringing together an itinerary that balances the highest possible level of comfort with the lowest possible cost. Buffalo has been the obvious nexus.

The times when I have at least a couple weeks free to work my way down from Québec City to most other destinations east of the Mississippi the most reasonably priced option usually brings me through this area. Amtrak has overnight trains to and from Chicago that stop in nearby Buffalo. Megabus has tickets up to Toronto and down to Washington, D.C. for a few dollars. Local city bus route 40 connects downtown Buffalo and the border here at Niagara Falls. Moving along, it's a walk of just a few minutes across the Rainbow Bridge into Canada.

Though I'm usually en route elsewhere I do always stay on in the area whenever making my Buffalo connection. The city has nice parks stretching along Lake Erie, decent options for lounging in coffeehouses along Elmwood Avenue, and lovely art-deco architecture downtown. Buffalo is often my last stop before returning to Canada so it's also a logical place for me to shop for items that cost significantly less this side of the border. Moreover, I've come to know people around town who are fun to hang out with--all of them connected in some way with SUNY at Buffalo.

Each time I pause in the area I've stayed at Kevin's home near the SUNY south campus. He's easy-going and smart: the kind of guy I'd get along with even if we didn't have far, far more in common. There's a lot we share that makes hanging out and catching up fun: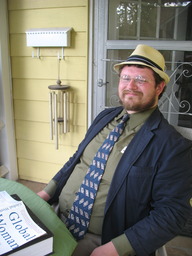 Kevin Studies
on Front Stoop

He's in his final year of grad school, finishing up a Ph.D. in Classics. Me, I'm about to begin grad school, myself, this autumn. His main language of study is Latin. However, he's intensely curious about all languages in-general so we always have lots to ponder over idle conversation. We've both lived in Central Asia and have maintained an affection for the region. Kevin served as a Peace Corps volunteer for two years in Turkmenistan. That's where he met his wife, Katie: a fellow Peace Corps volunteer. They've both retained a bit of the language; it's fun for me to hear the odd phrase they still remember. Turkmen is similar enough to Uyghur that I can usually understand what they say.

So, we've all hung out together once again over the past few days--both at their home and around Buffalo. As always when out on the road, I've chosen to take advantage of dining options that won't be as readily available further on down the line. A budding community of immigrants from India has opened some decent restaurants in one corner of town: that was definitely the right place to go for a meal before I return to spend months back in an area where the menu listings most commonly involve either maple syrup or poutine.

Continuing in the vein of Indian food, Kevin and Katie had a large crate of mangoes lying in their dining room. They weren't sure what to do with all of them. I proposed making up a couple blendersful of my secret mango lassi recipe. I was impressed that they already had all necessary ingredients on-hand somewhere in their kitchen cupboards. Even I wouldn't have been sure to always have rose water and cardamom stocked at home. It's been fun to find an occasion to prepare a yummy treat to share with appreciative friends.

Kevin and Katie excused themselves the first night of my visit. They hadn't presumed I'd be interested in joining along in their TV watching. However, they happened to be watching the very same show I'd been catching up on together with Megan back in Chicago: Game of Thrones. They'd arrived at an episode close to the one where I'd left off a few days prior. We all watched along together until I realized that they'd been cycling through DVD's mailed to them one-at-a-time by Netflix. Fortunately for everybody, I had copied the entire series onto a flash drive before leaving Chicago. I offered those along on to Kevin. Once he had all episodes available he couldn't quit. Kevin plowed through not just the remaining half of the second series, but had finished the entirety of the third season as well before I finally left this morning.

Good luck finishing up grad school, Kevin! And thanks to both you and Katie for hosting me once again in Buffalo. I know travels will bring me back through the area once again sometime before long. It'll be good to catch up once again and see where life has brought us...
---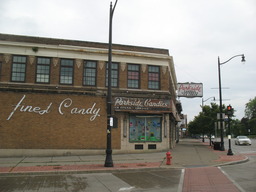 Parkside Finest Candy

Early this morning, I rode route 40 from Buffalo up here to Niagara Falls. To be on the safe side, each time I've left the U.S. at this crossing I've always made sure to set off from Buffalo early in the morning: just in case of a late bus or potentially heavy border traffic. But, once I arrive at Niagara Falls, NY I always wind up with time to kill. So, I've established myself a routine: I pause for a cup of coffee at the branch of a certain big coffee chain located inside the lobby of a certain big hotel chain. Then, I walk through the park on the U.S. side, leisurely snapping my tourist photos along with everybody else. Finally, I walk on across the bridge and into Niagara Falls, ON.

This town sure feels different from how it did all the previous times I've passed through. It's tourist season, now. There are lots of people down below making excursions out on the water. They're covered up in rain slickers to go on short "Maid of the Mist" cruises beneath the Falls. I don't think those were in operation any of the other times (always off-season) when I've been through here, before. The city streets are clogged with traffic. I'm sure glad I'm just passing through on-foot.

Time to move on to make my next leg, now. After I walk across the Rainbow Bridge spanning the U.S./Canada border, my onward connections will bring me first to Toronto for the afternoon and then on to Montréal for the night. I'll spend tomorrow in Montréal but have to make it back to Québec City before Monday morning. That's when my final term of intensive French kicks off.