Ice Cream Run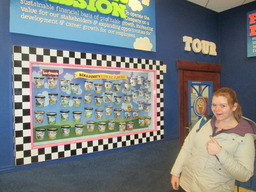 Kayla Visits Ben & Jerry's Ice
Cream Factory Headquarters

Burlington, USA
January 4, 2015

"Ice cream!", Kayla exclaimed as she glanced up at the sign across the street.

"Oh yeah... I'd forgotten there was a location of Ben & Jerry's here in my neighborhood," I said. "But, I think that shop is already shuttered for the winter. Though, you know... if you're craving their ice cream we could drive across the border into Vermont to take the factory tour sometime over your visit. They give out samples!"

And so, for the sake of ice cream, Kayla and I added a day to our rental-car reservation. After returning from two days in Québec City just last night we set off again this morning on a day trip to northern Vermont.

A late start this morning leaving Montréal and long delays owing to a traffic accident blocking the road right before the border ahead kept us from spending the entire day in Vermont. Still, there was ample time to eat lunch in Burlington, visit the ice-cream factory further south in Waterbury, and pause here and there about town, including stops out on the lakefront and inside a Church Street coffeehouse.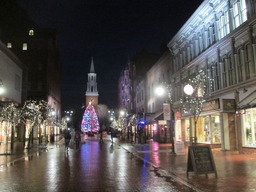 Church Street Pedestrian Mall
Burlington, Vermont

This wasn't my first time taking the ice cream factory tour. Even though it was the second time within three months I'd seen the production lines it was still fun to visit. As part of the tour visiting groups are always offered taste scoops of an experimental flavor; today's were of strawberry brownie. The taste wasn't bad, but it wasn't a flavor I'd buy an entire pint of.

Despite the short hours we've had on this side of the border it's been a good little side-trip. Temperatures across Vermont are much warmer than they are back in Montréal. All the snow and ice that accumulated on the car over the drive from Québec City last night has melted off. The price of gas is far less on this side of the border than it is anywhere in Canada. Even with the added mileage of driving to Vermont and back I suspect that refilling the tank here means paying less than we would have paid had we never driven out of Canada.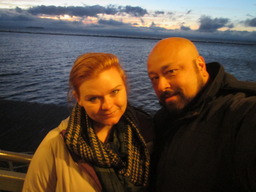 Kayla & David at
Lake Champlain

When we were on our way to finish off our visit by writing postcards at a Church Street coffeehouse I made an impromptu detour by driving further on down the street up to the shore of Lake Champlain. The sun had just set. There was still light in the sky. It felt nice to offer a glimpse of geography different from what I imagine Kayla is used to seeing living out in the deserts of the US Southwest. What a nice little trip this has been. I'm beginning to think that perhaps northern Vermont and the flagship ice cream factory should become a standard destination on the itinerary I offer up when guiding friends who come to visit me in Montréal.

But now, we have to turn around to head back north. On our way out of town we have a rideshare passenger to pick up. Combining his contribution with the fares others gave us for passage between Montréal and Québec City, whatever car rental and gas costs Kayla and I split for all of our past three days of roadtripping should be very small.

Just two days remain before Kayla flies home. Time has flown. I can't believe we've already spent ten days together; I can't believe she'll be leaving so soon.