Pumpkin Patch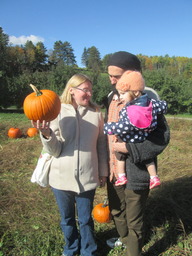 Logan, Olivier &
Lily in Pumpkin Patch

Burlington, USA
October 13, 2014

Baby Lily is no longer such a baby. She's progressed beyond the babbling phase. Logan related how she recently realized how truly bi-lingually her daughter is growing up when the two were talking the other day. That was the first time Lily used a French word that Logan couldn't comprehend. Up until then Logan's level of language had been high enough to understand the times when her daughter substituted a French word in an otherwise English sentence. Sure, words like poule or chat might have been easy enough for Logan to recognize. But what was Lily talking about when she described les écureuils in the yard outside?

If Logan, for whatever reason, misses having a baby whose command of French is lower than her own then there's imminent good news: she's once again expecting. This time it's a boy, due in February. Runner-up in significant news chez Olivier & Logan is the fact that since the last time I saw them exactly one year ago the family has bought a house across town in Brattleboro. They seem to have settled in and begun growing roots. With the birth of Lily Logan had already adapted to working as a stay-at-home mom. She'll double that role in a few months. Olivier continues to find plenty of work as an independent contractor for international development organizations.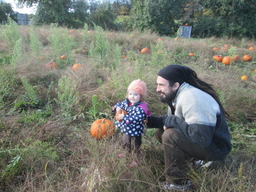 Lily & Olivier in Pumpkin Patch

This isn't the first time former Free French classmate Siliu and I have driven down to the southern end of Vermont to call on Logan's family in Brattleboro. Can it really have been a year and a half since the two of us were last here, together?

It's a three-day weekend (Thanksgiving) back up in Canada so an ideal time for a roadtrip to call on friends who live a few hours down the road. Car rental rates are far lower over the weekend than they are on weekdays. Listing the trip on ridesharing website Amigo Express has essentially brought that expense to nil. A couple passengers who needed a lift are subsidizing the cost of our Vermont weekend. Two bubbly young Quebecoise women occupied the backseat from Montréal to Burlington, Vermont; we're about to pick those same two up for the return ride back to Montréal. What they'll pay us for passage for their weekend getaway should roughly cover the cost of the car rental for ours.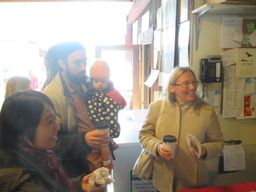 Hot Apple Cider & Doughnuts

I almost feel that to be almost too good of an angle to be true. Whenever I want to make a drive somewhere within a day or two of Montréal: New York, Québec City, Niagara Falls, Brattleboro--the cost of renting a car, sometimes the cost of the fuel, too--is offset by bringing along passengers who need a lift to the same destination or somewhere en route.

This has been quite the weekend for cross-cultural and multi-lingual connection. Whenever Logan happens to be elsewhere around the house Siliu, Olivier and I speak in French. With the benefit of having lived in Québec City longer than I did as well as having worked there full-time Siliu's level of French is higher than mine. She's clearly still more comfortable speaking in that language than she is speaking in English. When it's just the two of us speaking we default to Chinese which--though it's rusty for her--Logan always had a higher level of proficiency in than I ever did. Any time all four of us are gathered around the table or out together somewhere in the Vermont countryside English becomes our common language.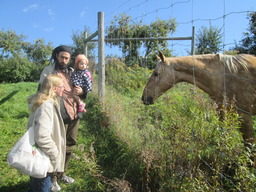 Logan, Olivier & Lily with Horse

We spent yesterday introducing New England Hallowe'en traditions to several of our group. Only Logan and I grew up celebrating that holiday. The five of us drove north to nearby Putney where a pumpkin patch offered all the autumn experiences: Pick your own pumpkin. Horse-drawn carriage rides. Hot apple cider served with fresh doughnuts. We each selected a personal pumpkin to carve up back in the family home.

After dinner last night we each went to work on our own jack-o'-lantern. Siliu was baffled how--with the exception of salting and roasting up the seeds--our gourds were being used wholly ornamentally. Wasn't merely chiseling faces into our pumpkins and doing nothing else with them an enormous waste of food? She knew of so many delicious pumpkin-based dishes from China that we could have turned them into. Logan and I did our best to explain that we weren't always wasteful, suggesting that we all bake up a pumpkin pie sometime before long.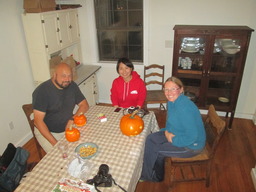 David, Siliu, & Logan
Carve up Jack O'Lanterns

Pumpkin pie might be a real possibility as soon as next month. Logan invited both of us back to Thanksgiving when it's recognized in the U.S. at the end of November. She's not sure whether she and Olivier will host for the extended family in Brattleboro or if the holiday feast will be held at her father's home up in the White Mountains of New Hampshire. I'm hoping for the latter. It's a closer drive from Montréal and I've spent less time exploring anywhere in New Hampshire than I have visiting places around Vermont.

After breakfast this morning Siliu and I said our goodbyes to Olivier, Logan and Lily then hit the road. We've made it as far as Burlington which is our last stop before crossing the border and returning to Montréal. On the way in I made a point to swing by the small town of Waterbury about half an hour outside of Burlington. Ben & Jerry's Ice Cream is based there; I insisted to Siliu that we had to take the factory tour. Siliu had never heard of the brand but agreeing to see the inner workings of an ice-cream factory for her first time took no convincing, whatsoever.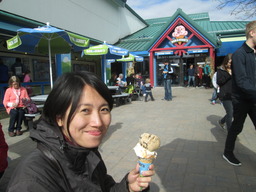 Siliu at Ben &
Jerry's Headquarters

I don't think I've seen anywhere else so busy in the entire state of Vermont. We had to drive across the main parking lot then park in gravel alongside some far-off trees to find a place to leave our car. We had to wait for the third tour session after we bought our tickets though that wasn't all that long: a new tour began every 10 minutes. The highlight of the tour was a tasting room where free samples of an experimental flavor were offered. That was a clever come-on. A couple spoonfuls out of a Dixie cup simply weren't enough. After the tour we each ordered an additional cone at the ice-cream stand outside.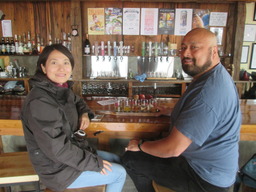 David & Siliu Sample Cider

We've continued our taste-of-Vermont tour with a sampling at Citizen Cider. Some massive old industrial building on Pine Street has been converted into an artisan cider shed replete with bar and performance stage. A shared sampler of five 4-oz. shot glasses filled with our choice of hard cider were enough for the two of us. (I do still have to drive us all back to Montréal a few hours from now.)

Each time I leave Vermont I feel that I've discovered something more and appreciate this state even better. Thanks for being a part of that experience once again, Logan and Olivier! I do hope that we can all get together for U.S. Thanksgiving at the end of next month, be it back down in Brattleboro or next door in New Hampshire!