Thick Accent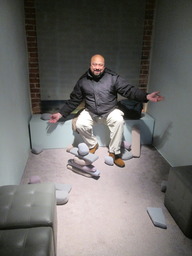 David Builds Inukshuk
From Pillows in
Former Prison Cell

QUÉBEC, Canada
January 3, 2015

My former classmate was blunt:

"David, you have the thickest accent when you speak French!"

Given how many fellow immigrants I shared class with when studying at Université Laval I wasn't surprised to randomly cross paths with one once back in town. I was in a large, public area: a shopping mall. I had just rolled back into Québec City for a brief visit to introduce the town to Kayla. Short minutes before we'd dropped off rideshare passengers (whom we'd driven from Montréal to offset our car rental expenses) then pulled into the shopping mall directly across the street. Though far from any tourist highlight, starting at the mall made a certain sense: for Christmas Kayla had received a gift card valid at a particular store that had an outlet there, there were yet a couple hours remaining before check-in time at our hotel, and the entire rest of our time in town was to be spent miles down the road in the old city.

Inside the mall I bumped into Claudia: the classmate who used to sit alongside me every day over my second term of Free French lessons. She was an engineer from Colombia who enjoyed occasionally flipping through and chuckling at the French-language comic books I checked out from the public library to augment my language learning over class breaks. With a full semester as deskmates she certainly knew I was a native English speaker and well knew my ability in French. Why was my anglo accent suddenly remarkable?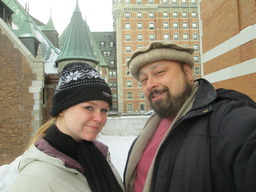 Kayla and David
at Château Frontenac

"Yeah... English is my first language," I told her. "You have the pronunciation of a native Spanish speaker, right? It'd be great if we learned French as kids and didn't sound so horrible when we spoke. But, I guess we got our lessons too late in life."

"¡But, David, you didn't used to sound like this!", Claudia said to me. "Your pronunciation used to be... so much... better."

She wasn't being harsh. She was being honest. I myself have often noticed how since leaving Québec City a year and a half ago I speak in French far, far less often.

I explained to Claudia the unique problem of being a native English speaker who lives in Montréal. That city is just too bi-lingual. My instruction at university is all in English. The neighborhood where I live in the western part of the city is majority English-speaking. Even though I always start any transaction in French, anybody at any supermarket, cafe, or restaurant throughout the city will be bi-lingual enough to recognize my anglo accent and then flip automatically into English for my benefit. It seems silly to persist in speaking French when there's a good chance the clerk on the other side of the counter is also a fellow native English speaker who speaks that language as fluently as I do.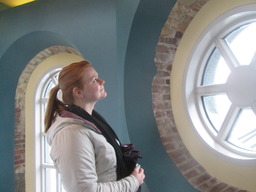 Kayla inside Turret atop
Québec's Original Prison

That's one thing that's been nice being back here in Québec City over this visit. For whatever reason, nobody here flips into English automatically whenever I speak in French--however accented it may have become.

It's been wonderful fun to show Kayla around town. She did nix my suggestion of ice skating at Place d'Youville, but that's okay. I skated on that rink as part of showing another friend around town several weeks ago. Though the standard highlights got their due attention (e.g., the requisite visit to the Château Frontenac) every time I take each friend around this town there is some unique aspect to the tour, some place where I haven't taken any other guest. This time the unique tour stop was at the Musée national des beaux-arts.

We happened to drive by the museum on our way in to the Château Frontenac. When passing I commented how one wing was Québec City's original prison and how they'd converted the ground floor into a pleasant café where it was now possible to take a cup of coffee in an old cell. Kayla seemed intrigued. So, when we had a gap of free time after checking out of our hotel this afternoon we went to visit the museum/prison.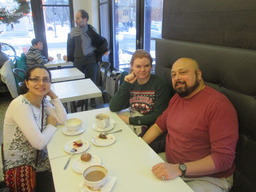 Somayeh, Kayla, and David
at La Fournée Bio

There had been renovations since I'd last visited. Some of the cells now had large cushions and sofas to lounge on. In another somebody had set up a cute idea (presumably) for children to play with: "Build an Inukshuk!" Pillows similar to the shapes of the flat stones that the Inuit people traditionally stacked into humanoid figures were scattered about the cell floor. I couldn't resist playing with the pillows though decided that my figurine should be capped with two heads.

Another tour stop unique to this visit with Kayla: an introduction to my Iranian friends who live here. I contacted former classmate Somayeh to see if she and her husband Habib might be up for catching up over a cup of coffee, somewhere. I felt that of anybody I know in Québec it was they that Kayla should meet. Both had experiences similar to those I had immigrating to Canada. Given how Kayla and I spent our past summer learning Persian together it seemed like there would be lots of common ground.

We started off with pastries at one of my favorite bakeries, La Fournée Bio in Limoilou. Though I was technically in a higher class over our summer of Persian Immersion, Kayla has probably always maintained more fluid speaking skills that I have. Habib and Somayeh seemed genuinely surprised that she's been speaking that language for only one year; it was fun to be in an all-Farsi situation again.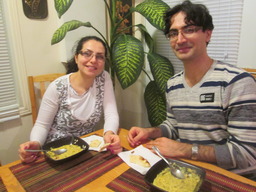 Somayeh & Habib

Showing typical Iranian hospitality the couple invited us back to an unplanned dinner at their home a few blocks north of the bakery. Somayeh whipped up an ashdoogh, a sort of soup based on doogh, the carbonated dairy drink common in Iran that I so love. We chatted mostly in English, occasionally in Persian, and when it was just Somayeh and I talking, in French. The couple are both well into their programs of graduate study at Université Laval and contemplating what comes next. It's so nice to see old friends thrive; it's so nice to introduce new friends to old.

Thanks for dinner and such good company, Somayeh and Habib! I do hope that I can reciprocate and host you both one day in Montréal.

After two full days touring the town, our trip to Québec City is now over. We have to drive back to the meeting point across from the mall to pick up new rideshare passengers to ferry back to Montréal. The weather forecast calls for a huge snowstorm to blow in across our route so I'm a bit nervous about the drive. But, assuming that this evening's journey goes well and assuming that we feel like taking another roadtrip tomorrow we have plans to drive the rental car across the border. Kayla has never seen anywhere in the eastern United States so there's a good probability that her first experience anywhere there will take place tomorrow.

Next stop: Vermont