Reading Week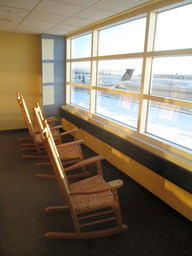 Rocking Chairs Overlook
Jet at BTV

New York, USA
February 28, 2015

I love overnight overland journeys. I love long-distance buses and trains. I love when, even after gazing out the window over a six-hour stretch (or on one occasion it was a six-day stretch spent aboard a single train journey,) there's still time remaining to reach my destination.

I'm back at it again. Spring break at McGill (which is wishfully listed on the official calendar as "Reading Week") kicked off last night. I'm in the middle of a repeat of the same journey I made at this time last year: bumping my way down the east coast from Montréal to Washington, D.C., meeting connections in Burlington, Vermont, and New York City on the way. Fares are cheap: $41 for the return journey. It's too cold to stay on in Montréal when I have the time free to migrate anywhere south.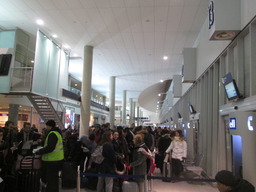 Spring Break Crowds
Gare d'autocars, Montréal

The first two legs are behind me, bringing me past the halfway point down to DC. My first leg was the late run from Montréal to Burlington, Vermont. The bus stop there was at local airport, BTV--the perfect place to pause for a few hours while waiting for my onward connection here to New York. The facilities are new, well-furnished, and open all night. Homey rocking chairs ring the terminal offering views of the jets and runway. I managed to curl up and snooze for a few hours then watch the sun come up while taking a breakfast of hard-boiled eggs and Cantonese buns (barbecued pork and sesame/coconut filling) I'd prepared before leaving Montréal.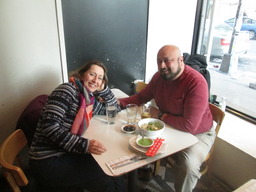 Astrid and David
at Mooncake Foods

The longest stretch was onward from Burlington here to New York where I have a total of just two and a half hours. Short as that time is it's already been enough to get together for a proper check-in with Astrid. She found a place for us to meet and chat over a bite in the blocks between my arriving and departing buses: Mooncake Foods on West 30th St.

I ordered a plate of crab dumplings and a happy-hour Sapporo draft and caught up with Astrid. It sounds like lots of good things are happening in her life: she's still teaching at NYU and through that has lots of upcoming international travel slated--trips to Uzbekistan, trips to Western Europe--related to her writing and research. I've encouraged her to come up and visit Montréal somewhere between all that to see me before I move along later this year. Busy as she is, it sounds like she's likely to make the journey up by train once the weather is good.

She's already ridden off on one of New York's bikeshare cycles to catch a bus home from Port Authority. I've walked along to my departure point for the final southbound leg but am pausing at a nearby McDonald's on the corner or 34th Street and 10th Avenue for a cup of coffee and a wi-fi connection to sketch out this update. My southbound journey is almost over, just one short leg left.

Next stop: Washington, D.C.