Serendipitous Snowstorm II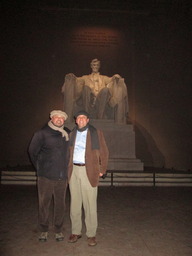 Dave, Greg, Abe

Washington, D.C., USA
March 5, 2014

There's been yet more serendipity for me over this present spring break getaway. On top of everything else that I'd hoped to do when first planning this holiday I've additionally:
Gotten together with a family member for the first time in months
Chanced into a free hotel room to stay in downtown D.C., tonight
Found cash money lying on the floor
This is shaping up to be quite a nice spring break.

By coincidence, Brother Greg happens to be traveling out this way, too. He's making a fact-finding trip across several cities down the east coast. He and I narrowly missed connecting with each other a couple days ago back up in New York. But, we've just managed to spend the entire evening together here in Washington, D.C..

Meeting with Greg has been an especially welcome crossing of paths. Though he and I did manage to get together at Cousin Jeffrey's wedding last October it's been over a year since I was last back in Seattle to visit family. Tonight was just the two of us brothers hanging out one-on-one: spending time catching up while wandering the monuments of the capital.

Korean War Memorial

Greg is good. He's out here not on business but to promote a cause of his personal interest: advocating for adoption of a program of universal preschool back in Seattle. He's part of an entourage of teachers and local civic leaders who have spent the past several days observing preschools in two cities that already have universal preschool access: Boston and Jersey City. Tomorrow, his group will meet with congressional representatives here in Washington to present their findings and recommendations.

Since days when we were kids Greg was always devoting his efforts toward various noble aims. It's heartwarming to see him still doing so and I'm additionally happy that one of his current causes has allowed the two of us to see each other for the first time in many months. In a further stroke of serendipity for my spring break sojourn one member of Greg's entourage decided to return to Seattle early and split off from their group back up in New York. A hotel room down here had already been reserved and paid for. It would otherwise have gone vacant--so I've unexpectedly landed in the perfect place to base myself after an evening around town with my brother. I'm finishing my night at hotel on the corner of 12th and K St.. Being here will further allow me to sleep in late then just hop on the Metro or the Circulator to get myself to Union Station when I head on out of town tomorrow morning.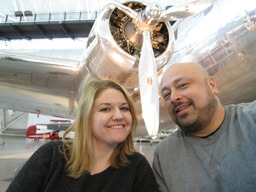 Museum Selfie w/Naomi

Greg was better oriented than I was when it came to finding attractions around D.C.. He was interested in re-visiting the Korean War Memorial by night--a site I had never been to and hadn't even realized was located right off of the Washington Monument. He led the two of us on a circuit taking in several other memorials, including the ones built to recognize World War II and the Vietnam War. Most were memorials I'd never visited even though they were laid out centrally right along the National Mall. When walking back to our hotel Greg knew whether the street we were walking along would pass the front or rear of the White House--I didn't have that level of detail in my D.C. mental map. My brother must have a sense of orientation far superior to mine. I've been to Washington, D.C. at least once each of the past five years though it's been nearly a decade since he was last in this city.

Thanks for hooking me up with the hotel room and thanks for Salvadorean dinner, Greg! I miss you all of you back in Seattle and do hope I can see the entire family there after this academic year is over.

Though the snowstorm that blew through this town shaved a day off my time here I've still managed to connect with most of the people I know around town. I started my visit with probably the fullest day I've spent with Naomi. Somehow we managed to squeeze in three meals (biscuits and gravy, hot wings, and Peking duck,) a visit to a museum (the larger of the Smithsonian Air and Space Museums out near Dulles Airport,) and the screening of a mindless action film at a cinema where attendants could bring basic pub grub (we ordered wings and beer.)

Naomi seems to be doing well--if busy with work. Though she'd formally requested the day off so that we could spend time together she still wound up having to focus on emergent invoicing crises and other business-related matters even while out of the office. That actually worked out well enough when we were at the Air and Space Museum. She'd previously visited the museum several times before but I'd never been there. So, Naomi took care of business via the museum cafe's wi-fi which gave me free reign to explore the exhibitions at my own pace. I'd never thought about where air- and spacecraft such as the Concorde, the Enola Gay, and the Space Shuttle go after being retired. Evidently, off to one enormous hangar in Virginia, I found out.

Though the visit to the Air and Space Museum (Naomi's idea) was a welcome experience that I'd repeat on some future trip, my highlight tour had to be the one I took the next day. I recall how the last time I was in town I looked into whether a guided visit through NPR headquarters would be a possibility . It wasn't. But, since then the headquarters of U.S. public broadcasting has been moved to a large, renovated building in the middle of the District. They now give tours.

I would have been eager just making a solo visit but it was even better with friends. The perfect companions were already here in town to accompany me. There are few people I know who listen to more NPR programming than friends Mala and Vega. So, this morning the three of us started with a drive downtown from their Rockville home. It wasn't as participatory of an experience as the parallel tour I took of the BBC Broadcasting House when passing through London three years ago but was still fun to see the origin of familiar programs we all listen to and to gawk at massive soundboards and data servers.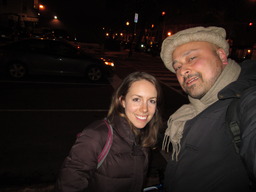 New-Camera Selfie w/Ashley

Sadly, I didn't manage to synch my schedule with everybody I know in this town. I didn't manage to connect face-to-face with any of my relatives. I contacted Cousin Melodie but my margin of spare time didn't synch with her family's schedule. I did manage a brief catch-up with former classmate Ashley after she got off work (she's still at VOA.) Ashley is doing well, though in something of a limbo. Her contract is winding down and she's unsure whether they'll extend her role there. (Hmm, if they do keep her on maybe I should ask if they do guided tours at VOA. That would be my third tour of a broadcasting studio in recent years. If I'm consistent with my pattern of visiting this city that would mean I'd pass through D.C. yet again sometime next year.)

Fittingly (as we first met in a language class) Ashley has already begun doing the very thing I myself hope to pursue this summmer: she's studying Perisan. Evidently, there's a school in town called "Global Language Network" that charges $50 per semester. They may meet only one evening per week, but for twelve weeks that works out to something like $4 per class. And I thought I was the one who knew the angles to learn interesting languages on the cheap...

In keeping with my run of good luck over this spring break just as Ashley and I were exiting the coffeehouse where we met I noticed a $20 bill lying on a spare stretch of the floor, far away from anybody else. "I didn't drop it," Ashley said after I stooped behind her to pick it up and showed her what she'd just walked past. Nothing but good seems to have come since my trip was delayed.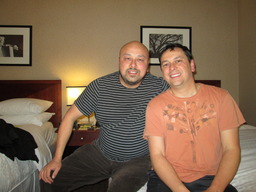 End-of-Visit Selfie w/Greg

Though I did have to juggle my itinerary, everything has worked out really, really well this spring break: spending time friends and family, visiting attractions new to me around town, chancing into private hotel rooms, and finding small amounts of cash strewn in my path. Even the snowstorm that subtracted a day from my time here by keeping me in New York has pretty well melted away. It was clear, sunny, and warm throughout the entire day in D.C..

I'm hoping that my travels continue to go as smoothly for the return portion of my spring break trip. Tomorrow, I'll turn around to begin my route back north toward Montréal. I think I'll be ready to take on the rest of the semester.

Next stop: New York