Blackjack for Children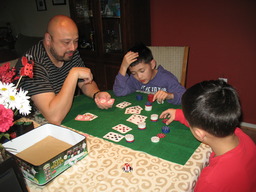 Blackjack Night:
David, Eli, and Isaac

Washington, D.C., USA
February 26, 2013

A recent realization: I enjoy playing cards for worthless plastic chips equally well to playing for real money in Vegas. Even better for my not losing money: I enjoy playing as house better than I do playing against it. Best of all: blackjack is a game best played with excited, pre-adolescent children.

I've spent the past couple days based at Cousin Melodie's cheerful home. Cousins once-removed Isaac and Eli are always active and always up for some game or other. Isaac is the one with more energy, invariably requesting that we bash each other with Nerf swords whenever I visit. I indulge him sparingly--though do also secretly find it tremendous fun to run around the living room whacking one another with foam implements.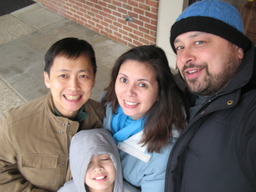 Cousin Connection: Ben L.,
Melodie, David, and Isaac

Less rambunctious but equally requested were table games. Both nights of my stay have been blackjack nights. The younger of my cousin's children, Eli, is considered the lucky one. Though he does play a more conservative game that hews closer to basic strategy, any wild bet by this eight-year old is likely to pay off big.

Though, perhaps Eli comes across as lucky just because he cares far less about losing than his brother. Contrarily, Isaac plays a wild game, betting as large as he can at any opportunity to exaggerate the excitement of chips flowing in and out. When Isaac exhausts his stakes (which tends to happen quickly) he is definitively done and happy to find any another distraction, immediately.

Before this visit I told cousin Melodie to let her family know I'd be bringing a "new game". That dice game I played in Ottawa seemed within the ken of an 8- and a 10-year old. I had to improvise. I picked up several 10-packs of dice at the dollar store before leaving Québec City. I couldn't remember all the Spanish terminology, (e.g., "perudo" and "dudo") so used the English-language equivalents.

The game was a hit. There were requests for repeat play again this evening, my second night of stay. Patriarch Ben L. was amazing, never once falling under the five dice allotted to each player at the start of every game. I suppose he does write code for an insurance company so has a head well-trained for numbers.

This has been really nice. Thanks for hosting, Cousin Melodie! It's too bad I've had only two nights to come calling, this time. It's always so much fun to hang out with all of you. I know I'd better be on my guard for improved game strategy the next time we all get together.