Day of the Dead II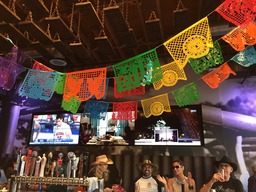 Playground Bar - Day of
the Dead 2016, Tucson

Tucson, USA
November 6, 2016

It's almost as if the border was never drawn. Day of the Dead is equally important an event here in Tucson as it is in cities I just visited throughout Mexico. Both places celebrate with identical face painting using skeletal and floral motifs, a huge procession crossing the city center, and lots and lots of people dressing up in antiquated, formal costume. Kayla and I just finished participating ourselves, joining in the main event in Tucson's Day of the Dead celebrations: the All Souls Procession.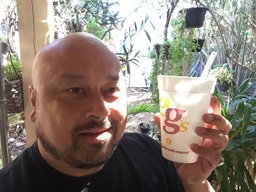 Eegee

Tucson is Kayla's hometown. Before this visit I'd spent very little time anywhere in the Southwest. The descriptions she'd given of particular places back over the summer when we first met made the area sound like somewhere I'd find novel and unique. I remember her relating the story of an old Spanish mission somewhere outside the city. It had twin bell towers but only one was ever fully capped off and completed--on account of whichever of several charming back stories you chose to believe. In my mind desert wildlife couldn't really look as it does: trunky Saguaro cactuses were something that were properly out of a cartoon or a taco commercial. On top of Kayla's accounts I solicited recommendations from old friends who had lived here as to what to see. Everything I heard made Tucson sound worth more than a quick pass-through.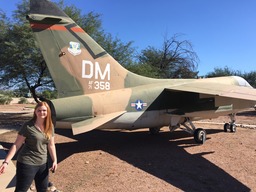 Kayla in Camouflage -
Davis-Monthan Air Force Base

Most of what I've seen here has been Tucson through Kayla's eyes. She introduced me to a sweet frozen drink called an "Eegee" served up at a local fast-food chain of the same name. An Eegee fell into the same cold "-ee" category as an ICEE, Slush Puppie, and a Slurpee--but I found it the best of the lot. The consistency was denser and less liquid. The flavor I ordered, piña colada, had real bits of pineapple and coconut blended into the frozen concoction. It wasn't as syrupy sweet as the others.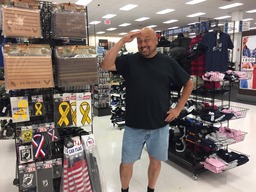 "Yes, Sir!" - David at the PX

Central to our time around Tucson was a visit to Davis-Monthan Air Force Base. That's where Kayla's family lived over the majority of her childhood years. She drove me around the base. I was fascinated. What understanding I had of life on a military base came--literally--out of the pages of a comic book. As a child I read my way through several boxes of 1960s comic books that my father kept in our basement. Among them were many an issue of Sad Sack: a pathetic yet sympathetic army private. The recurring event in Sad Sack's life was attempting to shirk duty by slipping off to the PX. He was inevitably punished with KP duty. These were mysterious initials to my young, civilian mind. If there was any useful knowledge I did acquire through this comic book it was learning the ranks of the U.S. army. That finally came in handy only when visiting the Pentagon last year allowing me to identify just who was who throughout the building.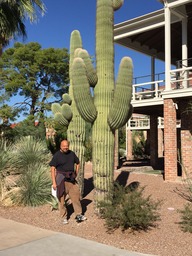 David Next to
Saguaro Cactus

Recalling my readings of Sad Sack I asked Kayla--in very little seriousness--if there was a PX on base. "Oh, sure!", Kayla said. "The PX/BX. Did you want to buy something? Everything's all tax-free on base." (Evidently the Post Exchange is now more relevantly known as the Base Exchange.)

Visiting the PX was a disappointment similar to what I experienced over my Pentagon tour. I had imagined the shops on an air force base would be uniquely military and unlike those I could walk into elsewhere throughout the country. Instead, familiar fast-food chains lined the main entrance. The large, main retail area offered little that couldn't be found in most any chain store across the country. Overall, it felt like a major chain (I suspected Sears) masquerading as a generic base store.

Though... certain, select parts of the store were interesting. One room in the back sold uniforms. An aisle with postcards and other standard souvenirs offered more specifically military paraphernalia including bumper stickers representing campaigns from recent decades. I was tempted to pick up a colorful strip representing the recent Iraq or Afghanistan campaigns: I've traveled throughout both countries, myself. Those seemed to incorporate the colors of the flag of the occupied country. Were they the same pattern as the ribbon that appears on a dress uniform? I'd never really studied those, before.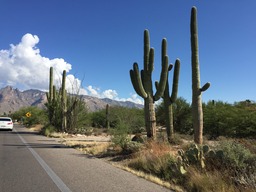 Coyote vs. Road Runner Terrain

I decided against buying any military campaign sticker. More than once military men have called out to me on the streets of US cities when they've seen me wearing the Chitrali cap that's common along either side of the border dividing Afghanistan from Pakistan. They ask if I've been to Afghanistan. I reply honestly that, yes, I've been there. But, they, are of course presuming that I've served a tour of duty there rather than played the tourist. I wouldn't want to buy one of those stickers and step on the toes of stolen valor.

Outside the PX Kayla drove me around the rest of the base. We skirted The Boneyard: a desert dry dock of sorts. All manner of aircraft are landed, shrink-wrapped to keep the dust out, and parked until called back into flight or cannibalized. Somewhere else on the base we passed a hanger with aircraft that were not in storage.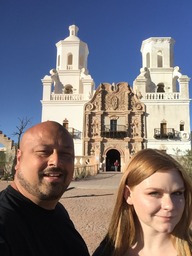 David and Kayla Visit
San Xavier Mission

"I can't make out what that flag is on those planes," Kayla said.

I peered closely.

"That's the flag of Iraq," I said. "Those are Iraqi fighter jets. I do wonder how much it costs to bring just one of those here all the way from Iraq... "

More intriguing to me than all the massive military aircraft I saw on base were the mundane locations of Kayla's formative years. Identifying those often came through some quick wave of her hand toward an otherwise unremarkable building. But, it was fun to place into the real world minor details and elements of her life I remembered her first sharing with me the summer we met. "There's the house where the Japanese woman lived who taught me the basics of the language and how to write my name in Hiragana back in middle school. Oh, there's the middle school I went to over there. Here's the building where my dad works... "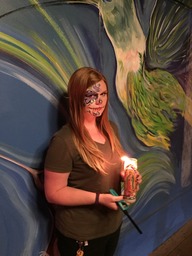 Kayla in Face Paint

The Arizona terrain all around made me feel like I was moving through a cartoon of Wile E. Coyote scheming elaborately and failing comically to catch the Road Runner. Being on a military base with a PX, a commisary and fighter jets made me further feel like I was not just in Looney Tunes-land but had landed into the pages of Sad Sack. Definitely a fun visit.

Off-base Kayla drove me around to all the other places I wanted to see. When I asked about unique local food options beyond the Eegee she recommended something called a "Sonoran hot dog" (which I misheard as a "snoring hot dog".) It was identical to what I had from a pushcart in Oaxaca. The San Xavier Mission of unfinished bell tower could have been built any of the places I visited over the past 3 weeks south of the border. A candlelit shrine, El Tiradito, in a vacant lot next to a chain restaurant similarly felt more like something out of modern-day Mexico than anything I knew here in the U.S..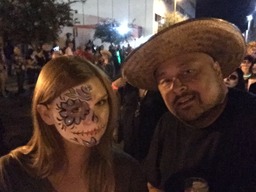 Kayla Wears Face Paint;
David Wears Sombrero

It was sheer chance that I happened to be in Tucson on the day of the All Souls Procession. For as huge of an event drawing thousands of participants and observers as it was, I was surprised that Kayla had never attended on either side of the walk in any past year. She was very excited to finally join in the procession. In the late afternoon hours before the main event we walked along Congress Street eating ice cream. We spotted a bar across the street with a handwritten sign in its window:

FREE FACE PAINTING 4:00 - 7:00 PM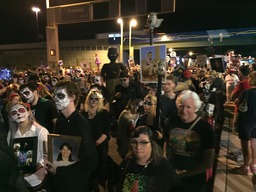 Tucson All Souls Procession 2016

That was enough to lure us in, sign the waiting list, sit ourselves down, and order a beer. Kayla's makeup job turned out to be a half-face flowery design with the addition of stitches drawn around her lips for morbid effect. I opted out of the free face painting not wanting to ride the train on to L.A. wearing makeup later in the evening. Instead, I wore a woven cowboy hat I'd bought in Mexico. We each carried one of two tall votive candles depicting Our Lady of Guadalupe that we'd happened to buy the previous night. All of that seemed to us like appropriate enough props to participate in the spirit of an All Souls Procession.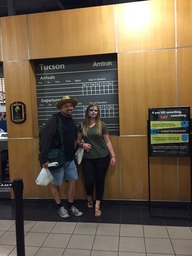 David and Kayla: Rail-
way Station Farewell

Once we joined in we were the only ones carrying real candles along the march--though doing so didn't make us feel out of place. A photographer with a professional-grade camera seemed fascinated, walking backwards ahead of us to snap our photos over a good length of the walk. (Perhaps the illumination from our candle flames made us better-lighted subjects than everybody else?) Others around us carried memorials to deceased relatives in their hands or atop pickets. Many fellow participants were in full-out costume, often an elaborate ballgown or dinner jacket, occasionally a bridal gown. Skeletal face paint--with or without floral flourish--was near-obligatory. There were certainly thousands in the procession.

At the end of the march (Interstate 10 and Congress) Kayla and I slipped off back down Congress Avenue into downtown where her car was parked. We grabbed my knapsack and shoulder bag out from the trunk and walked to the train station. I bid Kayla a quick farewell telling her not to wait until my train arrived: I knew that she was starving and also that my train was running late.

That train--the Sunset Limited--has finally arrived. I've boarded but it hasn't departed Tucson, yet.

Destination: Union Station, Los Angeles